Elliott Playing Nice With Hyundai Isn't Working
(Bloomberg Opinion) -- Paul Singer's brand of adversarial investing isn't working in South Korea. It may need to look for a new approach.
Singer's Elliott Management Corp. was again spurned by Hyundai Motor Group after making a renewed push to force a restructuring of the conglomerate. Hyundai declined the fund's invitation to discuss a new proposal, citing possible breaches of local rules, Sohee Kim and Scott Deveau of Bloomberg News reported Thursday.
The fund made its Aug. 14 letters to the chaebol public on Friday and lamented the reluctance to engage with investors. It expressed frustration over the Hyundai companies' "silence towards our consistent attempts and well placed desire to communicate."
A quick recap: Hyundai released a restructuring plan in March as pressures built for South Korean business groups to simplify their structures and improve corporate governance. The centerpiece was a merger between logistics provider Hyundai Glovis Co. and the after-sales division of parts supplier Hyundai Mobis Co. Elliott, after buying stakes in group companies a month later, criticized the plan as lacking business logic. Hyundai scrapped the proposal in May.
Elliott could consider that a win. But playing (relatively) nice has left the fund – and other holders of shares of Hyundai group companies – down as much as 22 percent since March.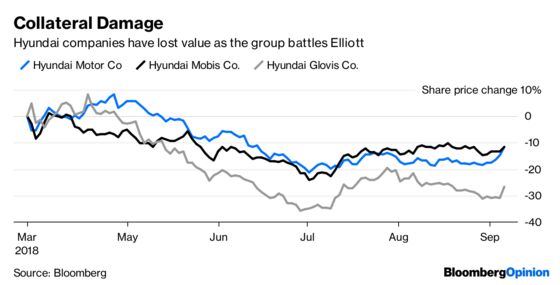 The activist investor's initial counterproposal – mostly ignored by Hyundai – was to merge all of Mobis with Hyundai Motor Co. As we argued on Aug. 10, a restructuring should begin with Hyundai Motor: Putting ownership control in the same place as most of the assets would align incentives and ultimately boost payouts, as should the fact that Hyundai Motor carries the bulk of the cash among group companies.
No solution will be straightforward, given the labyrinth that is Hyundai's ownership structure. However, a large part of Elliott's latest salvo is broadly in line with that recommendation.
The activist investor suggests Mobis sell its higher-margin, after-sales service business to Hyundai Motor. The unit is a strategic fit with Hyundai Motor and "would make a great deal of sense," as we wrote last month.
Elsewhere, though, Elliott appears to be backtracking. The second part of its plan proposes to merge Mobis's rump automobile-module unit with Glovis. This contradicts its earlier reasoning: Combining a car-parts business with a logistics operation doesn't have much commercial logic promise to enhance value. 
Elliott may have suggested this to show goodwill, given the founding Chung family's high ownership of Glovis. But taking a weak position isn't going to work.
Its options in South Korea, where the chaebol reign supreme, are waning. In a blow to Elliott's tactics, a revised U.S.-South Korea free trade deal unveiled this week included curbing the use of lawsuits by foreign investors against the Korean government. 
The fund, along with other foreign investors, is in a unique position with Hyundai group because of their relatively strong shareholding. Any proposal would require a two-thirds majority to pass. Neither the Chung family nor Elliott have the votes. At Mobis, foreign investors hold around 49 percent. Currently, Elliott owns 3 percent of Hyundai Motor, 2.6 percent of Mobis and 2.1 percent of Kia Motors Corp.
If Singer really wants to shake things up, it may be time for Elliott to up the ante and increase its stakes.
This column does not necessarily reflect the opinion of the editorial board or Bloomberg LP and its owners.
Anjani Trivedi is a Bloomberg Opinion columnist covering industrial companies in Asia. She previously worked for the Wall Street Journal.