Deutsche Bank Can Afford to Lose HNA
(Bloomberg Opinion) -- Another day, another negative headline about Deutsche Bank AG. First came Tuesday's warning that the battered German lender is being evicted from the index of the top 50 stocks in the euro zone. Then came Friday's news that China's HNA Group Co., one of the bank's top shareholders, is selling its entire stake.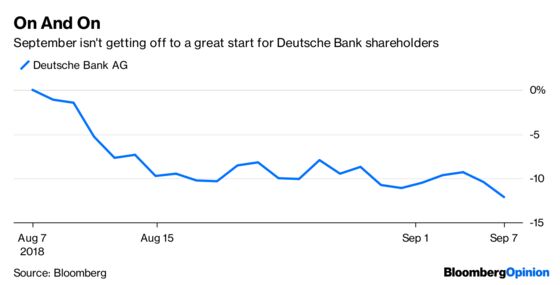 The shares fell as much as 2.2 percent on Friday. But don't be surprised if this initial gasp of worry turns to a sigh of relief. HNA, which has an 8 percent voting stake, isn't a typical investor. If it does indeed exit Deutsche's register – as reports from the Wall Street Journal and Bloomberg News suggest – it wouldn't be such a bad thing.
Despite attempts to portray its investment in Deutsche Bank as "long-term," "core" and "high-prestige," HNA has often seemed more like a debt-fueled, short-term speculator. The Chinese conglomerate's extraordinary $40 billion splurge on foreign acquisitions between 2016 and 2017 saddled it with huge debts. Its opaque funding and ownership structure spooked regulators. Deutsche Banks's former CEO John Cryan even avoided meeting HNA's representatives, according to the WSJ.
The way HNA's shareholding in the German lender was structured meant it never looked like a stirring vote of confidence. HNA didn't patiently build up an investment, or spend its own money on buying a big block of stock. Instead, it ramped up its stake to 9.9 percent in a matter of months using debt, borrowing billions of dollars not just to buy the shares but also to hedge them with derivatives. It's hard to dress this up as patient capital or sound risk management. The Chinese purchaser also drew scrutiny from Germany's financial watchdog, BaFin.
Obviously, any forced seller is a short-term negative. But is HNA really the kind of owner that should wield long-term influence at Germany's No. 1 bank? Probably not. So "long-term" was its approach that, under pressure from Beijing and the weight of its debt load, the Chinese conglomerate started to reduce its holding after just a year.
If HNA does indeed cash out entirely, that might remove a regulatory distraction and allow other shareholders to exert a better kind of pressure on Deutsche Bank's board. The lender needs a clearer and tougher approach to shrinking and cutting its sprawling footprint – or, failing that, a politically friendly merger partner like Commerzbank AG. Whoever replaces HNA might have such interests closer to heart.
This column does not necessarily reflect the opinion of the editorial board or Bloomberg LP and its owners.
Lionel Laurent is a Bloomberg Opinion columnist covering finance and markets. He previously worked at Reuters and Forbes.