Billionaire Singer Gets Into an Italian Staring Contest
(Bloomberg Opinion) -- Amos Genish, Telecom Italia SpA's CEO, seems to have a message for hedge fund billionaire Paul Singer: "Blink, I dare you."
The veteran telecoms executive has had a turbulent year at the helm of the former Italian national carrier. Singer's activist fund, Elliott Management Corp., acquired a 9 percent stake in Telecom Italia and set about agitating for change. In April, it managed to oust most of the board appointees of Vivendi SA, the French media conglomerate that owns 24 percent of the shares, and replace them with a lineup of Elliott-backed directors.
Those board members are becoming impatient with Genish and his job is at risk, according to a Bloomberg News report this week. The story came a day after Telecom Italia said the Israeli executive had bought about 523,000 euros ($608,000) of shares. It was a message that he's not going anywhere voluntarily — if Elliott wants him out, it'll have to fire him. 
That pins Singer's firm into a corner. When the activist convinced shareholders in May to vote for its slate of directors rather than Vivendi's, giving it 10 of 15 board seats, it pledged to back Genish and his turnaround plan. Meanwhile, a miffed Vivendi has been threatening another board vote. If Elliott reneges on its backing for the CEO, it would give Vivendi ammunition to call such a vote.
Increasingly, this looks inevitable. Following an initial bump after Elliott announced its stake, Telecom Italia is trading at all-time lows, buffeted by the standoff between its two biggest shareholders. Vivendi is working behind the scenes to improve relations with Italian lawmakers and regulators, perhaps recognizing that it was outplayed politically by Elliott, whose board nominees were all Italian. There needs to be another shareholder meeting in November anyway, to appoint auditors.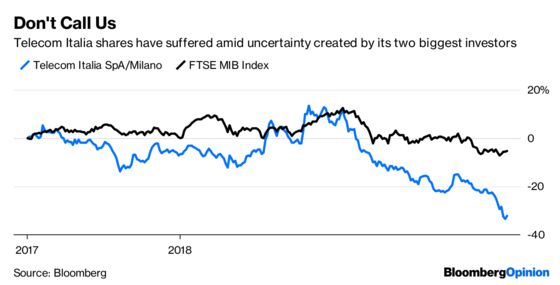 I've written before that Elliott and Vivendi need to leave Genish alone to get on with the job. He was a Vivendi appointee, but it's not necessarily certain which master he'd prefer. Before the Elliott nominees dominated the board, Vivendi's corporate governance was questionable at best and its perceived "French-ness" something of a handicap politically. Now it seems that Elliott isn't making things any easier.
The unfortunate thing is that Genish is making improvements in how Telecom Italia is run, even if the arrival of Xavier Niel's price-slashing Iliad SA as a local competitor doesn't help. The bigger problem is that he might not be fully aligned with Elliott's desire to sell assets quickly, such as a stake in the company's networks business. But, given his experience, he deserves to be heard on this too. 
Raising doubts about the CEO only seems to be hurting Singer's own financial interests, as evidenced by the share price. A period of radio silence may be preferable.
This column does not necessarily reflect the opinion of the editorial board or Bloomberg LP and its owners.
Alex Webb is a Bloomberg Opinion columnist covering Europe's technology, media and communications industries. He previously covered Apple and other technology companies for Bloomberg News in San Francisco.