Welcome to the Italian Bond-Market Circus
(Bloomberg Opinion) -- Italy's new government has clearly learned that saying the right sort of thing works. Yields have raced in this week on a barrage of press reports that the populist government is going to respect European Union rules in the 2019 budget.
Ten-year BTP yields have fallen nearly 40 basis points this week, driving the spread to German debt down to 250 basis points. Though this is still double the spread in May, before the political crisis blew up, at least that's progress.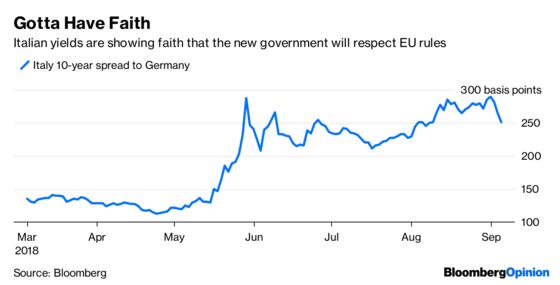 There is a technical component to this. The cheapest-to-deliver bond for the September 10-year BTP futures contract was proving somewhat scarce this week, undermining traders' willingness to put on new short positions on the contract so close to its expiry. That contributed to the swift drop in yields. 
But it wasn't just the 10-year bond that rallied. The whole yield curve shifted lower, with two-year yields falling to near 1 percent — a substantial improvement from levels close to 3 percent seen in late May.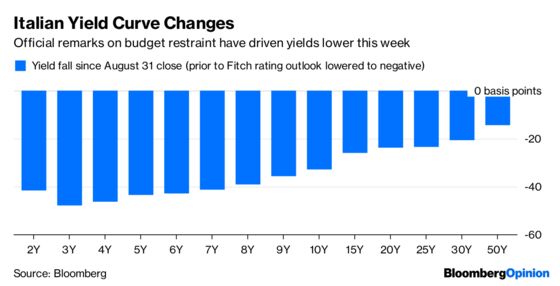 This shift is curious. Until the budget details are nailed down and the European Union signs off, this saga isn't over. In the meantime, this bond market rally is built on sand.
There is a lot of haggling to come. The Italian government must publish its Economic and Financial document no later than Sept 27. After that, the Draft Budget Plan will be submitted to the commission on Oct. 15. The new budget law should be in place before the end of the year.
On Wednesday, League leader and Deputy Prime Minister Matteo Salvini backed away from weekend remarks suggesting the budget would test a 3 percent ratio of deficit to gross domestic product, saying that he's prepared to delay the his party's flagship flat tax policy. It's one of many recent remarks from officials suggesting an urge to comply with the bloc's fiscal principles — Salvini, whose voice carries the most weight, said earlier this week that the budget will "respect all rules."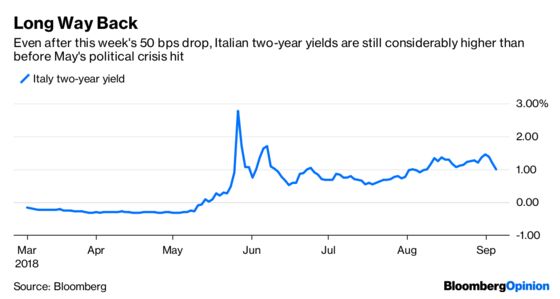 However, Five Star Movement leader and Deputy Prime Minister Luigi Di Maio is still insisting that his party's pledge for a citizen's income will be in the budget. The measure could raise the deficit ratio by 0.5 percent if fully implemented, according to Credit Agricole estimates. 
Combining all the various election pledges from the government coalition would add about 7 percentage points to Italy's deficit to GDP ratio. The 2017 ratio was 1.5 percent, and EU projections are for 1.7 percent this year and next — the limit set by the bloc's Stability and Growth Pact mechanism, which supersedes the 3 percent limit in the 1992 Maastricht Treaty.
Bond trading since the May election campaign has mostly showed investors having a hard time believing that this populist government will repudiate the promises that got it into power, just so it can deliver an EU-friendly budget. But this week's rally suggests investors seem to be focusing on Salvini, and not paying enough attention to Di Maio's comments. 
Anyway, these are all budget assumptions, and the budget drafts will surely also include projections for "efficiency savings" alongside vast expectations for EU help with migrant costs. These all need to be taken with a very large pinch of salt. 
The deficit to GDP ratio isn't the only important number in this process. What's also crucial is that the overall debt trajectory returns to the EU target of 60 percent of GDP. Italy's ratio has only recently stabilized above 130 percent. If the direction of travel reverses, the EU would be obliged to push back.
The outlook for Italy's debt market depends on what new fiscal measures are actually applied. Officials can't lower taxes, raise benefits, and meet EU targets. The political fight will continue, and volatility on Italian bond yields won't go away.
This column does not necessarily reflect the opinion of the editorial board or Bloomberg LP and its owners.
Marcus Ashworth is a Bloomberg Opinion columnist covering European markets. He spent three decades in the banking industry, most recently as chief markets strategist at Haitong Securities in London.