Billionaire Bonderman: the Next Target at Ryanair?
(Bloomberg Opinion) -- Most of Ryanair Holdings Plc's shareholders have long put up with the airline's peculiar corporate governance for the same reason passengers take one of its no-frills flights: They felt they were getting value for money in the form of a soaring share price.
That indifference emboldened management to stand up to the minority of investors who have on occasion dared to question how the company is run. Responding to a row over his pay last year, CEO Michael O'Leary said investors who didn't like it should "sell your shares." Some of his other reported comments were rather more colorful than that.
The roughly 7.5 billion euros ($8.7 billion) of Ryanair's market value that has been obliterated since August 2017 indicates some shareholders followed O'Leary's advice to the letter.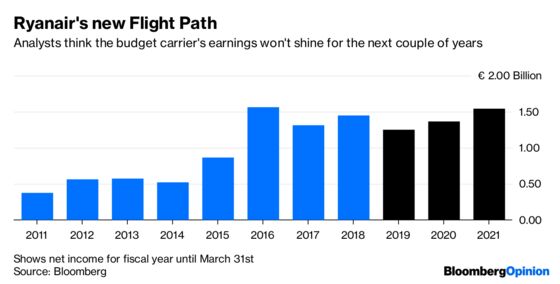 A staff rostering crisis that morphed into labor strife and, eventually, Ryanair's shock decision to recognize trade unions, have prompted investors to reassess Ryanair's once seemingly impregnable investment case. With labor and fuel costs on the rise, Ryanair's earnings aren't expected to grow for the next couple of years, according to analysts surveyed by Bloomberg. Those same factors should also nudge Ryanair to re-examine whether its governance is still fit for purpose.
Perhaps it will. Along with two prominent labor groups, proxy advisor Glass Lewis is recommending that shareholders oppose the re-election of billionaire chairman David Bonderman at this month's annual general meeting, Bloomberg News reported Tuesday.
The proximate cause of Glass Lewis's displeasure is Bonderman's role in appointing Kyran McLaughlin — a 17-year veteran on Ryanair's board — as senior independent director. One of his jobs to listen to concerns that investors feel can't be addressed by the chairman, CEO or CFO. Another is to review the performance of the chairman.
Besides his long tenure, the trouble with McLaughlin's candidacy is he is also deputy chairman of Davy Stockbrokers — which provides corporate advisory services to Ryanair.
It's particularly important when you have a pugnacious CEO like O'Leary — whose provocative public statements and hostility towards trade unions helped inflame the labor dispute — that there are people who are able to stand up to him. McLaughlin doesn't look like that person.
Unfortunately, he is by no means the only person of questionable independence on Ryanair's 14-strong board, all of whom, besides O'Leary, are non-executives.  
Bonderman, 75, who stepped down from Uber Technologies Inc.'s board last year after making a sexist comment, has been chairman of Ryanair for roughly the same time as O'Leary has been CEO — more than two decades. His huge experience in the airline industry is certainly valuable. Still, he's been there for more than twice the length of time the U.K. corporate governance code says a chairman should normally stay in his post so as to preserve independence.
It's not helpful that Bonderman seems to have plenty else on his plate. His other positions and responsibilities are copious and include directorships at Kite Pharma Inc. and Allogene Therapeutics Inc. and the chairmanship of private equity firm TPG. (Naturally, the Ryanair board is of the view that "these do not interfere with the discharge of his duties to Ryanair.")
The same question of independence hangs over two long-serving former Ryanair deputy CEOs who now serve as non-executive directors — Howard Millar and Michael Cawley.
There was a time when O'Leary could dismiss external criticism about how the company is run. He seems to have become more sensitive lately — wisely he waived his annual bonus, for example. Still, the Ryanair business model is being forced to adapt. It's time the board should, too.
This column does not necessarily reflect the opinion of the editorial board or Bloomberg LP and its owners.
Chris Bryant is a Bloomberg Opinion columnist covering industrial companies. He previously worked for the Financial Times.