A $9.6 Billion All-French Deal Risks an Interloper
(Bloomberg Opinion) -- The logjam in insurance M&A has broken. French mutual Covea Group is attempting an ambitious 8.3 billion-euro ($9.6 billion) takeover of reinsurer Scor SE, run by charismatic veteran chairman Denis Kessler. Securing an agreement for the mooted deal doesn't look easy.
The timing of the approach makes sense. After Axa SA's deal for XL Group Ltd. at the beginning of the year, a private equity bid last month for Aspen Insurance Holdings Ltd. and speculation that Allianz SE is on the prowl, it's natural that acquisitive insurers are moving on targets before anyone else does.
Covea can't pay dividends or buy back shares — it's owned by its customers — so M&A is a natural way to deploy its financial resources. It enjoys a solvency ratio of 372 percent, far in excess of the minimum required by regulators.
Buying Scor would let it diversify its business away from French domestic motor and home insurance, and add corporate clients and international exposure. Last year was bad for most reinsurers as the industry suffered record natural-disaster claims. Prior to Covea's approach in mid-August, Scor was trading 8 percent below its 2017 high.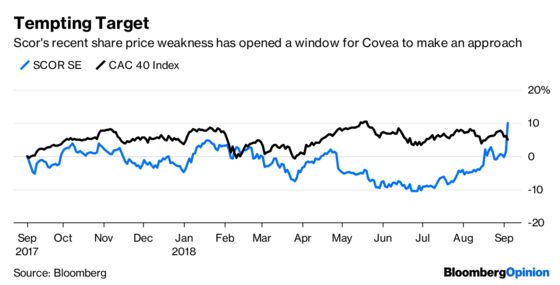 The 43 euros-a-share proposal is no knockout, and Scor is right to reject it. But it's a long way from being cheeky. The mooted price is 24 percent more than where Scor shares were trading just before the approach, and 31 percent above the stock's three-month average. It values the target at 1.34 times the group's most recent book value. Swiss Re and Munich trade at just over 1 times that measure.
Still, Covea needs to come up with a proposal that wins over Kessler. So far, Scor has been a buyer more than a seller of businesses. But if the industry is now consolidating it just looks too small to play a leading role in that process. While Scor's chairman should have an eye on succession, it's not clear that doing a deal to get out of the problem is what the 66-year-old had in mind. Kessler's assent will be valuable both for a securing an agreement and ensuring a smooth integration.
The risk is that Covea's bear-hug tactics nudge Scor into the embrace of a friendly counterbidder. The would-be acquirer's 8 percent stake in the target gives it an advantage, and an all-French deal may play well politically. But that may not be enough to deter rival interest.
This column does not necessarily reflect the opinion of the editorial board or Bloomberg LP and its owners.
Chris Hughes is a Bloomberg Opinion columnist covering deals. He previously worked for Reuters Breakingviews, as well as the Financial Times and the Independent newspaper.