An Upstart Billionaire Gets a Soaking
(Bloomberg Opinion) -- The French refer to "l'arroseur arrosé" – when the gardener gets soaked by their own hose. In English, the equivalent is "hoist by one's own petard."
Either way, it applies to telecoms billionaire Xavier Niel. The majority shareholder of Iliad SA helped create much of the turmoil in the French mobile phone market by undercutting the prices charged by incumbents Orange SA, Bouygues SA and Altice Europe NV's SFR.
Now the tables have turned, and those rivals are beating Iliad with their own low-cost offerings. The upshot is that Iliad's mobile and broadband subscriber numbers both fell in the first half. Sales missed analyst estimates.
Niel's response has been to offer yet another round of price promotions. But there must be serious questions about how sustainable that approach is. It will surely provoke another reaction from competitors.
That there's little tariff difference now between the French carriers plays into the hands of market leader Orange, according to Macquarie analyst Guy Peddy. As the former national operator, it has the best network coverage so consumers will turn to it if it's just as cheap as Iliad. A record number of subscribers defected to Orange from Niel's operator in the second quarter.
Iliad is trying to close the quality gap by investing heavily in its own network. Capital expenditure has soared since 2014. But it's a long way behind Orange and has less funds. While it promises operating free cash flow of about one billion euros in 2020, on a net basis analysts expect just 253 million euros of free cash flow that year. Net free cash flow this year will be negative.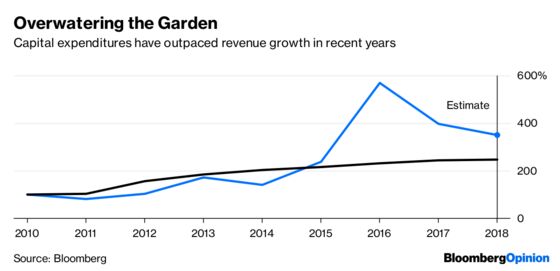 The shares jumped on Tuesday after Iliad said user recruitment picked up in July and August, but they're still down 41 percent since the start of the year.
To be sure, Iliad's French business looks much sounder than peers such as Altice. Business will probably improve, albeit at a slower pace than first hoped. Its relatively low revenue per user suggests there's room for higher profit. But it has to keep hold of those customers – not easy during a price war with three big rivals.
More than anything, Iliad's travails confirm the urgency for French consolidation. It needn't take part itself. But the billionaire trifecta of Niel, Martin Bouygues of his namesake firm and Altice's Patrice Drahi must find a resolution. Bouygues has said that no deal is possible before a French spectrum auction is completed, and an attempt earlier this year with Altice failed. Iliad CEO Thomas Reynaud says he won't trigger any tie-up. Having four operators at each others' throats is wonderful for French consumers but a nightmare for shareholders, and will hamper investment in the long term.
Niel the arroseur needs a little more space in his garden, and the only way of getting it will be for two rivals to merge.
This column does not necessarily reflect the opinion of the editorial board or Bloomberg LP and its owners.
Alex Webb is a Bloomberg Opinion columnist covering Europe's technology, media and communications industries. He previously covered Apple and other technology companies for Bloomberg News in San Francisco.