Meituan's IPO Could Leave Investors Hungry
(Bloomberg Opinion) -- Meituan Dianping wants to be everything to everyone: It even describes its mission as "helping people eat better, live better" in its preliminary IPO prospectus.
With these broad ambitions, the Chinese food-delivery giant is sounding out investors for a valuation of $45 billion to $55 billion. Its plans to raise up to $4.5 billion in a Hong Kong IPO would make it one of the world's largest floats this year.
There's a lot to like about Meituan: its scale, its aspirations, its big backing from Tencent Holdings Ltd. But there's a serious problem gnawing at the world's fourth-most-valuable unicorn: The company can't make money on its core food-delivery business, which accounts for 62 percent of revenue. And that may be the case for years to come.
Food delivery is a costly line of work with little room to get cheaper. That means losses – which came to 19 billion yuan ($2.4 billion) last year – won't go away soon. Though Meituan's food-delivery unit finally managed to eke out a positive gross margin of 8.1 percent last year, it's questionable how sustainable that can be, as competition heats up from rivals with deep-pocketed parents, like Alibaba Group Holding Ltd. and Didi Chuxing Inc. Without 25.8 billion yuan in new financing last year, the company wouldn't have been cash-flow positive.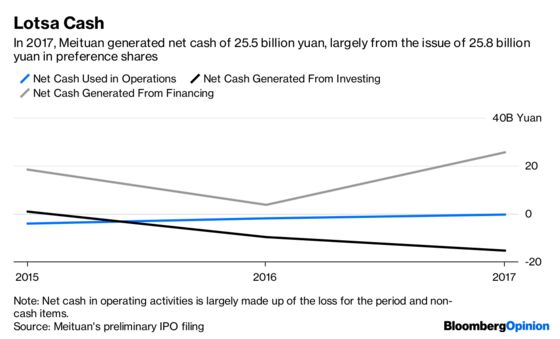 Meituan has to pay the full cost of delivery for 70 percent of its food orders
– and here's where it gets grim. The company's revenue from deliveries is 5 yuan to 6 yuan per order, while delivery costs are at least 6 yuan, estimates Daniel Hellberg, an independent analyst who posts his work on SmartKarma. Unless Meituan can convince restaurants or customers to absorb "100 percent" of the cost of the delivery, the company is probably going to lose money on the vast majority of its food orders, according to Hellberg, who values the company at $34 billion to $42 billion.
Raising prices simply isn't an option in China's hypercompetitive food-delivery market, where the barriers to entry are low and an arms race of promotions means customers often get meals nearly for free. Meituan spent an extraordinary 4.2 billion yuan on promotional efforts last year: Charging customers more for deliveries would effectively cede the market to Alibaba-backed Ele.me, the No. 2 player. China's biggest ride-hailing service, Didi Chuxing, is also jumping into the fray, launching its own food-delivery business.
Assuming, for an instant, that subsidies could be cut, there are still limits to how much delivery costs would fall. Meituan's network of more than 530,000 "riders" aren't employees. Rather, it outsources food delivery to local firms, typically staffed by unskilled migrant workers that have flooded China's biggest cities. Last year, the company spent 19.3 billion yuan on deliveries.
Add to this Meituan's other ventures – like its expansion into ride-hailing, taking on Didi, and even bike-sharing, after it bought Mobike in April – and the hole from its cash burn is looking big.
Despite these hurdles, there's still something to be optimistic about. Meituan is a powerhouse, part of a new generation of players – including Beijing Bytedance Technology – that are taking on the tech quartet of Baidu Inc., Alibaba, JD.com Inc. and even Tencent. The food-delivery firm has 310 million customers that have used its apps; posted 33.9 billion yuan in revenue last year; and delivered 11.2 million meals over that period. It's well on its way to becoming a "super app," a one-stop-shop that lets you do everything from car bookings to restaurant reviews.
Some might also argue that this is Hong Kong's first real Chinese internet-services IPO, a fact itself worthy of some hype. Investors are eager for signs that Hong Kong is beating New York as a preferred destination for Chinese internet stars after Xiaomi Corp.'s
lackluster float earlier this year.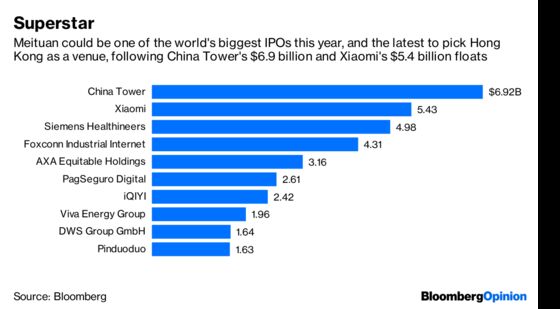 Having Tencent in its corner is a good thing, too, though we'd question how resolute its backing will be as Meituan creates its own competing mobile-payments system. Tencent, which owns 20 percent of the company, recently moved to buy about $400 million of stock in Meituan's IPO as a cornerstone investor, Bloomberg News reported.
Ultimately, investors will have to balance their concerns about Meituan's cash burn and its heft. At the right price, the company might just be able to deliver.
This column does not necessarily reflect the opinion of the editorial board or Bloomberg LP and its owners.
Nisha Gopalan is a Bloomberg Opinion columnist covering deals and banking. She previously worked for the Wall Street Journal and Dow Jones as an editor and a reporter.