The Turkish Lira Faces an Unwelcome Reminder
(Bloomberg Opinion) -- The Turkish lira is due for a reality check on Monday. 
August inflation data will probably show another big jump, this time to an annual rate of more than 17 percent, according to a Bloomberg News survey. Ouch.
The principal cause of the lira's weakness has been the central bank's refusal to put interest rates high enough to contain runaway consumer prices. So, on Monday, everyone will get a nice reminder that policy makers haven't acted quickly enough to control inflation.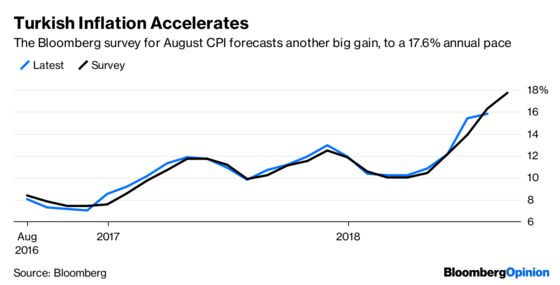 They'll also get a sense of where price gains are headed, and here the picture looks grim. Producer prices are the best leading indicator for consumer prices. PPI probably rose last month from July's 25 percent annual rate, as the lira weakened substantially. Add to this a rise in oil prices of almost 6 percent in August, and a higher consumer inflation rate seems locked in.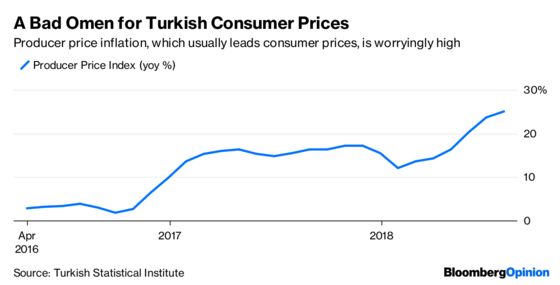 The Turkish central bank's next monetary policy decision is on Sept. 13. And with three-month money market yields at around 25 percent, it may appear that investors are pricing in a rate increase. That would be a mistake – the real reason yields are higher is that investors have fled.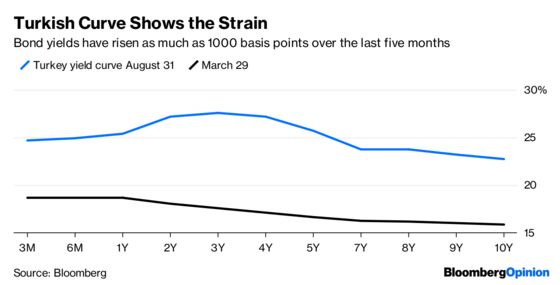 The Turkish authorities have responded to the crisis in roughly two ways: first, by claiming that the nation is the victim of a financial attack from abroad, most specifically from the U.S., and second, by tinkering with tax and foreign currency liquidity measures.
Neither of these will put a floor under the currency. If the central bank continues to be prevented from raising rates substantially, then this crisis will only get worse.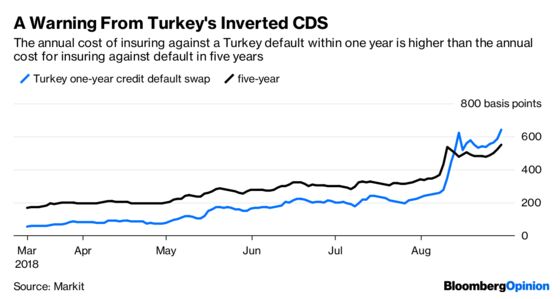 The consequences of letting inflation rip and the currency collapse are piling up. The costs for Turkey's banks have been punitive.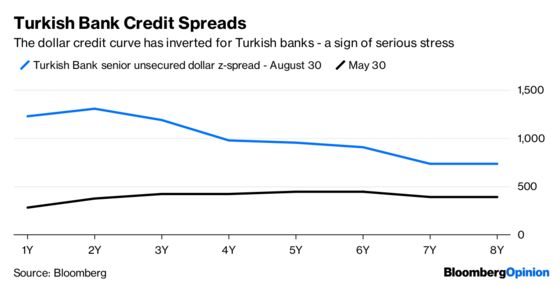 The cost for Turkish companies is mounting as the lira weakens.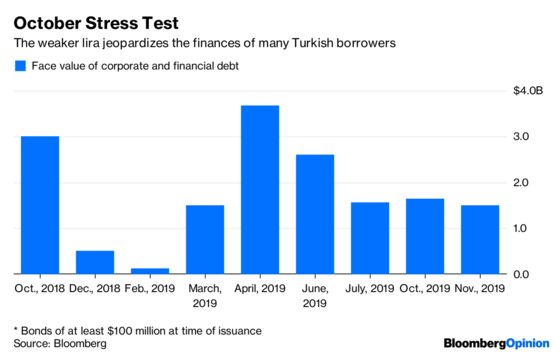 The risk is that a default or failure to pay comes sooner rather than later. Banks and companies have considerable foreign currency maturities that will soon need to be refinanced at much higher rates – and that is only if foreign investors are prepared to take the exposure. 
A large corporate default could cause major liquidity problems for lenders, triggering a chain reaction that would be hard to stop. This is why a currency freefall in a country that's so dependent on borrowing abroad is so dangerous.
The central bank's restrictions on foreign currency liquidity have made it much more expensive to hedge out lira exposure when buying a Turkish asset. While this may be useful for keeping the short sellers at bay, the measure could backfire horribly if it prevents foreign investors from buying Turkish assets unless they take full lira exposure.
Bloomberg Intelligence's Ziad Daoud estimates that Turkey's non-financial firms have $336 billion of foreign currency denominated debt, almost triple their assets. That makes them particularly susceptible to currency fluctuations. Were the currency to depreciate 40 percent in one year, debt servicing costs for non-financial companies would rise by $13.3 billion, he estimates. The real damage will likely be higher, since the currency is down 70 percent this year.
A rate hike won't solve Turkey's self-inflicted crisis but it would be the minimum step to prevent it getting even worse. Argentina's inability to control the peso's freefall despite hiking rates to 60 percent is a clear illustration of the consequences of doing too little, too late. One hopes the Turkish central bank is taking note.
This column does not necessarily reflect the opinion of the editorial board or Bloomberg LP and its owners.
Marcus Ashworth is a Bloomberg Opinion columnist covering European markets. He spent three decades in the banking industry, most recently as chief markets strategist at Haitong Securities in London.