China's SUV Makers Are Steering Toward Trouble
(Bloomberg Opinion) -- Unlike their American peers' unceasing love for gas guzzlers, Chinese consumers are getting over them. The country's carmakers should recalibrate.
Auto stocks have been the worst-performing sector in China as sales slide and foreign carmakers stake claims to a bigger share of the world's largest market. Earnings last week didn't give investors too much to bet on. Sales of Chinese brands dropped 6 percent in July from a year earlier, while German models posted a gain of almost 8 percent.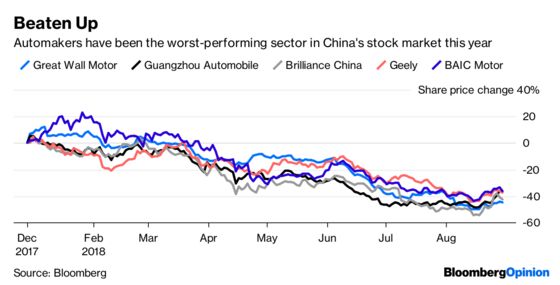 The trade war isn't the direct culprit for the underperformance, given how insulated Chinese carmaker revenues are from global demand.
In a nation where big, premium rides have been the norm, there's one anomaly: sports utility vehicle sales, which have led the market for years, fell by 8 percent in July. That's a jarring change from 17 percent average growth last year and 44 percent the year before. Sedan sales dropped by about 1 percent. China's passenger vehicle market is more or less split between sedans and SUVs.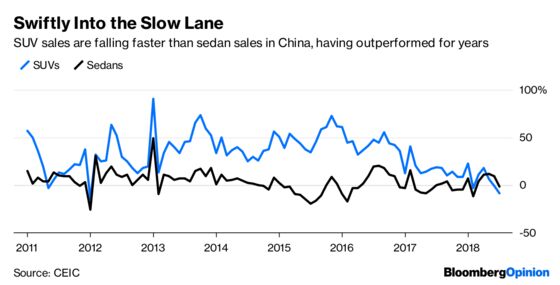 That's a contrast to the trend in the American market, where the Detroit Three have aggressively pushed higher-margin SUVs. The ratio of U.S. trucks (the category that includes SUVs) to sedans has risen sharply to more than 70 percent. In China, though, after climbing to around 90 percent, it has dropped almost every month to around 77 percent in July.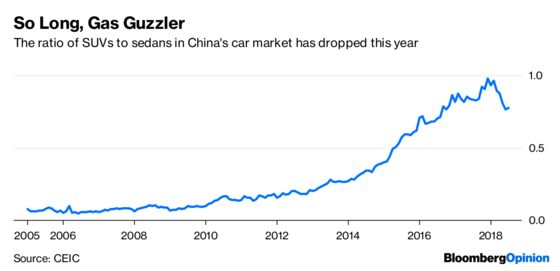 At first blush, it may seem whispers of the great Chinese consumption downgrade are true: squeezed household budgets and a lower propensity to take on debt translating to smaller, cheaper vehicles. Essentially, a big demand problem. But that's unlikely to be the case, at least for the more aspirational models. The Chinese are still buying Beemers and Benzes.
The more probable cause is a supply issue. Carmakers are churning out too many new SUV models. That's the result of a crossover fad that was shaped by a subsidy for smaller-engine vehicles. The number of new SUV models as a portion of the total has run ahead of SUVs' share of total sales for the past two years, and that trend is projected to continue in 2018, according to Nomura Holdings Inc. estimates.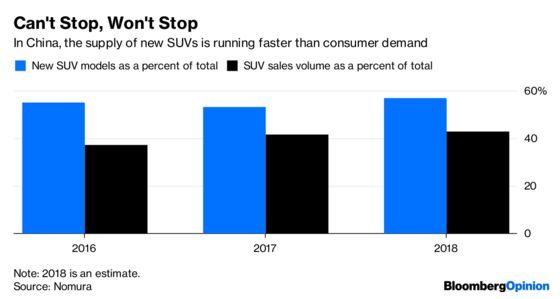 Take Guangzhou Automobile Group Co., for instance, where about 60 percent of the sales mix is SUVs. First-half earnings rose by 7 percent, but sales of its GS4 crossover eroded margins in the most recent three months. At Great Wall Motor Co., where almost 90 percent of sales are SUVs, margins came in at around 8 percent, compared with an average of 15 percent across peers.
Foreign automakers such as Volkswagen AG, General Motors Co. and Toyota Motor Corp. have mostly stuck to sedans, a segment they dominate. That helped them boost results at their Chinese joint-venture partners in the first half.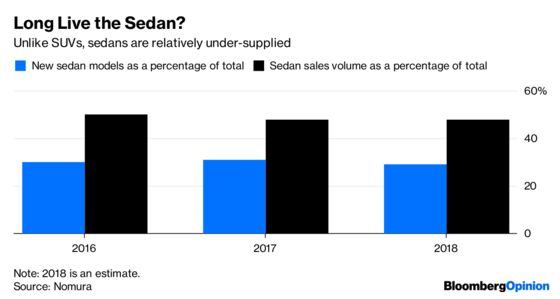 With every company grasping for the right SUV and rolling out new models and redesigns, the market is now heavily fragmented and flooded, with volume diluting margins. The likes of Geely Automobile Holdings Ltd. have managed to keep a balance, with about a 50-50 split between SUVs and sedans, while maintaining a sales-inventory-production equilibrium, as we have written. But many plan to keep on pushing out new models.
If China's carmakers don't steer away from this habit, the damage will be irreparable.
This column does not necessarily reflect the opinion of the editorial board or Bloomberg LP and its owners.
Anjani Trivedi is a Bloomberg Opinion columnist covering industrial companies in Asia. She previously worked for the Wall Street Journal.