WPP Has Picked the Right CEO to Forget Sorrell
(Bloomberg Opinion) -- Under erstwhile CEO Martin Sorrell, ads giant WPP Plc's hodgepodge of 400 child companies lived by the adage "Kiss and punch."
It was a formula that worked well for much of Sorrell's reign. "Kiss" the other WPP group companies when you needed to collaborate on a project, but "punch" them when competing for clients.
Since Sorrell departed in April longtime staffer Mark Read has been serving as interim co-CEO, and Bloomberg News reports that he's set to officially take the top job. He will have the unenviable task of undoing the culture of "creative conflict" that Sorrell spent 30 years cultivating. If he fails, it could lead to an unraveling of the holding company. At least Read looks up to the task.
WPP is trading at a significant discount to peers Omnicom Group Inc., Publicis Groupe SA and Dentsu Inc. That's prompted calls for a breakup of the world's biggest ads company. Investors were traditionally attracted to WPP because of its predictable dividend growth, according to independent media consultant Alex DeGroote. Now they can't count on it.
In the decade to 2016, Sorrell boosted the dividend by an average of 18 percent, even with 2009's stagnation. Those increases were driven by a fairly constant combination of organic revenue growth above 5 percent, combined with steady margin improvement, a buyback of about 3 percent of the stock and spending on acquisitions. Half of profit was then dedicated to the dividend.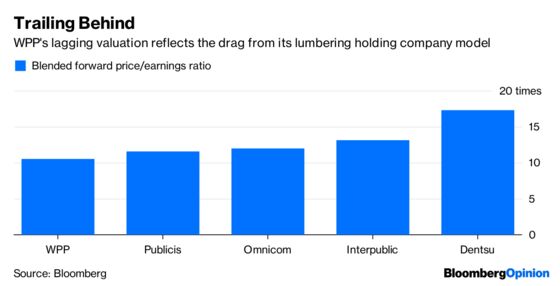 But the rise of digital agencies has made it harder to grow organically, and WPP only increased the dividend by 6 percent last fiscal year. Acquisitions are becoming the more reliable growth driver, which is concerning.
To regain ground, there are clear measures that Read needs to take. The holding company structure has proven ill-suited to the new realities of advertising and marketing.
When a digital consultancy such as Deloitte LLP or International Business Machines Corp. pitches a client, it has a unified offering since it doesn't comprise a series of disparate units. That's made a mockery of the holding company model, where group brands from JWT to Ogilvy might bid against each other for the same contract. U.S. revenue for the five biggest digital consultancies jumped 32 percent last year, compared with a 0.1 percent decline at the classic advertising agencies, according to Ad Age.
The holding structure has also made it harder to transfer expertise smoothly around the company — a unit CEO might be unwilling to lend an employee to a different division when they pay the salary but don't automatically benefit from the revenue. That makes it harder to serve a client's needs.
The approach was by no means unique to WPP. But archrival Publicis, home of Saatchi & Saatchi and Leo Burnett, has been faster to merge its agency brands with one another, according to Forrester Research Inc. analyst Jay Pattisall. That's helped reduce inefficiencies and overheads. Pattisall suggests that WPP's 100 different creative agencies should be reduced to just seven. That would inevitably lead to the sale of some units, income from which might placate investors.
WPP has started the process, but has a long way to go. Its brands collaborate more effectively than they did even 18 months ago, and it has sold some minority holdings, but it's far less coherent than Publicis. And progress isn't happening in a straight line — just this month, WPP opened a new consulting practice under the Grey brand, adding to a similar operation under Kantar.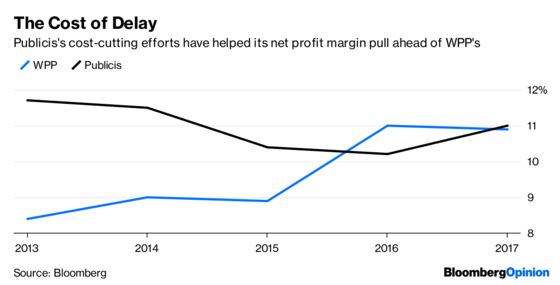 Ensuring that consolidation continues means Read's appointment is a shrewd one – he has spent a cumulative 18 years at WPP over two spells, culminating as head of digital agency Wunderman, exactly the kind of business that should be the company's new focus. He might find it hard to end old habits. But given Publicis's head start, it also means he won't require the acclimatization period of an external appointment, who would need time to work out the lay of the land before making any strategic decisions.
If he's able to provide a more coherent offering to clients, Read might be able to resurrect organic growth. He needs to convince clients that WPP can offer more than just ads, where Facebook Inc. and Alphabet Inc.'s are gobbling up sales. Instead, WPP needs to position it effectively as a one-stop shop for all marketing needs, with its units collaborating effectively towards that end. The priority will be North America, where WPP has endured steeper declines than its peers. Appointing a U.S. operations chief would seem a step in the right direction.
It does increasingly seem like WPP is moving in the right direction. The appointment of Read shows that the board thinks so, too.
This column does not necessarily reflect the opinion of the editorial board or Bloomberg LP and its owners.
Alex Webb is a Bloomberg Opinion columnist covering Europe's technology, media and communications industries. He previously covered Apple and other technology companies for Bloomberg News in San Francisco.