Casino's a Decent Grocer. Shame About the Owner
(Bloomberg Opinion) -- In the rapidly changing world of food retail, it's tough to find a store chain that's done a solid job on all the basics.
To thrive, any grocer should have a strong portfolio of stores, ideally in convenient, urban locations. It also needs little exposure to hypermarkets and a decent online offering.
France's Casino Guichard Perrachon SA ticks all of these boxes. But you'd never know it by looking at the shares. The price has fallen more than 40 percent this year, showing there's something else on investors' minds: its complex holding structure and heavy debt burden. 
Even before worries about its emerging market exposure prompted a rout that led to trading being halted temporarily on Friday, the stock slide has lately been intensifying. Investors are waking up to what's coming over the next six months. The problem lies at the intersection between Casino and Rallye SA.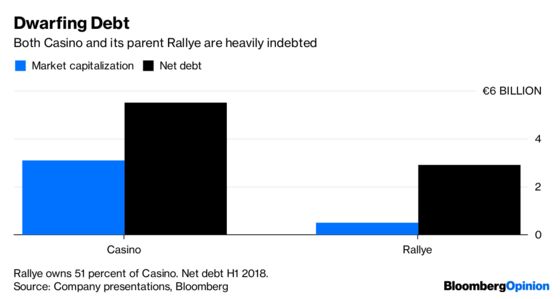 Casino is the main asset of Rallye SA, which has a 51 percent stake. Not only does this mean the parent relies on dividends from the subsidiary to service its debt, the value of its holding falls as Casino shares slide.
The immediate problem is that there are some substantial maturities coming up.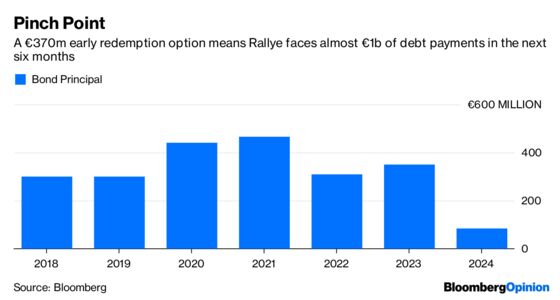 Rallye has 300 million euros of notes maturing next month. But it also said last week that it would honor the early redemption option that was exercised by most holders of its exchangeable bond — so that's another 370 million euros it will have to shell out in October. There's also another 300 million-euro security maturing in March 2019. 
Analysts at Credit Suisse estimate that Rallye has enough liquidity to cope with the bond maturities at least through to the end of 2019. But it's easy to see why a greater amount of pessimism is warranted, and some investors seem to have taken this on board: The cost of insuring against default on Rallye bonds has quadrupled in the past year, and is now above the level seen in 2009, during some of the darkest days of the financial crisis.
Rallye says it has a safety net — but this actually has some significant holes.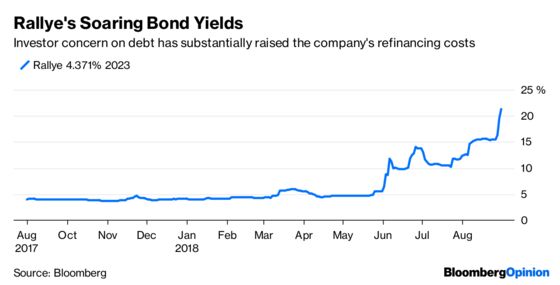 It has had 1.7 billion euros available through credit lines, and it could use these to cover the debt coming due, the company said last week. The catch is that drawing up to 1.4 billion euros from these would require Rallye to pledge Casino shares as collateral. That's not too much of a problem, as the shares would simply be held by Rallye's lenders.   
However, were Rallye to default, it's likely its banks would want to unload the Casino shares that had been backing up the credit lines.
The risk that this scenario materializes accounts for the drop in Casino shares to the lowest since 1996.
The only way to end this doom loop is for the ownership structure to be simplified and the borrowings paid down. Both look a tall order, because the man who ultimately controls both companies, Jean-Charles Naouri, is unlikely to accept any dilution of his ownership. 
That rules out a sale of either Rallye or Casino — and who would want them anyway, given their high debt levels?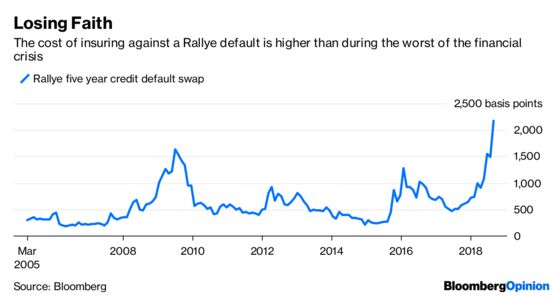 Casino could perhaps buy Rallye. This would get around the fact that, as Bloomberg Intelligence's Charles Allen points out, the money Casino pays through a dividend to cover Rallye's debt gets diluted — 49 percent is distributed to other shareholders. By buying its parent, Casino could more directly service the borrowings, either by slashing the dividend or ditching it altogether. There's plenty of scope to cut: The prospective dividend yield is about 11 percent, according to the Bloomberg consensus of analysts forecasts. But the high debt levels and Naouri's control might put a brake on this, too.
The only real option is for Casino to delever as much as possible. It's made a start, and has taken steps on a June pledge to sell 1.5 billion euros of assets by unloading a 15 percent stake in property company Mercialys, which raised 213 million euros.
It needs go much further. One obvious candidate is its Latin American holdings, which Credit Suisse analysts estimate are worth 2.3 billion euros. That would go a long way toward making a meaningful dent in its debt.
That would finally leave the company free to focus on its French business, where competition is getting worse. But unless Naouri allows rapid progress on reducing borrowings, and makes the corporate structure less convoluted, investors will never get the benefit of owning shares in a well-positioned retail operation.
The more Casino's share price falls, the more urgently he needs to change his tune.
This column does not necessarily reflect the opinion of the editorial board or Bloomberg LP and its owners.
Andrea Felsted is a Bloomberg Opinion columnist covering the consumer and retail industries. She previously worked at the Financial Times.