How Vodafone Hutchison Will Make $3.5 Billion of Debt Disappear
(Bloomberg Opinion) -- Aren't the strong meant to end up eating the weak?
That's not what's happening in Australia, where Vodafone Hutchison Australia Ltd. or VHA — an unlisted company with negative net assets and A$7.57 billion ($5.5 billion) of net debt at the end of 2017 — is on paper carrying out a takeover of TPG Telecom Ltd. While the deal is billed as a merger of equals, TPG will marginally be the junior partner with 49.9 percent of the equity, despite a market capitalization of A$5.5 billion before the mooted deal started to leak out last week and about one dollar of debt for every five held by VHA.
How does that work? The secret lies in making about 70 percent of VHA's debt vanish. Under the terms of the deal, A$4.8 billion of the total it owes will be kicked into a new entity largely owned by its existing shareholders Vodafone Group Plc and CK Hutchison Holdings Ltd.Once there, it will be serviced by dividend payments from the merged group and guaranteed by Vodafone and CK Hutchison, but will otherwise be walled off from the new company.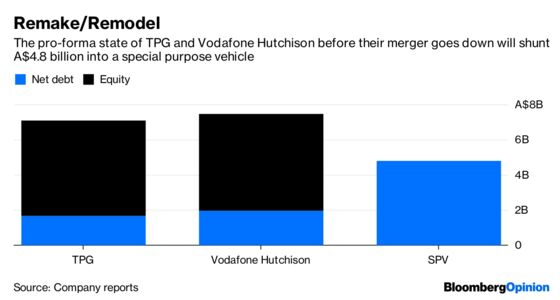 That's a neat way of dealing with the debt burden that VHA has been carrying around all these years. It should also be pleasing to shareholders of TPG. As we've written before, Australian retail shareholders — particularly those invested in brand-name telecommunications companies — show a notable preference for dividend plays, not least because so many of them are retirees who view shares as elements of an income-generating portfolio rather than assets to be bought and sold.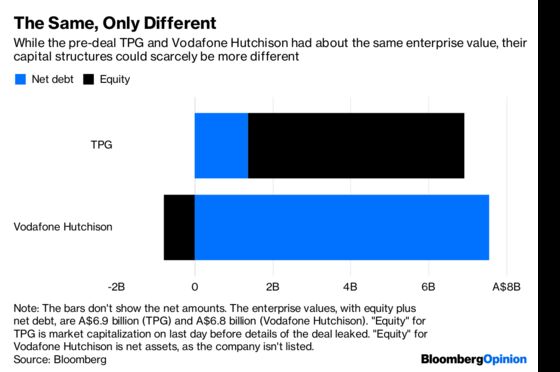 The new company will have a strong incentive to deliver generous payouts, since its majority shareholders will need those flows to service their debt. Just paying interest on that sum would necessitate annual dividends in the range of A$240 million, assuming a rate of 2.5 percent — better than TPG shareholders have ever received. To amortize the principal as well would quickly lift shareholder returns toward the A$895 million operating free cash flow that the merged company expects to post.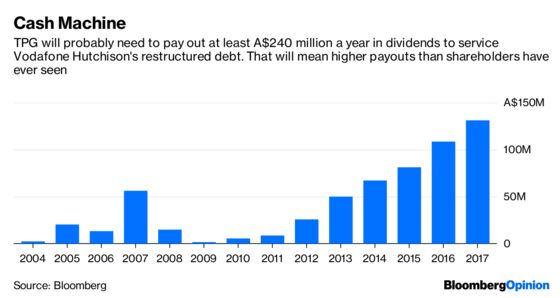 The main problem with this vision is that turning TPG into a cash cow sits uncomfortably with founder David Teoh's ambitions to make the company a mobile-to-fixed line full-spectrum rival of Australia's dominant phone companies, Telstra Corp. and Singapore Telecommunications Ltd.'s Optus.
It's notable that for all the detail about the structure of the transaction put out Thursday, there's little information on long-term capital spending plans, and none on how much the two companies will be able to recover from synergies. To be sure, those benefits may be significant: TPG has a decent amount of spare fixed-line capacity over which it could run Vodafone's mobile data, and the vision of turning the business from a more or less pure broadband play into an integrated phone company that can cross-sell mobile and fixed-line products raises the prospects of a better earnings profile in the future.
Still, even debt that's stashed elsewhere doesn't disappear. The new board will comprise four TPG directors, two independents, and four from VHA's shareholders. Any time management want to invest more money in their vision to take on larger rivals and become a player in Australia and more broadly in Asia, they'll have to deal with the desire of Vodafone and CK Hutchison to keep feeding the hungry debt monster lurking just out of sight.
What Teoh is about to gain in terms of scale, he may be about to lose in operational freedom.
This column does not necessarily reflect the opinion of the editorial board or Bloomberg LP and its owners.
David Fickling is a Bloomberg Opinion columnist covering commodities, as well as industrial and consumer companies. He has been a reporter for Bloomberg News, Dow Jones, the Wall Street Journal, the Financial Times and the Guardian.