Hedge Funds' Shift to Health Care May Be a Hedge Too Far
(Bloomberg Opinion) -- It's not quite the big short, but the latest outsized bet by hedge funds suggests the highly paid managers are worried that the economy's good health may falter soon.
Hedge funds, which until recently have been overweight technology stocks, particularly the popular FANG members, in addition to the consumer discretionary sector, have shifted their assets into health care. It's typically a sector that's less sensitive to moves in the economy than, say, tech or consumer discretionary, and it's a place investors turn to for protection when they are worried the market might head south.
Collectively, hedge funds, as measured by Goldman Sachs Group Inc., had just more than 17 percent of their assets invested in health care stocks at the end of the second quarter. That makes health care the most overweight of any sector in hedge fund portfolios, according to Goldman's analysis. And it roughly matches the big bet hedge funds had on tech stocks a year ago, when roughly 29 percent of the private investment vehicles's assets were in that sector, or about 4 percentage points more than the sector's share of the broad-market Russell 3000 passive stock index.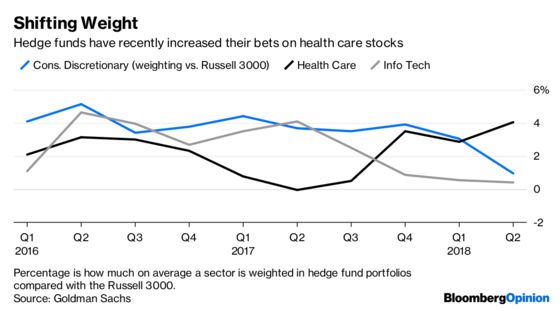 But in the past year, hedge funds have shifted more than $90 billion into health care stocks, which now make up 4 percentage points more of their portfolios than the sector's percentage of the Russell. Much of that money has come from tech, whose overweight of the index among hedge funds has shrunk to less than 1 percent. Bets on consumer discretionary stocks have shrunk as well.
The bet appears to be paying off so far. Health care stocks are up 13.6 percent in the past three months, outpacing the 8.9 percent increase in the S&P 500 in the same period. But the hedge fund purchases could be driving those stocks up. What's more, the rise in health care stocks is not quite enough to make up for the beleaguered bets in the other parts of their portfolios. The Hedge Fund Research HFRX Equity Hedge Index is up 0.7 percent this year.
A cautious take on the economy is not the only reason to buy health care stocks. Envision Healthcare Corp., for instance, which according to Goldman's analysis is the biggest individual hedge fund holding in the sector, is possibly a bet on a private equity acquisition. Health care stocks, and pharma stocks in particular, are also trading at a discount to the broader market, which could account for some of the appeal.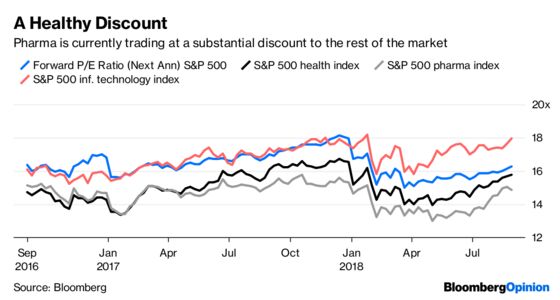 While pharma's earnings growth hasn't exactly sparkled, hedge funds may think that the perceived policy risks that have weighed on these stocks may be declining. President Trump seems to have been mollified by largely meaningless pricing freezes. The administration does appear to be interested in hampering pharmacy benefit managers, but potential shifts to how these middlemen negotiate drug prices are likely to benefit pharma firms, not hurt them. Pfizer Inc. CEO Ian Read outright endorsed such a move on his firm's second-quarter earnings call. In addition, Senators Elizabeth Warren and Tina Smith wrote a letter to Health and Human Service Secretary Alex Azar on Aug. 17 questioning whether he is coordinating with drugmakers to blame PBMs for rising prices.
On top of that, unless the midterm elections take a sharp turn in the GOP's favor, another attempt to gut the Affordable Care Act and Medicaid is unlikely.
Still, other moves suggest that at least part of the turn toward health care is inspired by a growing bearishness about the economy. Financials, one of the sectors most sensitive to the economy, are the most underweighted by hedge funds relative to the Russell index. Also, while still net betting on the market, hedge funds have trimmed their net long exposure to stocks this year.
That bearish bet seems a long shot at best. The economic expansion, while long, seems hotter than it has in a while. An economic forecasting model from the Federal Reserve Bank of Atlanta suggests the economy will grow more than 4 percent in the third quarter, just as it did in the second. A trade war could short-circuit that prediction, but with a deal with Mexico likely, that economic risk appears to be easing. Many people think Trump's tax cuts, which so far have done little to increase wages, have yet to work their economic magic. Few believe the economy will sour before the end of next year.
All that will make the collective hedge fund community look like geniuses if the economy does head south sooner. But investors shouldn't bet on that.
This column does not necessarily reflect the opinion of the editorial board or Bloomberg LP and its owners.
Stephen Gandel is a Bloomberg Opinion columnist covering banking and equity markets. He was previously a deputy digital editor for Fortune and an economics blogger at Time. He has also covered finance and the housing market.
Max Nisen is a Bloomberg Opinion columnist covering biotech, pharma and health care. He previously wrote about management and corporate strategy for Quartz and Business Insider.