Campbell Soup's Revamp Plan Is M'm! M'm! ... Meh
(Bloomberg Opinion) -- When Campbell Soup Co. interim CEO Keith McLoughlin announced back in May that the packaged-food giant was conducting a strategic review after another quarter of dismal performance, he told investors on a conference call that "everything is on the table. There are no sacred cows."
Clearly, he really meant it.
Campbell said Thursday that it's looking to divest its international division, which includes Arnott's biscuits and crackers, as well its fresh-foods division, which includes Bolthouse Farms and Garden Fresh Gourmet. The idea is to become a leaner company that can concentrate on getting its core soup and snack brands in better shape.
First, I should acknowledge what a remarkable about-face this is for Campbell. Its fresh division was set up as recently as 2015 as a way for the company to take advantage of the sales growth that was coming from the refrigerated perimeter of the grocery store. And it reflects poorly on Campbell's leaders that they weren't able to get this unit in better shape. It should've been a buffer as changing consumer tastes make the packaged-soup and snacks business more challenging.
But at this point, it's probably for the best that it says goodbye to the division. It's been tripped up in recent years by everything from product recalls to too-tiny carrots. In the fiscal-year results the company reported Thursday, it was a key drag on profitability.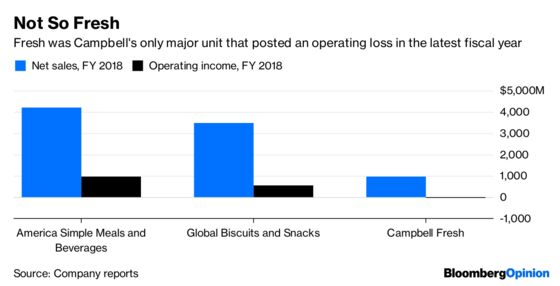 There's also sound logic to getting rid of the international division. Campbell was already largely a North America-centric business, and it makes sense to try to focus on making its power brands more resonant here and strengthening its supply chain.
Still, I don't think investors should be feeling too great a sense of relief or clarity after hearing about this plan from Campbell.
For one, it doesn't provide much of a road map for how it is going to increase top-line sales in its remaining brands. John Baumgartner, an analyst with Wells Fargo & Co., has pointed out that Campbell's soup business could use a serious reinvestment and marketing overhaul to bring people back. But besides some vague decrees about how the company "will leverage consumer insights and trends to drive relevance," there's not much detail here on how it will get people to buy more of its food.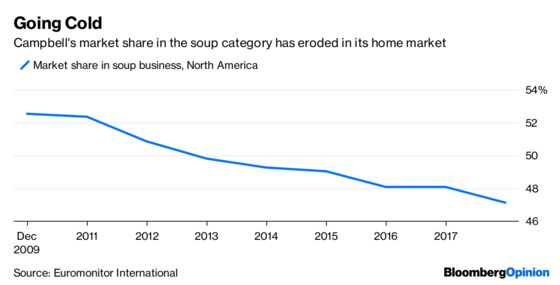 It does, however, call for yet more cost-cutting, with measures such as expanding its zero-based budgeting and finding manufacturing efficiencies. But former CEO Denise Morrison had already aggressively cut costs in recent years. How much more profit can it really wring out of these kinds of actions?
I also find it somewhat baffling that these consequential decisions are proceeding before the company has identified and brought aboard a new permanent CEO. The board must have felt it was urgent to show investors they were taking swift turnaround action.
But this plan leaves open the possibility that activist investor Third Point could keep agitating for Campbell to put its entire business up for sale. Given that today's plan left that option on the table but didn't specifically call for it, it's possible Campbell just created a situation where the first act for its new CEO will be dealing with a messy proxy fight.
Campbell put forward some reasonably good ideas on Thursday. But they feel like a first step, not a comprehensive comeback plan.    
This column does not necessarily reflect the opinion of the editorial board or Bloomberg LP and its owners.
Sarah Halzack is a Bloomberg Opinion columnist covering the consumer and retail industries. She was previously a national retail reporter for the Washington Post.