Bonds Have a Balkan Port in Europe's Italian Storm
(Bloomberg Opinion) -- Italy's budget drama and Brexit have created an existential crisis for the European Union. But in the bond market, countries that pursue their dream of joining the bloc get rewarded. 
Ascending to the world's largest single market, and the potential for access to development funds, make it compelling for membership candidates to make sure they meet the entry requirements, which include limits on deficits and debt. The European Central Bank's negative deposit rate and quantitative easing program tend to drag down borrowing costs for all EU members, regardless of whether they've adopted the common currency.
The direction of travel is key. This explains why the debt of some Western Balkan nations can be a relative haven for fixed-income investors, and Albania's plan to issue debt next month for the first time in three years is well-timed. The EU has committed to have all of these countries become full members, but the timetable depends on each country's progress toward meeting the entry requirements.
The first wave of Eastern European countries to join the bloc are a good illustration.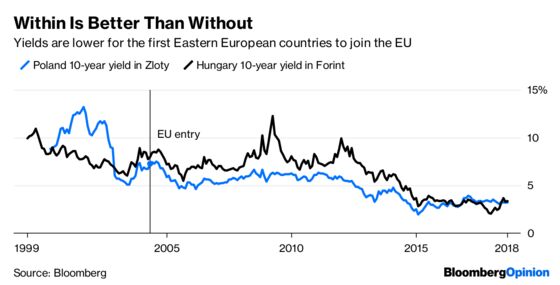 Compare that to the blowup in Italian yields since the populists took center stage in May.
European government bonds suffered a huge risk-off moment as investors took fright at the prospect of euroskeptics taking power in Rome, and the recovery has been somewhat mixed — Spain, Portugal and Greece show the fallout from May's contagion to varying degrees.
Meanwhile, emerging nations vulnerable to pressure from a stronger dollar have continued to find life to be difficult. The turmoil in Turkey and Argentina doesn't help. 
So it's somewhat remarkable that the debt securities of Albania, Macedonia and Montenegro, which are all rated around B+, are performing as well as they are. The gravitational pull of the European Union has proven itself to be a more powerful force than Italy's political crisis.
This should give Albania a lift in its plans to issue a new eurobond next month. It is one of Europe's poorest nations, yet its relative economic weakness won't be reflected in the low spreads it is likely to secure. 
Demand should be healthy as it is only looking to raise up to 500 million euros. The proceeds will mostly be used to retire more expensive debt, including up to 200 million euros of a bond due in 2020 — a nice demonstration of the fiscal prudence that EU members are supposed to show.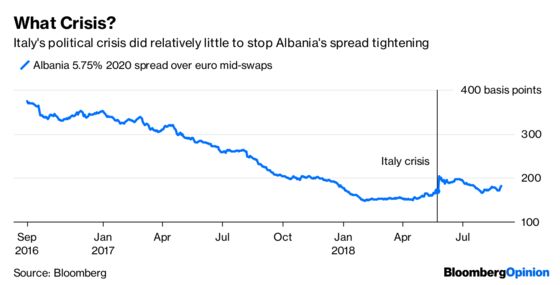 As there is relatively little sovereign issuance from the region, funds will be keen to participate. Once the sale is complete, it's pretty likely that it will be included in emerging market bond indexes — and that prospect will only add to demand.
It is logical for Albania to extend its debt maturities — it's planning a five-year security — while at the same time reducing the overall cost of its debt. Its 2020 security has a 5.75 percent coupon, and now yields about 1.5 percent — in line with Montenegro's 2020 bonds. Macedonia's yield is about 1 percent.
Albania will issue at a longer maturity if the market demand is there, Bloomberg News reported. Given that both Macedonia and Montenegro have issued seven-year securities this year, Albania could well find enough interest to consider the same. 
At that maturity, the spread on offer will likely be close to 280 basis points more than mid-swaps. Provided the broader market is pretty much unchanged by the time the issue comes, the yield would be about 3.4 percent — in line with the Montenegro seven-year. Compare that to the 5.2 percent yield for a seven-year Ivory Coast bond, or the 5.35 percent yield for a 10-year Senegal security, both of which are in euros. 
The fate of the Balkan countries' borrowing costs depends on whether they keep to the path for EU membership. Though Brexit and Italy could provoke a change in mood on enlargement, what's more important is that these crises can unite the region against threats to the European project. That could go a long way toward overcoming any doubts member nations may have about the cost of taking new countries into the fold. 
This column does not necessarily reflect the opinion of the editorial board or Bloomberg LP and its owners.
Marcus Ashworth is a Bloomberg Opinion columnist covering European markets. He spent three decades in the banking industry, most recently as chief markets strategist at Haitong Securities in London.