Yum China Should Have Taken the Money
(Bloomberg Opinion) -- Forget your doubts about whether the consortium that offered an almost 30 percent premium for Yum China Holdings Inc. could have turned around the American fast-food chain.
The fact is, the board of the U.S.-traded operator of KFC and Pizza Hut restaurants in China just shunned an attractive takeover of a struggling business. Yum China rejected the offer from an investor group led by Hillhouse Capital Group that included KKR & Co. and the China Investment Corp. sovereign-wealth fund.
The proposal for China's biggest fast-food company valued it at $17 billion, or $46 a share in cash, a 28 percent premium over Monday's closing price. While that's below the stock's record high of $48.18 reached in January, it's above the $42.20 consensus forecast of 13 analysts polled by Bloomberg. And Yum China, spun off from Yum! Brands Inc. in 2016, is selling its pizzas and fried-chicken buckets (with congee thrown in) just as consumer spending slows and the company faces a range of headwinds.
Chief among those is that Yum China's offerings have lost their hip factor — a far cry from the 100-yard-long lines outside the first KFC store decades ago. Competition, both from local brands and online players, is eroding its margins, while Pizza Hut seems to have lost its way.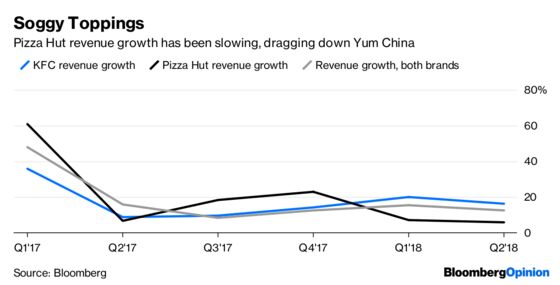 Yum pushed into mobile payments, which now account for about 63 percent of sales, according to JP Morgan. But that did little to arrest its declining share of the Chinese fast-food market.
Overlay Yum China's own struggles with the prospects that an escalating trade war could prompt a boycott of American brands, and the outlook is dim.
As we've said, the key to growth is building out in China's smaller cities, where fried chicken or durian pizza served in clean restaurants still has some allure.
It's questionable how much of that growth the would-be buyers could have achieved, or whether the plan was to follow the private-equity playbook and load up the chain with debt. But the group would have brought Yum China two important benefits: additional cash, and turnaround expertise. The likes of KKR and Hillhouse have both in spades, and have raised billions of dollars in Asia funds in the past year.
What now? Yum is probably better off either in Chinese hands, with a chance to replicate the success of the McDonald's brand in China since the local unit's takeover by Citic Group Corp. and Carlyle Group, or a flight into the arms of another private-equity buyer with tech expertise and local connections. 
In China's new consumer world, it's hard for any restaurant chain to survive alone, even with great technology. Platforms need to be connected with online retail for better access to customers and lower costs. Hillhouse is all over the China tech story, as a strategic shareholder in Tencent Holdings Ltd. and JD.com Inc., but there are other potential buyers of a fast-food chain with almost 8,200 stores.
Yum China needs to focus on long-term growth, not quarterly results. It can do that better in private hands.
This column does not necessarily reflect the opinion of the editorial board or Bloomberg LP and its owners.
Nisha Gopalan is a Bloomberg Opinion columnist covering deals and banking. She previously worked for the Wall Street Journal and Dow Jones as an editor and a reporter.