Billionaire Drahi Will Soon Have to Swallow His Pride
(Bloomberg Opinion) -- Patrick Drahi probably didn't have much choice.
The billionaire founder and president of Altice Europe NV plans to sell a stake in the high-speed fiber networks of the company's French carrier, SFR. It's one way for the highly levered firm to secure the cash it needs to fund the next generation of networks — and probably the best way at this point, given that Drahi has refused to merge SFR with a peer such as Bouygues SA.
Such a merger is probably unavoidable, and Drahi would do better to just get on with it. 
SFR committed in June to deliver fiber connections to 2.6 million homes as part of an agreement with competitor Orange SA to avoid duplicating networks, and is planning a total of 5 million connections by the middle of the next decade.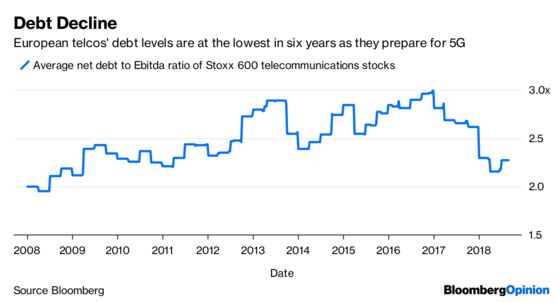 It could be tough for the parent company to fund investment and service its debt. While Altice has managed to reduce its leverage over the past two years, its debt pile remains proportionately much larger than those of its peers, which have been reducing debt in case they need to borrow to fund investment in new 5G networks.
But with Altice's free cash flow this year set to reach just the low end of earlier expectations, it's reasonable to question how it was going to fund the expansion. Capital expenditures climbed to 4.5 billion euros last year, and combined with debt interest payments of 1.1 billion euros, the company's free cash flow has turned negative.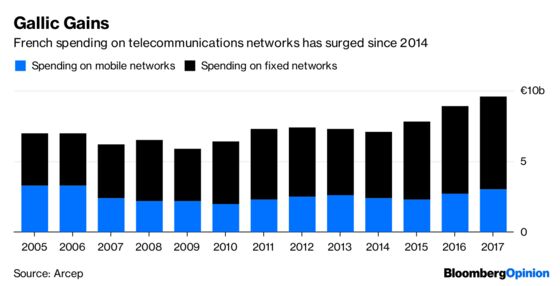 There's logic to Drahi's move. Altice has already raised 2.5 billion euros by selling stakes in cell towers in France and Portugal to KKR & Co., Morgan Stanley and Horizon Equity Partners, so it makes sense to try again to get the same crowd involved with the fiber networks. Chief Executive Officer Dennis Okhuijsen signaled as much in the company's second-quarter conference call.
But approaching infrastructure funds to pay for the network investment also feeds into the perception that Drahi lacks the operational nous to squeeze the best out of his businesses, even though he's a whiz at dealmaking. Less than a year after a series of management changes saw him reassert control over Altice NV, the company is spending more on customer acquisition than investors had expected amid a price war with Iliad SA in France. 
True, that investment has led to an increase in revenue, and executives say it will pay off in the longer term. Operational cash flows are positive, indicating the underlying business is sound.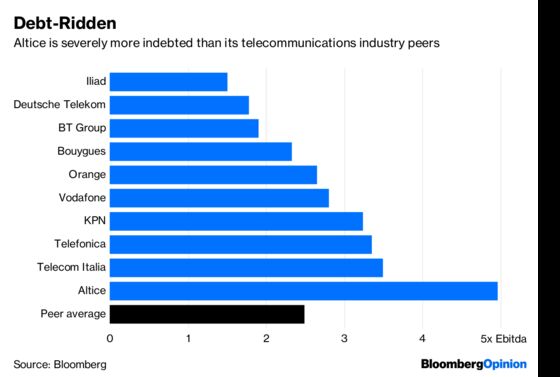 A company with such a stretched balance sheet, that is paying more than most peers to stay competitive, isn't one that's well-positioned to forge its own future. A fiber business stake sale will keep the wolf from the door a little longer, but unless Drahi is able to demonstrate sustained improvement in SFR's operations — which seems like a tall order — then he'll just have to swallow his pride and seek a broader tie-up with a French peer.
This column does not necessarily reflect the opinion of the editorial board or Bloomberg LP and its owners.
Alex Webb is a Bloomberg Opinion columnist covering Europe's technology, media and communications industries. He previously covered Apple and other technology companies for Bloomberg News in San Francisco.