Aston Martin's IPO Is a Case of Ferrari Envy
(Bloomberg Opinion) -- Tech IPOs generate lots excitement, but for sheer theater it helps to have something tangible — like a car.  
When Ferrari NV sold shares to the public in 2015, it parked half a dozen of its most recognizable vehicles outside the New York Stock Exchange. This seemed to do the trick. Before long, the company's shares were valued as highly as those of Prada SpA.
You can bet Aston Martin Holdings (U.K.) Ltd. will attempt something similar when it goes public in London later this year: James Bond's DB5, the Valkyrie supercar, perhaps an Aston Martin submarine — it should be quite a show. The carmaker is open about its valuation ambitions, too. Chief Financial Officer Mark Wilson told Bloomberg he has Ferrari's premium valuation very much in mind. 

Potential investors should resist getting caught up in the romance. The company's recent return to form has been impressive, but Aston Martin is no Ferrari — at least, not yet.
First-half earnings, published Wednesday, were respectable. If revenue rises in line with projected unit sales, the company should, on an optimistic estimate, generate about 280 million euros ($326 million) of Ebitda this year. Based on Ferrari's enterprise value, that should give Aston Martin a valuation of more than five billion pounds, including debt.  
Is that appropriate? The company's pitch to investors has some attractions. CEO Andy Palmer plans to more than double the number of cars he sells in the medium term, and he thinks Ebitda margins will widen to about 30 percent, helped by a new sports utility vehicle and high-priced special edition models. 
These are by no means the only blemish on the vehicle. It's questionable whether even Ferrari deserves its luxury valuation: Carmaking is a capital-intensive business that faces costly technological and regulatory challenges. Competition in the luxury car segment is intensifying, including in the SUV segment. It's possible the weak sales and losses reported by Volkswagen AG's Bentley unit are a sign its Bentayga SUV hasn't been a knock-out success.
With Brexit approaching, Aston Martin is also vulnerable to a decline in the pound or rise in trade frictions — it relies on Germany's Daimler AG for supplies of engines and electronics. It also depends on the U.K. for about 30 percent of sales. By contrast, the brand remains rather underrepresented in Asia.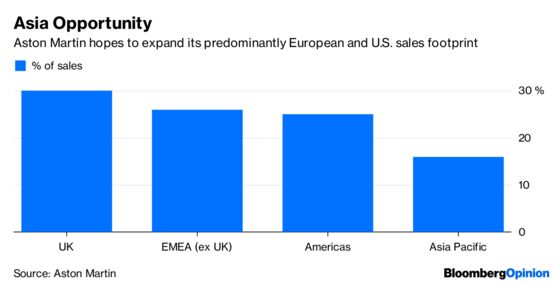 Its balance sheet isn't the strongest, either. Most large carmakers have a net cash position; Aston Martin had 570 million pounds of long-term debt and 170 million pounds of cash at the end of December (the most recent period for which figures are available). The IPO isn't going to change that much: The money raised in the offering will go to the company's Kuwaiti and private equity owners.
Aston Martin has had to come up with some clever ways to cope with these disadvantages. The 25 replica Goldfinger DB5s it is planning to build aren't just a brand-building exercise; they are a cash cow too, as customers will put down a big deposit for the 2.75 million-pound vehicle well ahead of delivery. For that, you get revolving number plates.
Aston Martin hopes its IPO will help the once serially lossmaking carmaker complete its rapid transformation. But as the consummately polite James Bond would surely agree, a little modesty would go a long way.
This column does not necessarily reflect the opinion of the editorial board or Bloomberg LP and its owners.
Chris Bryant is a Bloomberg Opinion columnist covering industrial companies. He previously worked for the Financial Times.