Sinopec Is Planning the Wrong Spinoff
(Bloomberg Opinion) -- Shareholders in China Petroleum & Chemical Corp., the giant oil refiner known as Sinopec, have little to complain about this year.
Thanks to excitement around the planned spinoff of its pipelines and marketing businesses and better margins in a time of weaker crude prices, the shares are up 38 percent this year. After announcing a record half-year profit over the weekend, the Hong Kong-traded shares rose as much as 5 percent Monday to a three-month high.
At the same time, the strength of first-half earnings should remind the company's new Chairman Dai Houliang how little investors are buying Sinopec's story. Its enterprise value is one of the cheapest among oil majors, at just 3.86 times Ebitda compared to a median of 6.74 across the industry. Pure-play refiners such as Reliance Industries Ltd., Phillips 66, Marathon Petroleum Corp., Valero Energy Corp. and S-Oil Corp. typically have valuations at about double that level.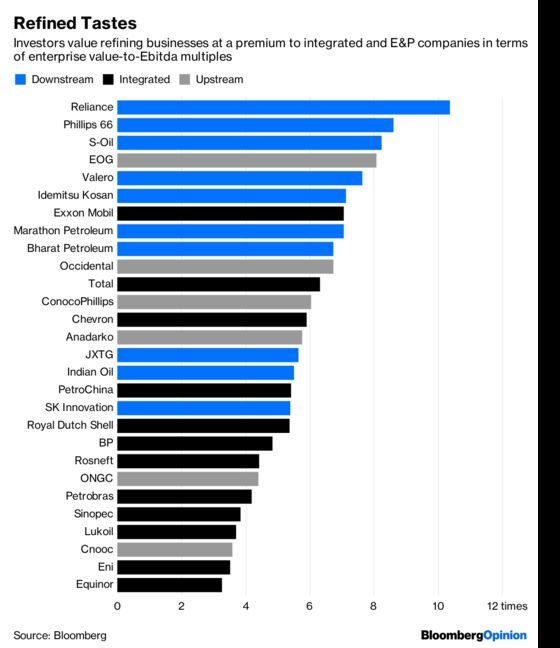 Here's a better way of doing things: Once the pipelines are gone, drop the marketing spinoff and start working on separating the upstream production unit instead.
There are sound reasons for such a move. Upstream has been a consistent disappointment in recent years, having lost money at the operating level for 13 consecutive quarters. Sinopec's oil reserve life has been falling for a decade as the immense Shengli field at the mouth of the Yellow River goes dry, and currently stands at just five-and-a-half years.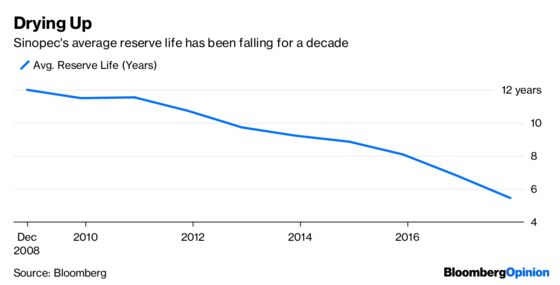 What's more, a focused downstream business with a good range of refining, marketing and chemical assets is a popular model for which investors have a proven appetite. Since downstream units Phillips 66 and Marathon Petroleum Corp. were spun out of ConocoPhillips and Marathon Oil Corp. in the early part of this decade it's the refiners that have reached for the skies and the upstream-focused remainders that have languished.
One obvious objection is that no one would want Sinopec's oilfields – but the business isn't so unattractive. The biggest driver of upstream losses has been immense depreciation and depletion charges, which have amounted to as much as half of revenue in recent years. Those have been thanks largely to the impairment of assets as a result of lower oil prices, lavish capital expenditure when crude was costlier, and the exhaustion of aging wells.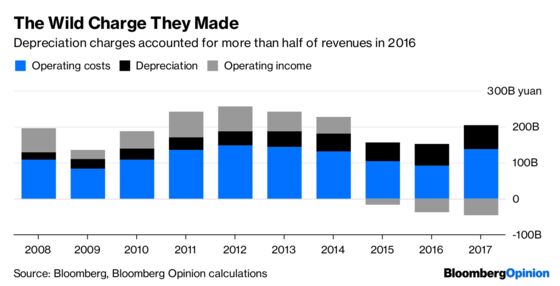 One option would be to do the sort of asset-swap that China's planners like to engineer between state-owned enterprises. Cnooc Ltd., whose main domestic oilfields lie in the Bohai Sea not all that far from Sinopec's Shengli division, could acquire the upstream unit and hand over its single refinery in part-payment, giving China a pair of more focused upstream and downstream businesses to go with its planned midstream pipeline company and the integrated giant PetroChina Co.
That would free Sinopec to get on with the refining and marketing it does best and hand the business of exploration and production over to Cnooc, which might be better at the job given that its finding, development and production costs tend to be drastically lower.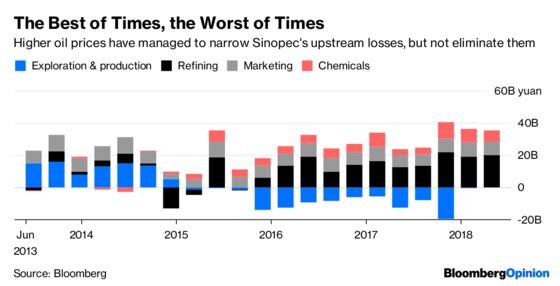 To be sure, there are advantages in holding on to upstream production, particularly as a hedge should oil prices head higher. But in practice, that's not happening anyway: Integrated oil businesses typically buy whichever barrels are cheapest and fit their refineries best. Sinopec's own production over the past few years has amounted to just 16 percent or 17 percent of its plant throughput, so the benefits seem limited.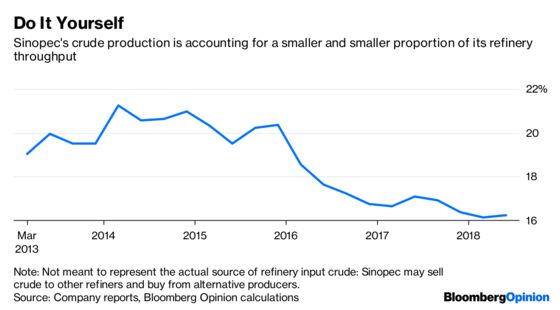 It's unlikely that any such deal is in the works. For one thing, the well connected mainland investors who stumped up 107 billion yuan ($15.7 billion) for a 30 percent stake in the marketing unit in 2014 will want their opportunity to cash out. Once the pipeline separation is complete, the retail spinoff is widely expected to be the next item on the agenda.
For another, wriggling out of the government's capex targets by selling out to a smaller rival is precisely the sort of move that would be frowned on by Beijing. The low-profile Dai – whose most important job is arguably his role as secretary of Sinopec's Communist Party committee, rather than his letterhead one as chairman of the company – doesn't appear to be the sort of leader likely to rock the boat.
Still, it's a useful reminder of what might happen in a more commercially oriented business climate. In an era when refiners are loved by energy investors, the world's biggest downstream business is hated. Shareholders deserve better.
This column does not necessarily reflect the opinion of the editorial board or Bloomberg LP and its owners.
David Fickling is a Bloomberg Opinion columnist covering commodities, as well as industrial and consumer companies. He has been a reporter for Bloomberg News, Dow Jones, the Wall Street Journal, the Financial Times and the Guardian.