China's Wilting Consumer Lenders Need Some Relief
(Bloomberg Opinion) -- China's consumer finance industry is sagging under an intensifying campaign of regulation. That could be a problem for an economy that's relying on domestic demand to sustain growth amid the trade war with the U.S.
The government has started a fresh round of checks on thousands of peer-to-peer lending sites, Bloomberg News reported last week. Meanwhile, shares of U.S.-listed cash-loan provider Qudian Inc. fell 12 percent on Friday after a separate Bloomberg report that it would lose access to customers through Ant Financial's Alipay app. While a commercial matter rather than a regulatory action, Qudian's slump underlines the travails of an industry that's increasingly out of favor with authorities.
Beijing started imposing limits on lending by P2P platforms in 2016 before launching a full-scale clampdown in December last year, aiming to control financial risks and protect state-owned banks that were losing business to their fledgling competitors.
Regulation was overdue. Some of the industry's dubious practices reportedly included demanding that female college students send nude photos of themselves to be used as "collateral" in case they failed to repay loans. "Violent loan recovery" and other thuggish debt-collection methods were banned.
At the same time, Beijing's deleveraging campaign has made funding more expensive for the companies: Regulators determined that loans that had been packaged into asset-backed securities and sold would still be counted as part of a lender's total leverage, and annual percentage rates including fees were capped at 36 percent, squeezing margins.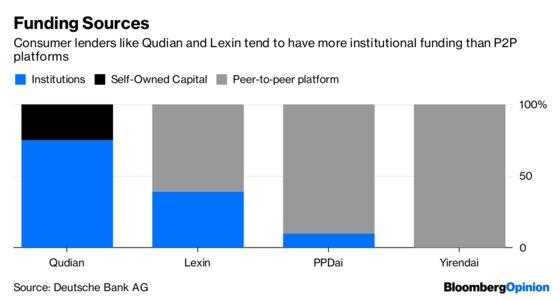 Microlending businesses were also given a deadline of June this year to register — in other words, get approval. There's been little sign since then of whether registrations have been forthcoming. No new P2P lenders have been approved since November, while firms such as Dianrong and Ping An Insurance Group Co.-backed Lufax have put IPO plans on the back burner. The regulator this month introduced 108 compliance criteria for P2P platforms.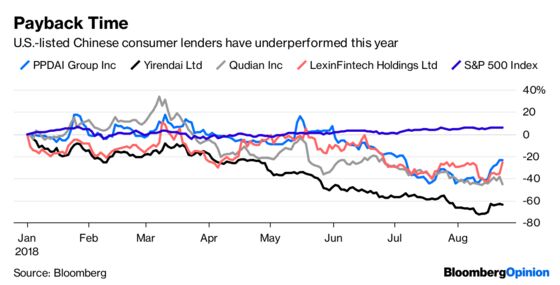 From more than 6,000 just five years ago, there are now just 1,600 P2P platforms in China, with the top 50 accounting for 60 percent of all loans, according to Deutsche Bank AG. Survivors will be those with some element of institutional funding, or at least strong credit-scoring systems to keep defaults down.
That chilling of the P2P environment has prompted firms to seek more stable sources of finance. LexinFintech Holdings Ltd. Chief Executive Officer Jay Xiao told analysts Friday after reporting a 68 percent surge in second-quarter loans that the firm is in talks to diversify funding with "dozens" of institutional partners.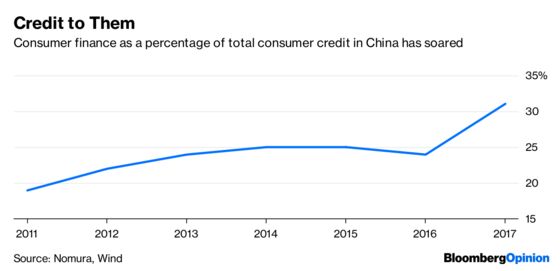 Qudian's funding is mostly from institutions. Still, the loss of its partnership with Ant Financial could pose an "existential threat" to the company's business model, Linda Sun-Mattison, an analyst at Sanford C. Bernstein, wrote in a note on Thursday. Without Ant, the lender faces a "huge challenge" to expand its loan book at competitive costs, she said.
Regulation was inevitable, especially after the uncovering of a $7.6 billion Ponzi scheme at P2P platform Ezubo, whose owner was sentenced to life in prison in 2017.
But by imposing rules in dribs and drabs, Beijing is endangering an industry that's key for the consumer economy — because it serves customers who have been shunned by the big banks. Consumer loans account for only 8 percent of total advances in China, versus 15 percent in the U.S., according to a July report from Nomura Holdings Inc.
As the trade war threatens to get uglier, Beijing needs to take a more balanced approach.
This column does not necessarily reflect the opinion of the editorial board or Bloomberg LP and its owners.
Nisha Gopalan is a Bloomberg Opinion columnist covering deals and banking. She previously worked for the Wall Street Journal and Dow Jones as an editor and a reporter.