Switzerland, Home of the Elegant Corporate U-Turn
(Bloomberg Opinion) -- To Switzerland, and a beautifully engineered corporate u-turn. Zurich-based industrial group ABB Ltd. is considering a sale of its power grids business, according to Bloomberg News.
The deliberations come nearly two years after CEO Ulrich Spiesshofer ardently rejected calls from activist Cevian Capital AB for the unit be separated. Perhaps he realizes the justifications for keeping it are dwindling.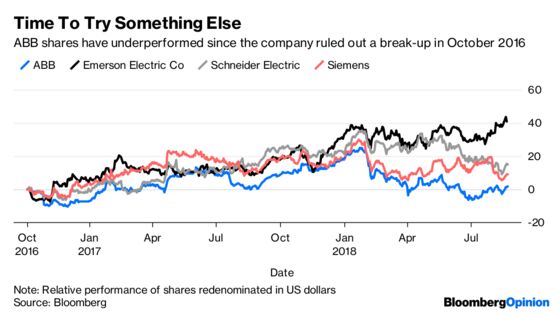 The argument for separation was always strong. ABB is a complex company with 132,000 employees. That's a stretch for any management team at the best of times, but ABB needs particular attention. Its recent restructuring has yet to bear fruit and the stock has badly lagged peers. Despite that, the shares trade at a higher valuation than Siemens AG and Schneider Electric SE, leaving it vulnerable.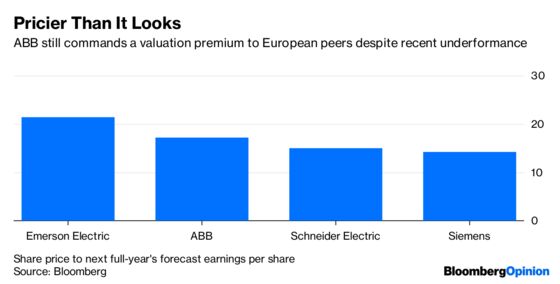 The power grid operation, which serves utilities, is the obvious candidate to be carved out. Its customer base is completely different to ABB's other businesses in robotics and automation.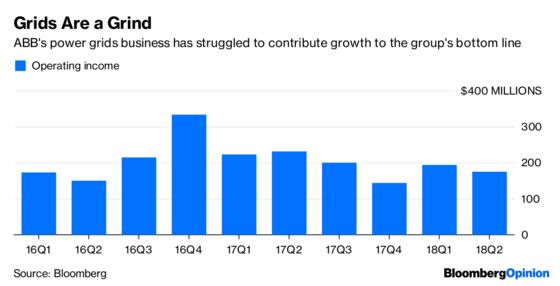 Spiesshofer said in July his decision to hang on to the operation was right, implying its approximate $1 billion of profit deserved a much higher valuation than the $4 billion to $5 billion he said others thought it was worth it two years ago.
But the CEO quickly added that the group structure wasn't set in stone. It's hard to imagine him saying that even six months ago.
The valuation has indeed improved. There aren't any perfectly matched publicly traded companies with which to compare it, but French cable manufacturer Nexans SA and Italian peer Prysmian Spa offer some guide. Bloomberg Intelligence reckons the ABB unit deserves a 20 percent premium to them, implying a valuation of about $10.2 billion. Analysts at Citigroup Inc. say it's worth $12 billion.
ABB can argue that it has been vindicated for keeping the business. In reality, it is losing excuses not to offload it. A demerger two years ago would have achieved the simplification benefits of separation and allowed shareholders to enjoy the increase in value. An initial public offering would have meant selling a small stake on the cheap while still bringing a broader strategic gain.
Generating a long-list of overseas acquirers could be tricky in the current political climate. U.S. regulators would want to take a hard look at any change of ownership, in particular if the buyer were Chinese. That wouldn't apply to an IPO, and the business is of a size that wouldn't be too much of a mouthful for private equity either.
Separation alone is unlikely to rev up ABB's valuation, which is about the same as its break-up value, according to BI. But the resulting management focus could the catalyst for an improvement in its operating performance. Spiesshofer just needs to find the words to suggest this was in the back of his mind all along.
This column does not necessarily reflect the opinion of the editorial board or Bloomberg LP and its owners.
Chris Hughes is a Bloomberg Opinion columnist covering deals. He previously worked for Reuters Breakingviews, as well as the Financial Times and the Independent newspaper.