Italy's Debt Drama Gets Worse, in Four Charts
(Bloomberg Opinion) -- There's not a lot of amore among investors these days for Italy.
For a start, the benchmark 10-year bond shows investors are expecting not much good to come out of the government's September budget process.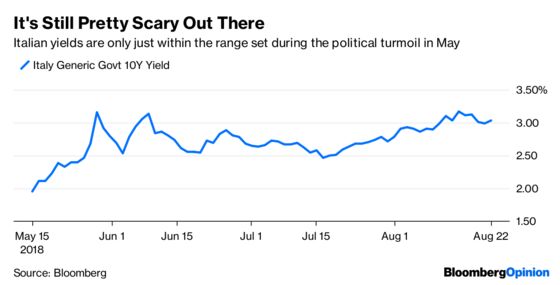 It's all supposed to be over by Christmas. But it will be a drawn-out process that will test investors' nerves instead of a summer of enjoying a quiet carry trade. The government's seeming willingness to abandon fiscal responsibility and bust European Union rules on ratios of debt to gross domestic product has creditors worried.
Yields on Italy versus Spain, a key barometer of investor sentiment on Europe's peripheral nations, are nearly as high as they were during the region's debt crisis — the very drama that prompted European Central Bank President Mario Draghi to say officials would do "whatever it takes" to defend the euro. One wonders if Draghi would be tempted to repeat the pledge for unconditional support.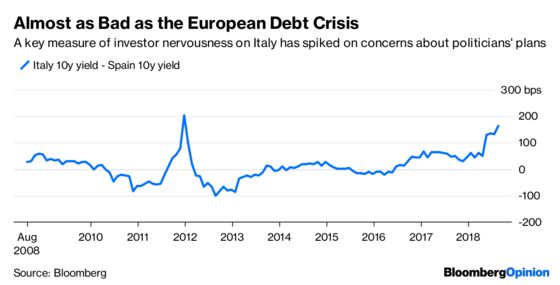 The above chart is just as much a story about Spain's political crisis passing without much damage to its bond yields. It's on its way to semi-core status. The spread on Spanish 10-year debt more than German securities widened above 100 basis points, dragged up by investor concern about Italy. The spread could could soon dip back below 90 basis points, where it was in June.
And as my Bloomberg News colleagues John Ainger and James Hirai have pointed out, soaring trading volumes on Italian bond futures are a worrying sign. You wouldn't normally expect much activity in an August, but it turns out there are plenty of people around who think it's more important to hedge out Italian risk than lie around on a beach.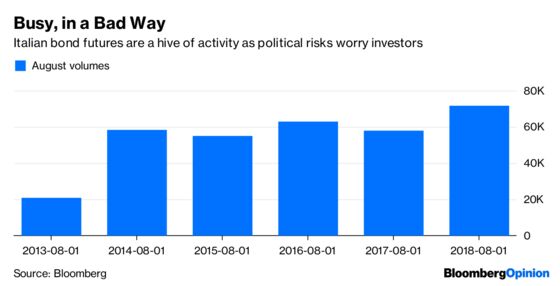 Certainly foreign investors aren't waiting around.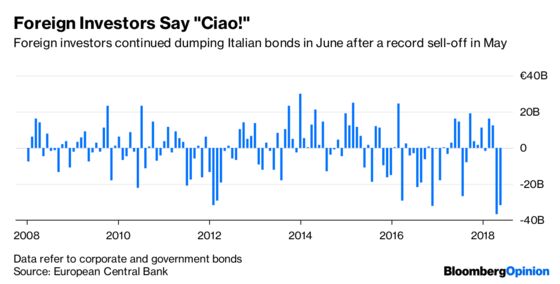 But someone has to be buying. And, according to David Owen at Jefferies, it looks like it's the Italian banks. This has echoes of the doom loop between banks and sovereigns that stoked the debt crisis earlier this decade. 
Given how the yields available in Italian debt have spiked up, you'd think it would be too expensive to short. But that's not quite right. The monthly cost of running a short is about 3 basis points, which is a pretty cheap option premium for a bet that the budget process will get out of hand. 
High volumes, high yields, wide spreads — these are the ingredients for a stormy autumn in Italian markets. 
This column does not necessarily reflect the opinion of the editorial board or Bloomberg LP and its owners.
Marcus Ashworth is a Bloomberg Opinion columnist covering European markets. He spent three decades in the banking industry, most recently as chief markets strategist at Haitong Securities in London.