Nokia Takes the Scenic Route to 5G Profit Paradise
(Bloomberg Opinion) -- Nokia Oyj and Ericsson AB may finally be due for something of a bonanza.
It's not just that the rollout of next-generation 5G networks, which started this year and will pick up some serious steam in 2019, will give them a revenue boost. As their chief executive officers and a host of analysts have also pointed out, the new technology will also bring about changes in their services businesses that promise to help even out the earnings peaks and troughs that have beset telecom equipment makers for years.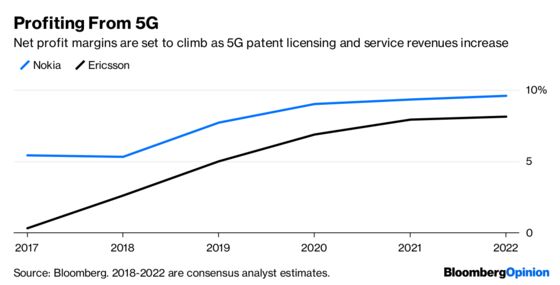 At least, that's the hope. But a look at the charges the companies may levy on handset makers to use their intellectual property shows their confidence in the arrival of a new paradigm for telecom equipment is limited.
The likes of Nokia and Ericsson have tended to enjoy bountiful periods when carriers open their wallets to build the latest generation of mobile networks. Then a fallow period follows, before the next windfall five or six years later.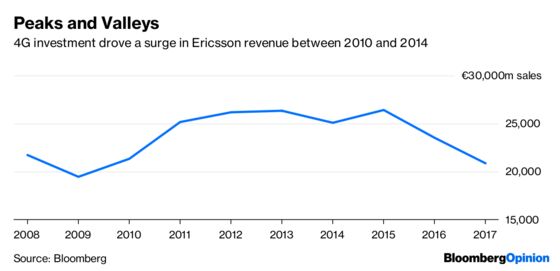 With 5G, this time could be different. Alongside faster download speeds, software advances mean companies will be better able to monitor and maintain their networks remotely, instead of paying for an engineer to make a trip somewhere. So, where once their service divisions were among the least profitable units, they could be among the most.
Boosting profitability at divisions with higher revenue would be a boon to investors and executives alike. In recent years, the companies' intellectual property divisions, which develop the technology that allows handsets to communicate with the networks they built, have been their profit drivers. But revenue at this division is significantly lower.
If this promised land awaits, companies should naturally want to arrive sooner rather than later. One way of doing this would be for Nokia and Ericsson (who along with Qualcomm and Huawei own a lot of the key 5G technology) to charge handset makers lower royalties to use their intellectual property. That would create incentives for the smartphone makers to build 5G mobile phones, even in cheaper handsets. That would in turn accelerate demand for the necessary network equipment, leading to the pickup in service revenue and finally the long-awaited fatter margins.
What gives? Turns out there's a catch. Reducing patent royalties has a cost, namely, in intellectual property's contribution to profit. Sacrificing this in favor of building up services margins is a big bet, and it looks like the network equipment companies aren't confident enough that the trade-off will be worth it.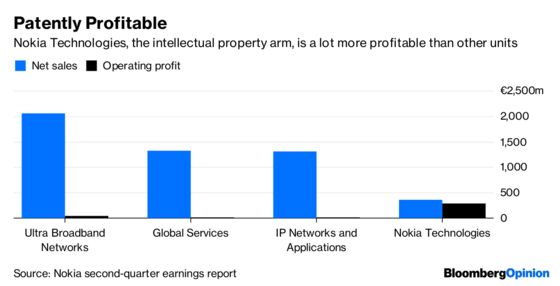 They're right to be nervous. 
While there will be inevitable demand for 5G in industrial applications and the gaming community, it's unclear as yet whether consumer demand will match that seen for LTE six years ago. Given the cost and pace at which industrial gear is updated (often taking a decade or more), that demand will increase only gradually.
It seems that neither Ericsson nor Nokia are willing to jeopardize the profit contribution from intellectual property in exchange for securing better margins more quickly from the services businesses. True, 5G will prompt a sales recovery. But the high caps on royalty charges suggest CEOs are managing their expectations from recurring revenue from services.
And, once again, it will fall to intellectual property to keep profit afloat. The fallow years at Nordic telecom equipment makers perhaps won't be as painful as they once were. But they'll still hurt.
This column does not necessarily reflect the opinion of the editorial board or Bloomberg LP and its owners.
Alex Webb is a Bloomberg Opinion columnist covering Europe's technology, media and communications industries. He previously covered Apple and other technology companies for Bloomberg News in San Francisco.