China Policy Levers Jammed in Trump's Flip-Flop World
(Bloomberg Opinion) -- Caught unwillingly in a trade war, China's economy is faltering. But those expecting a repeat of the stimulus during the global financial crisis a decade ago will be sorely disappointed. Rather, the country is sliding into a state of policy paralysis.
The latest sign of desperation came in a state media report on Monday that the Ministry of Finance is asking the China Banking and Insurance Regulatory Commission to allow banks to lower their risk weighting on local government bonds to zero percent from 20 percent. Under this proposal, municipal notes would be considered as safe as the ministry's own debt. Since local government securities offer higher yields, banks would swarm to buy them. 
The plan could easily be construed as another big-ticket stimulus item – and indeed it would be, if implemented. There's the rub: It's unlikely to happen, and the manner in which the idea was aired betrays the extent of infighting and lack of policy cohesion within the Chinese government.
Changing the risk weighting on local government bonds would free up as much as 3 trillion yuan ($438 billion) of capital, according to Goldman Sachs Group Inc. estimates, enabling banks to buy more corporate bonds and extend more loans.
The Ministry of Finance needs local authorities that are responsible for 90 percent of infrastructure projects in China to be able to spend again. Local government bond issuance in the first seven months totaled 792 billion yuan, just 36 percent of the ministry's annual quota. There's hardly any new cash coming in: In the first quarter, all local government issues were "swap bonds," or legacy debt in a new form, says Moody's Corp.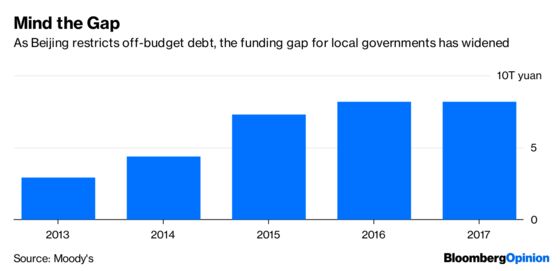 Local governments' funding gap already ballooned to more than 8 trillion yuan last year, and there are reasons to believe they are even more short of cash now.
Land sales, an important source of revenue, are slipping. Amid Beijing's drive to cool China's property market, developers have become hesitant to bid for new land. In the second quarter, there were 226 unsuccessful land auctions, the most since 2012, according to Deutsche Bank AG. Most of those failed deals occurred in tier 3 cities.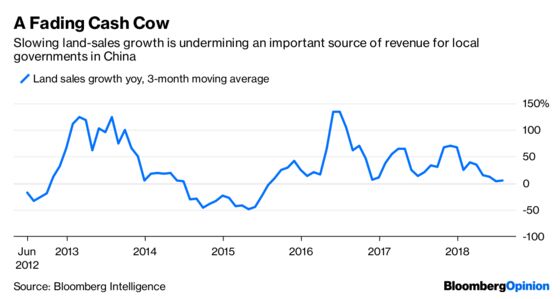 The stumbling block for the ministry's plan is Guo Shuqing, chairman of the banking regulator, who can hardly be expected to play along. Beijing merged the banking and insurance watchdogs to create the CBIRC earlier this year for the precise purpose of reining in credit risk. Equating notes issued by troubled rust-belt provinces such as Liaoning to the ministry's own debt promises to land commercial banks with even more bad assets.
Tension among China's economic ministries has been bubbling into public view. One month ago, the Ministry of Finance and the People's Bank of China had a rare spat over their roles in inflating China's debt pile. In an article in China Business News, the central bank's research head accused the ministry of failing to control local-government spending. In turn, the finance ministry blamed the PBOC for lax regulation.
At issue is a government torn between GDP growth and deleveraging. China entered the year with a tough stance, aiming to prevent its own Minsky Moment. But as trade friction with the U.S. escalates, Beijing is starting to relent. It's become clear that China's economy isn't as resilient as some thought: Manufacturing indexes have weakened, consumer confidence is sliding, and stocks are in a bear market.
Having been blindsided once already, the government seems unable to figure out how long this trade war will last. In May, talks between President Xi Jinping's top economic adviser Liu He and Treasury Secretary Steven Mnuchin ended with a positive-sounding joint statement, only for President Donald Trump to announce a 25 percent tariff on Chinese imports days later.
If the U.S. mid-term elections bring a change, perhaps China can weather the storm and deleveraging will remain its top economic priority. But if we are talking about two more years, helicopter money is perhaps warranted.
There's a temptation for investors to construe any "easing" headlines as signs of the end of the deleveraging campaign. They shouldn't be too hasty. China is lost in Trump's flip-flop world, and it's too early to say when it will find its way out.
This column does not necessarily reflect the opinion of the editorial board or Bloomberg LP and its owners.
Shuli Ren is a Bloomberg Opinion columnist covering Asian markets. She previously wrote on markets for Barron's, following a career as an investment banker, and is a CFA charterholder.