Tencent's Gaming Troubles Were Foretold by Its Nearest Rival
(Bloomberg Opinion) -- Shares in Chinese game company NetEase Inc. plummeted by 11 percent in Nasdaq trading on Aug. 9.
Having just reported a 22 percent rise in second-quarter revenue — in line with estimates — along with net income that beat by 15 percent, analysts were suddenly bearish about the second half of the year. Price targets were cut, downgrades were delivered.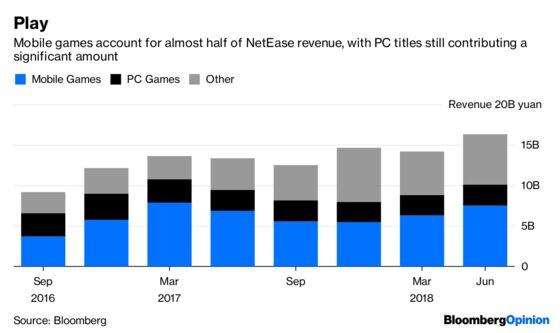 NetEase lacked any new blockbuster titles, came the complaint, and a recent game developed in-house was yet to show enough traction to warrant excitement among investors.
But what many missed was a comment in its IR conference call from CFO Charles Yang, who was in fact translating for CEO William Ding. Government bureau restructuring was causing a delay in game approvals, he said in response to a question from Deutsche Bank AG analyst Kim Han Joon. NetEase itself wasn't greatly affected because its game approvals process was already very long, he said.
There he is, an executive of a Chinese games company conceding publicly that bureaucratic issues have put the country's multibillion-dollar games industry on hold. And declaring that his company won't be hurt by this.
Yes, shares tanked, but reading through a selection of analyst reports I found references to NetEase's games lineup and none about the wider industry problem. And, I confess, I missed this important point from NetEase as I wasn't on the call.
Tencent Holdings Ltd.'s shares were just opening for trading in Hong Kong at the time that NetEase's Yang was explaining the bureaucratic challenges (NetEase wouldn't trade for another 12 hours) and ended the day 2.4 percent higher. Whatever weakness the market saw was taken as NetEase-specific, which was read as positive for Tencent.
Perhaps investors caught up the following day, with Tencent shares charting a downward path before reports that Monster Hunt had been withdrawn at the behest of regulators, and then more nervousness heading into earnings.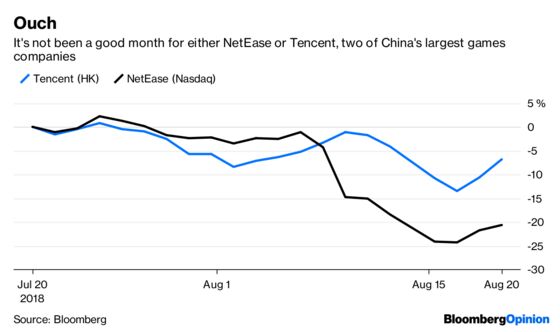 One anecdote to help explain this whole saga dates back a year.
South Korean games developer Bluehole Inc. had a hit title on its hands. PUBG is a Hunger Games-style first-person shooter that was wildly popular on PCs and was ready to go big on mobile. But getting approval to sell games in China was proving near impossible — a problem common to every South Korean games company amid a nationalist backlash over the country's hosting of a U.S. missile-defense system.
In October, one Chinese regulatory body said that PUBG probably wouldn't get the nod because it's too violent. But just three weeks later Tencent announced it would be the official PUBG operator in China.
And, as famed Niko Partners games analyst Daniel Ahmad noted at the time, the Shenzhen-based company said it would help make the game work around regulations.
The PUBG problem was solved! Well, not quite.
Not only do titles need to be approved for distribution in China, permission is required to extract revenue from them. China's General Administration of Press and Publication, or GAPP, is in charge of this, according to Tencent.  
On Tencent's IR call last week, President Martin Lau outlined the problem in a little more depth than NetEase had offered a week earlier:
"There's a temporary suspension on the GAPP monetization approval so that games without that license cannot really officially start monetization."
Tencent already has 15 titles approved for monetization. But, Lau explained, GAPP recognized that its bureaucratic restructuring was causing headaches so it set up a green channel to allow new games to have a one-month testing and monetization period. Unfortunately, since PUBG Mobile had already launched and grown rather big, it didn't qualify.
PUBG Mobile will need to wait for the full-length approval process, and nobody has an idea when that will happen. Meantime, Tencent is in the same boat as NetEase by relying on legacy titles to keep revenue flowing while at the same time hoping approvals will come before consumers lose too much interest.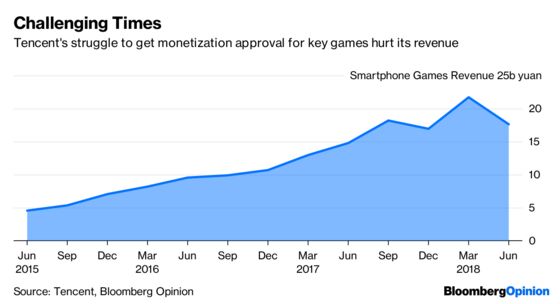 There's an interesting coda to this tale. In between the NetEase and Tencent earnings conferences, Bluehole quietly announced that Tencent would increase its stake in the South Korean company. It didn't reveal the size or value of the transaction, but the Korea Economic Daily put it at 8.5 percent for around $448 million. That would make Tencent the second-largest shareholder with about 10 percent, the newspaper said.
Bluehole executives clearly know that if they want to make it in China they need to be in bed with a local partner. But when it comes to Chinese bureaucracy, even local players don't always have a warm bed to climb into.
This column does not necessarily reflect the opinion of the editorial board or Bloomberg LP and its owners.
Tim Culpan is a Bloomberg Opinion columnist covering technology. He previously covered technology for Bloomberg News.