Those Busy Fanuc Robots Are Taking a Breather
(Bloomberg Opinion) -- Investors are treating the Japanese industrial giant Fanuc Corp. like a manufacturer of largely redundant machinery. That only makes sense if you have doubts about Apple Inc. and Toyota Motor Corp.
Fanuc's stock is down almost 40 percent from its January peak. Much of the decline reflects investor doubts about the smartphone, as one of the Japanese company's biggest divisions makes machinery that Apple uses to fabricate iPhone casings. Don't forget, though, that Fanuc produces equipment correlated with other spending cycles that contributes around the same proportion of revenue.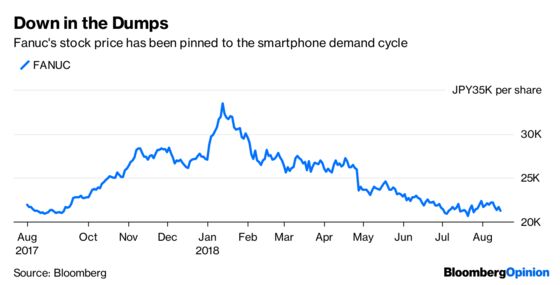 Fanuc recently announced it's adding capacity in Michigan that will come online next year, in addition to the three factories being built at its Japan headquarters — an investment of almost 17 billion yen ($153 million) in facilities to produce machinery, robots and tools, with completion scheduled for September.
So is Fanuc's problem really just demand? Smartphone cycles are volatile, and have two components: before and after the release of products. A quarterly pattern also has begun to emerge "in which second- and third-quarter sales are usually weaker, reflecting expectations of another release in the fourth quarter," according to a recent study by economists at the International Monetary Fund. There's little standard seasonality, and capital spending doesn't always match the cycle, so smartphone-related demand is hard to pin down.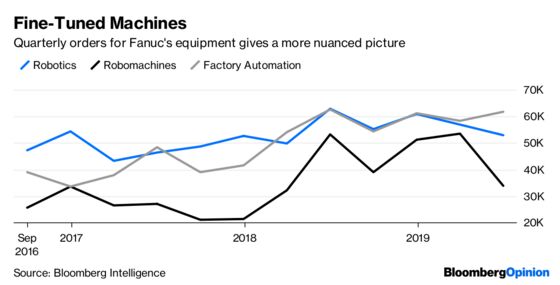 Electronic devices have short life cycles and that means sales of Fanuc's robomachines — the name it gives equipment for smartphones — can be even more volatile, as Bloomberg Intelligence analysts point out. Its other customers include Samsung Electronics Co. and Hon Hai Precision Industry Co., the Foxconn Group flagship.
The Japanese company's bookings give a more shaded picture. Fanuc is sitting on a large backlog of unfilled orders across its segments, according to Bernstein analysts. This should cushion against an inevitable downturn in the current quarter, while leaving room for increased production when the new iPhone hits. In Fanuc's factory-automation division, order backlogs are at their highest level in years, while new orders are close to those seen more than a year ago. New orders for robomachines have fallen, after reaching a peak last quarter, while those for robotics have dipped, too.
All segments' orders are well off their lows, so all told, this looks more like a capacity issue coinciding with the troughs of a volatile demand cycle.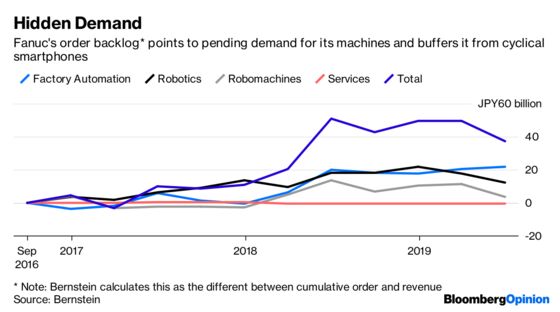 China's investment cycle, currently under the cloud of President Donald Trump's trade war, remains an imponderable: Manufacturers probably are holding back big orders. But even if there's never a full recovery from the U.S. onslaught, industry's demand for automation will hold up, most obviously because labor costs are still rising while prices of robots are falling. As much as 90 percent of the hours workers spend in manufacturing-related occupations can be automated, according to McKinsey & Co.
The market is behaving as if demand for Fanuc's products will never recover completely. However, unlike companies that couldn't keep up with fundamental changes in their industries (like Li & Fung Ltd. amid a supply-chain revolution), Fanuc looks almost futuristic. Talk of the death of the machines is premature.
This column does not necessarily reflect the opinion of the editorial board or Bloomberg LP and its owners.
Anjani Trivedi is a Bloomberg Opinion columnist covering industrial companies in Asia. She previously worked for the Wall Street Journal.