An Uber for Trucks Is Hitting Obstacles in China
(Bloomberg Opinion) -- One of China's fastest-growing unicorns is an Uber for trucks, backed by SoftBank Group Corp. and Alphabet Inc.'s CapitalG. It delivers millions of packages every day across China. But that doesn't mean Manbang Group should be valued like Uber.
More than 30 billion items are distributed every year nationwide by low-wage truck drivers and couriers who underpin a logistics industry handling 220 trillion yuan ($36 trillion) of goods. Vast it may be, but the industry is fragmented and riddled with inefficiencies. About 90 percent of the trucks on Chinese roads are individually owned, and they stand idle for 40 percent of the day. Logistics costs account for around 15 percent of China's GDP, a much bigger slice than in other developing economies and even the U.S.
Every morning, Chinese drivers gather at hubs, waiting out an offline, auction-like process that matches shippers and truckers. Then they travel to logistics parks to pick up the goods – which sometimes aren't there.
A giant industry with colossal inefficiencies looks like a perfect candidate for disruption with a dash of innovative technology?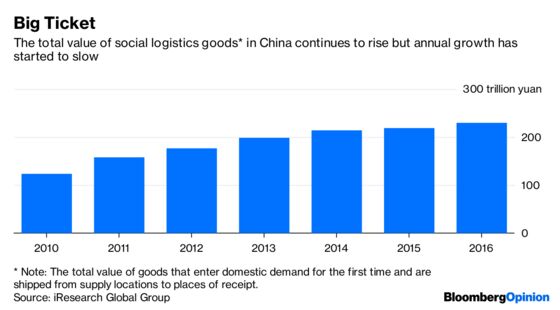 Manbang, also known as Full Truck Alliance Group, is a platform that's trying to bring truckers and shippers together. It was formed late last year through the merger of rival apps Huochebang and Yunmanman, and effectively replaces brokers who sit between cargoes and drivers and take a 20 percent commission. 
The Uberization of trucking won't be easy, though. Manbang has managed to sign up almost 5.2 million of China's approximately 6 million truck drivers and 1.25 million shippers. Uber aims to tap all the mom-and-pop drivers and idle cars that could be put to use by shuttling them from place to place – untapped capacity, as Goldman Sachs analysts put it. In the trucking industry, the issue is less about unused freight and more about maximizing efficiency at the right price. And freight isn't like people: it needs handling.
Manbang reckons it transports 7 million pieces of cargo every day, Wang Dong, the chief technology officer at Yunmanman, said at the RISE Conference in Hong Kong in July. Going by the earnings per package of its peers, that means about $1.5 million a day. At an 11 times earnings multiple – an average for publicly traded Chinese logistics companies like Alibaba-backed BEST Inc. that offer additional services and aren't apps – that puts a value of around $5.5 billion on the firm.
Investors have pushed valuations well above that level, however. When the two smaller companies merged, the combined entity was reckoned at around $2 billion. In a funding round in April, SoftBank's Vision Fund and the likes of China Reform Fund Management Co. and Tencent Holdings Ltd. put in $1.9 billion, pushing up Manbang's valuation to around $6 billion.That compares with sub-$100 million fundraisings for startups in the U.S. like Convoy, which matches trucking companies with shippers and is backed by the likes of Amazon founder Jeff Bezos's family office, Bill Gates and Uber's Dara Khosrowshahi, according to CB Insights data.
A big wrinkle in Manbang's valuation is costs. The burden of expenses can hurt so much that in June, truckers went on strike to protest rising fuel prices and other expenses like tolls and fines, as well as the app's impact on haulage rates. 
The industry's fragmentation means drivers don't have much bargaining power, but persuading them to stay the course won't be easy: As of June, just over 3 million truckers logged into Manbang's app at least once a month. That was up around 40 percent on the year, according to a SoftBank presentation. But it wasn't much more than half of the total users mentioned by Wang.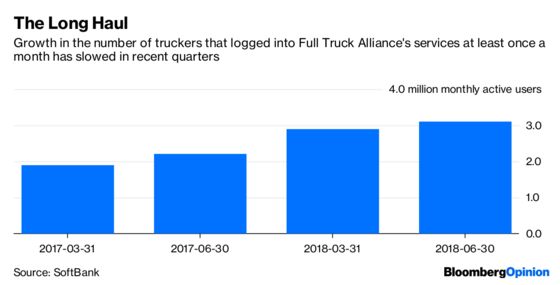 For a handle on the math, look at BEST, which is listed in New York and operates in China. Volumes, while growing, are slowing. Revenue per parcel, excluding the (expensive) last mile, is flatlining, and competition is rising (BEST has its own parcel-matching system, UCargo, that could eventually compete with Manbang.) So prices are likely to stay under pressure, and costs are proving hard to reduce. Expenses for sorting parcels and for running trucks empty on some routes can be reduced through efficiencies. But the bulk of the costs will remain. 
Until these expenses are cut, monetizing the business will remain a problem for Manbang. It continues to burn about 1 billion yuan of cash a year on capital expenditure and payroll, because it still has to tap logistics parks and other existing marketplaces, according to a Goldman Sachs report. 
For now, with disgruntled truckers spending half their earnings on fees and other outgoings, skimming a commission is a big ask. Manbang is building an economy around truckers with providers of loans and insurance, which may add revenue streams  – but it might create further risks, too.
Huge volumes often give wild-looking valuations in China a bit of support. In this case costs, not Uber-style hype, should be front of mind.
This column does not necessarily reflect the opinion of the editorial board or Bloomberg LP and its owners.
Anjani Trivedi is a Bloomberg Opinion columnist covering industrial companies in Asia. She previously worked for the Wall Street Journal.