Erdogan Answers Lira's Pleas With an Ottoman Slap
(Bloomberg Opinion) -- Asking your citizens to search under their pillows for foreign banknotes and gold to convert into domestic currency isn't much of an economic strategy at the best of times. When your currency has lost more than a third of its value against the dollar this year and is trading at a record low, it amounts to economic suicide.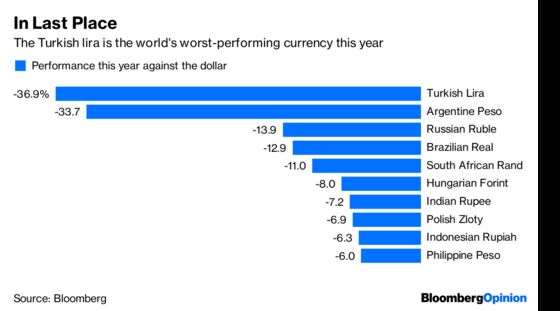 Any investors who'd been hoping for some semblance of standard economic theory taking hold and reversing the Turkish lira's freefall got scant comfort from Friday's speech by Turkish President Recep Tayyip Erdogan. "Turkey won't surrender to economic hitmen," he said, accusing detractors of hatching an "interest rate plot" that is "no different than a military coup attempt."
Unfortunately, U.S. President Donald Trump took to Twitter to feed Erdogan's conspiracy theories, announcing a doubling of tariffs on steel and aluminum and cheering on the lira's collapse.
The lira duly extended losses that have seen it weaken past 6.5 lira per dollar as it lost more than 21 percent of its value in the past five trading sessions alone.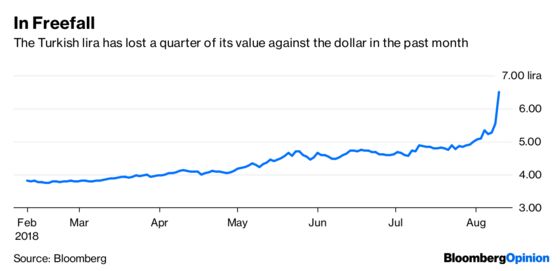 Investors are dumping Turkish assets on concern Erdogan's unconventional view that higher interest rates stoke inflation is hobbling the country's supposedly independent central bank. Policy makers left Turkey's key interest rate unchanged at 17.75 percent when they met last month, compared with economists' forecasts for an increase to 18.75 percent.
With inflation running at 15.85 percent, that leaves the real interest rate below 2 percent -- an inadequate response to consumer prices accelerating at three times the central bank's target rate.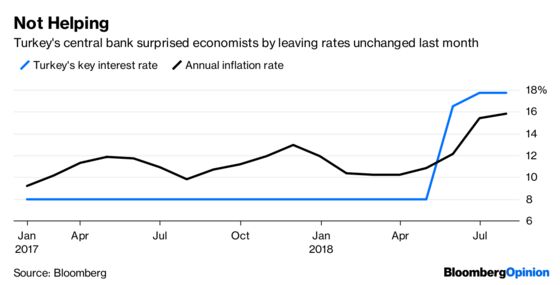 The stakes are high. Turkey's domestic institutions have more than $40 billion of dollar- and euro-denominated bonds and loans maturing by 2020, according to data compiled by Bloomberg Intelligence. Every lurch lower in the lira makes servicing those debts more expensive.
Meantime, foreign banks have exposure to Turkey worth about $224 billion, according to data from the Bank for International Settlements. If the U.S. imposes economic sanctions in retaliation for Turkey's refusal to free American pastor Andrew Brunson, arrested almost two years ago and accused of supporting terrorism, they may be forced to cut those exposures.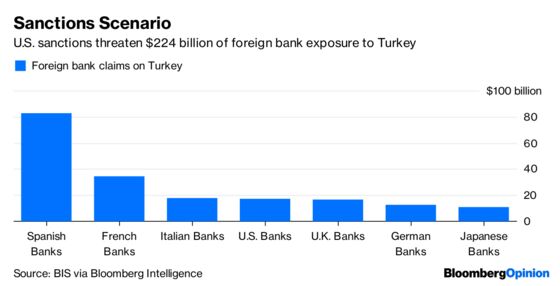 Global investment banks paid fines and penalties worth almost $6 billion to U.S. regulators for doing business in dollars with countries such as Iran that were the subject of U.S. sanctions; they're unlikely to risk a repeat performance over Turkey.
Erdogan's defiant stance probably reduces the risk of the nation introducing capital controls or seeking a bailout from the International Monetary Fund. Both would be deemed a capitulation in what he called "the economic warfare" being waged against Turkey.
So all eyes turn again to the central bank to see if it can find its collective backbone and introduce the higher interest rates needed to stem the lira's rot. "The central bank's independence is of critical importance to Turkey's economy," Turkish Finance Minister Berat Albayrak, who is also Erdogan's son-in-law, said on Friday.
He's absolutely right. But unless policy makers exercise that alleged independence – and do so before their next scheduled meeting on Sept. 13 – there's little prospect of the lira recovering.
This column does not necessarily reflect the opinion of the editorial board or Bloomberg LP and its owners.
Mark Gilbert is a Bloomberg Opinion columnist covering asset management. He previously was the London bureau chief for Bloomberg News. He is also the author of "Complicit: How Greed and Collusion Made the Credit Crisis Unstoppable."