Tronc and Tribune May Get the Last Laugh
(Bloomberg Opinion) -- As one Tribune finds a deal, another falters.
Newspaper publisher Tronc Inc. — which has reportedly realized it should have stuck with the Tribune Publishing name — spiked late Wednesday amid reports it's entertaining a bid from a private equity firm. Tronc, the owner of the Chicago Tribune, was spun off from TV-station owner Tribune Media Co. in 2014. And that same Tribune Media on Thursday officially pulled out of its planned $6.6 billion sale to Sinclair Broadcast Group Inc. after the acquirer taught a master class on what not to do to win over regulators. The situations are different, but even so, the timing is uncanny.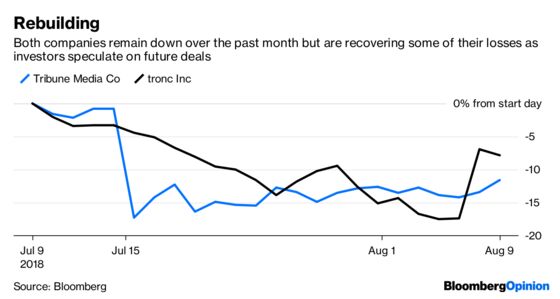 Let's start with Tronc. First, a sale is the right move. Its independent prospects aren't great after the publisher sold its crown jewel Los Angeles Times and other California papers to shareholder Patrick Soon-Shiong for $500 million earlier this year. That deal was weird for many reasons: Soon-Shiong had a complicated relationship with Tronc, having first been brought in to stave off a hostile takeover by Gannett Co. and then being booted off the board for being "disruptive." During the board dispute, Tronc accused Soon-Shiong of angling to acquire the L.A. Times —  which together with the California papers accounts for about 40 percent of adjusted Ebitda — without making a bid for the whole company. And yet, that's exactly what he did, with Tronc's blessing.
On top of this, Michael Ferro stepped down as Tronc's chairman amid allegations of sexual misconduct and subsequently attempted to sell his 26 percent stake. Ferro was the architect of Tronc's reinvention strategy, arguing that more celebrity coverage, content-pooling strategies and foreign bureaus in places like Lagos, Nigeria, could help it milk more money from digital journalism. It didn't really work, and it's unclear whether any of the remaining Tronc management team really has any idea how to run a news business. Tronc recently gutted the staff of the New York Daily News, which it purchased last September, with seemingly little strategy.   
I'm still skeptical that all of what remains of Tronc gets sold off in one tidy package, largely because I'm not sure who wants to own a mismanaged cohort of newspapers — particularly at the 30-percent premium that's being reported. Tronc isn't throwing off buckets of cash and its future growth trajectory is uncertain, making it a risky bet for a leveraged buyout. I had thought Gannett could resurface as a buyer after the L.A. Times divestiture, but the USA Today publisher seems to have realized the limits of its consolidation and cost-cut strategy and is refocusing on digital and advertising technology deals.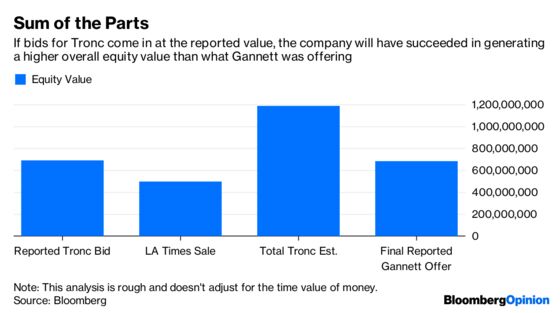 On a more philosophical level, it's deeply depressing that Tronc and Ferro, who exemplified bad corporate governance in their dealings with Gannett, might end up getting rewarded for that bad behavior. The purported $19-to-$20-a-share offer represents an equity value of about $688 million. Add to that the $500 million equity value that Soon-Shiong paid for the L.A. Times and you get a whole company valuation of about $1.2 billion. That compares with the equity value of $683 million that Gannett reportedly offered before banks started balking at the valuation. I mean, hats off to them for maximizing shareholder value, but ultimately, I don't think this is a great outcome for investors who believe in accountability.
Speaking of bad behavior, Tribune Media filed a $1 billion lawsuit against Sinclair, accusing it of violating their merger agreement by engaging in "unnecessarily aggressive and protracted negotiations" with regulators and proposing unworkable divestitures. It seems to have a good case. The Federal Communications Commission bent over backwards for Sinclair and revived an old loophole on national ownership limits to make the deal possible. Sinclair thanked it by arranging divestitures to people or companies with ties to its chairman David Smith, prompting the FCC to send the deal through an administrative hearing process that's been a death sentence for previous transactions.
This is likely not the end of either Tribune or Sinclair's M&A adventures. On a call Thursday to discuss second-quarter earnings that beat analysts' estimates, Tribune CEO Peter Kern said the company would look at broadcast and digital acquisitions and that it believes the regulatory environment remains "welcoming and open to sensible consolidation." It could also become a target again. Plenty of buyers participated in the Tribune sale negotiations last year, including rival Nexstar Media Group Inc. bid. Twenty-First Century Fox Inc. and Blackstone Group also contemplated an offer.
We may still end up with two Tribune deals.
This column does not necessarily reflect the opinion of the editorial board or Bloomberg LP and its owners.
Brooke Sutherland is a Bloomberg Opinion columnist covering deals and industrial companies. She previously wrote an M&A column for Bloomberg News.