Ping An's Prudential Tilt Hints at Home Troubles
(Bloomberg Opinion) -- Why seek to buy overseas when your target is unwilling to sell and prospects at home are huge?
That's the question that should be sparked by Ping An Insurance (Group) Co.'s interest in Prudential Plc's Asian operations. The answer: The Chinese insurance giant may feel it has no choice.
Ping An has evaluated acquiring the U.K. insurer's fast-growing business in the region, Manuel Baigorri, Ruth David, Steven Yang and Zhang Dingmin of Bloomberg News wrote Wednesday. The Shenzhen-based firm has gone so far as to talk to banks about financing a deal that, including Prudential's Eastspring asset management, could be valued at $51.5 billion, analysts at Panmure Gordon & Co. reckon.
That would make it China's biggest outbound acquisition, beating China National Chemical Corp.'s $46 billion takeover of Swiss-based Syngenta AG. It would also be a brave approach by an insurer whose most sizable offshore purchase to date was a stake in British data center firm Global Switch Holdings Ltd., which it bought two years ago in a consortium with other Chinese investors.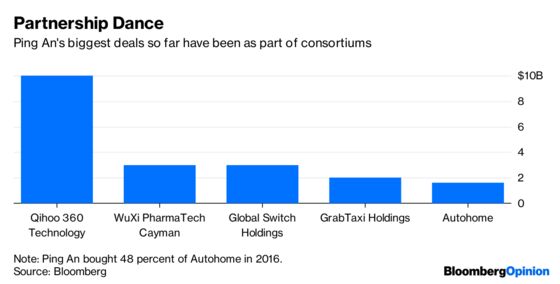 It's unlikely to happen. Prudential Chief Executive Officer Mike Wells has made no secret of its love for Asia over a low-growth, mature U.K. business. In a Bloomberg Television interview on Wednesday, he ruled out any sales in Asia's "highly under-penetrated, fast-growing market." Asia accounted for 42 percent of London-based Prudential's first-half operating profit, posting growth of 14 percent for the period. The FTSE 100 member is going so far as to change its main regulator to Hong Kong.
Prudential would undoubtedly hold out for an exorbitant price if it could be persuaded to sell. Ping An perhaps could offer the prospect of a partnership that would give the company privileged entry to the China market, where all foreign insurers remain minnows.
Ping An's wandering eye may be an admission that its dalliance with technology isn't panning out as planned. The Chinese insurer has transformed itself into a tech play through ventures such as its Good Doctor app. This has soured recently, with Ping An Healthcare and Technology Co. (operator of the Good Doctor app) dropping 16 percent from its May initial public offering through Wednesday. ZhongAn Online P&C Insurance Co. has done even worse: down more than 40 percent since its IPO in September, after an initial surge.
Ping An Technology hosted one of the biggest booths at the Rise Conference in Hong Kong last month. We inquired about how technology could help the company sell more insurance policies. The best answer we could get from employees at the booth was that artificial intelligence might allow Ping An to process claims faster. Perhaps the company could still use the old-fashioned method of acquiring insurance clients – via foot soldiers, aka agents. Prudential's Asia business offers access to Hong Kong, where many mainland customers shop, and Southeast Asia.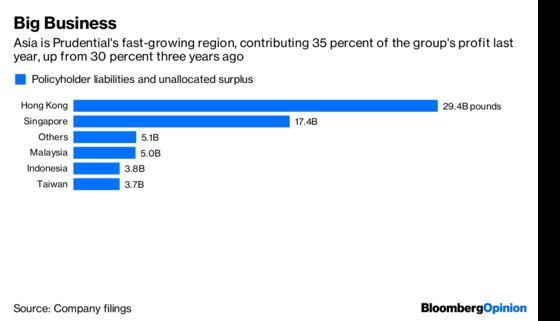 Seeking growth overseas shows how China, for all its size, may not be such a great insurance market after all.
As in so many industries, competition is choking the golden goose. Critical illness, which accounts for 14 percent of Ping An's gross premiums, has become a battleground. Taiping Life Insurance Co., for instance, is capturing share with a cheap product that has a 30 percent to 40 percent profit margin, against a sector average of 80 percent, according to Daiwa Securities Group Inc. Taiping Life expects first-half profit to rise by about 120 percent from a year earlier.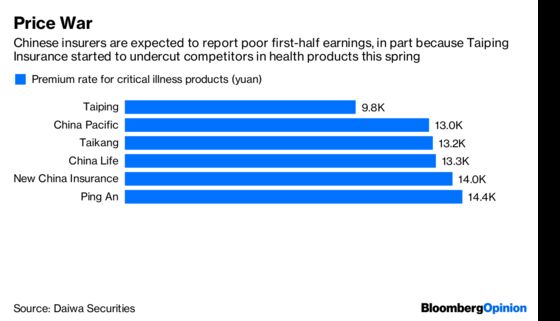 Chinese insurers listed in Hong Kong, which will report first-half earnings starting Aug. 23, are likely to see a drop in new business value of as much as 24 percent, CLSA Ltd. estimates. 
Ping An shares climbed the most in four months Thursday as Chinese stocks rallied. Investors enthused by a deal that appears to have little chance of success should ponder what Ping An's reach for growth overseas says about its business at home.
This column does not necessarily reflect the opinion of the editorial board or Bloomberg LP and its owners.
Nisha Gopalan is a Bloomberg Opinion columnist covering deals and banking. She previously worked for the Wall Street Journal and Dow Jones as an editor and a reporter.
Shuli Ren is a Bloomberg Opinion columnist covering Asian markets. She previously wrote on markets for Barron's, following a career as an investment banker, and is a CFA charterholder.