Pandora's Boxed In by Its Fading Charms
(Bloomberg Opinion) -- Some trends refuse to die. Others catch fire, then burn out just as quickly. That's what has happened with Pandora's charms, the little adornments often added to bracelets.
The damage is going to be difficult to reverse, even with a new chief executive at the helm of the Danish jewelry maker.
After a profit warning Monday that raised questions about the credibility of management, Pandora A/S announced that CEO Anders Colding Friis will step down. It has begun the search for his replacement, and hired former Body Shop boss Jeremy Schwartz as chief operating officer.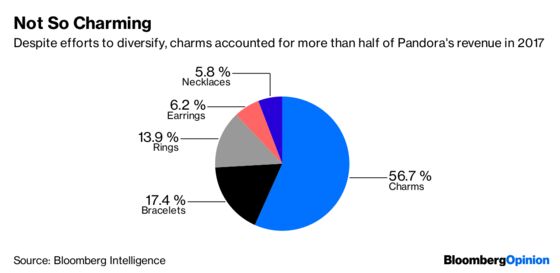 Friis clearly mismanaged communication with investors. He said in January that the worst was behind the company and set what he described as more realistic sales and profit targets. He maintained Pandora's outlook, even after an unexpected slowdown in China in May. Less than three months later, he was forced to admit that he hadn't been realistic enough.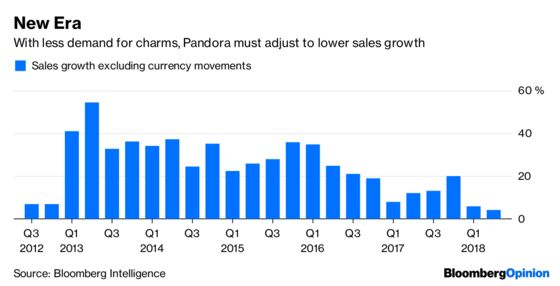 That points to a management not fully in control of the situation. A new team that can get a better handle on the direction of sales, and communicate this more effectively to investors, should be helpful.
But there's a more fundamental issue: Pandora's charms have simply gone out of fashion. The company said Thursday that customers were buying fewer of them, and new designs had failed to reignite interest.
Its hard to see a new chief executive reversing this trend quickly. Instead, he needs to manage decline in the jeweler's biggest category. That implies a permanently lower rate of sales growth than investors were used to in the years when Pandora was riding the ever-growing appetite for charms.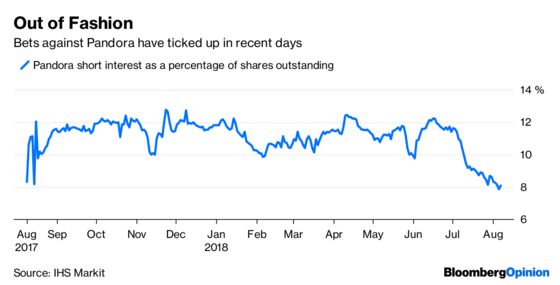 There are some things Friis's successor should do.
For a start, he or she should cut the rate of store openings, while continuing to invest in e-commerce. The company is planning 250 new outlets this year, up from 200 previously.
Pandora also manufactures its own charms. That can boost profit when sales are racing ahead and economies of scale kick in, but it's a significant drag when they stagnate. Pandora is targeting an additional 200 million kroner ($31 million) of savings from 2019. Further efficiencies, and flexibility in the manufacturing base, will be needed.
The new CEO should also reconsider its share buyback program. Analysts at Royal Bank of Canada estimate that free cashflow at this year's level should be enough to fund the capital return, repurchases of franchise stores and the dividend. But any deterioration would put that at risk. The company should be proactive and curb or ditch the stock buyback.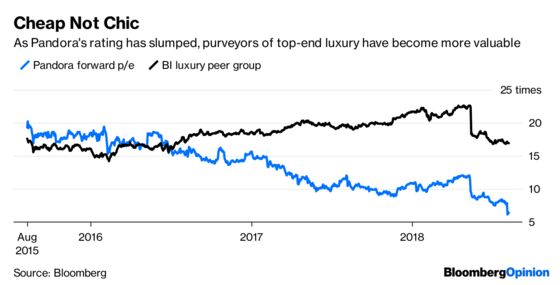 The shares rose as much as 10.5 percent in early Thursday trading before reversing those gains. Investors are right to be cautious.
While a new team may help repair fractured relations with shareholders, there's no frippery that can dress up Pandora's ugly outlook.
This column does not necessarily reflect the opinion of the editorial board or Bloomberg LP and its owners.
Andrea Felsted is a Bloomberg Opinion columnist covering the consumer and retail industries. She previously worked at the Financial Times.