Credit Suisse Analyst Strikes a Blow for the Sell Side
(Bloomberg Opinion) -- A hard-hitting research note wipes 10 percent off the market value of a 12 billion-euro ($13.9 billion) IT company, prompting a counterblast from management in the middle of the night. The dispute between Credit Suisse tech analyst Charles Brennan and Atos SE strikes a blow for equity research and raises questions the acquisitive company has yet to answer fully.
On Tuesday, Credit Suisse published detailed research suggesting Atos's revenue recognition policies were aggressive, and questioning whether free cash flow was as strong as stated. That in turn points to a lower valuation using free cash flow yield as the metric – 80 euros a share, compared with a close on Monday of 112 euros. The stock slid to as low as 98.70 euros.
IT accounting is often a challenge since payments accrue over long-term contracts. But Credit Suisse's concern is easy to grasp. Atos, based in the suburbs of Paris, has made increasing use of so-called factoring to turn invoices into cash before they come due. The practice is not uncommon, and has been disclosed by Atos for several years. Banks are happy to buy company invoices at a discount and assume the hassle of chasing the debtor.
But Credit Suisse has estimated the financial impact, and reckons that free cash flow was on average 31 percent lower than stated over the last five years if you exclude these arrangements. Ignore the factoring, and a recent improvement in the pace at which accounting profit turns into hard cash is actually a deterioration, Brennan argues.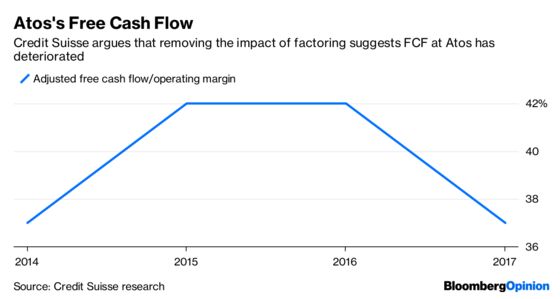 This matters because improved perceptions of Atos's cash generation helped drive a pickup in the shares in 2016 and 2017.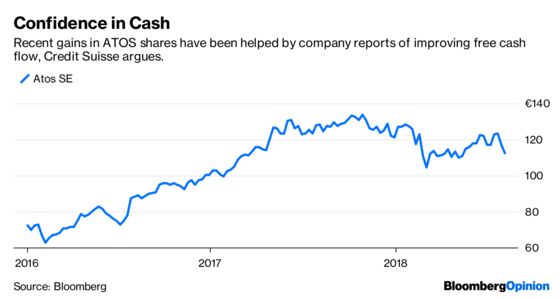 Not so fast, says Atos. While Credit Suisse doesn't describe this as "artificially" inflating the numbers, that's the accusation the company hears. Rather, Atos says factoring is a way of compensating for the fact that it gives some customers favorable deferred-payment terms. The net result is that the average time it takes for an invoice to be paid in some form has held roughly steady. Atos gets its money. Most of the credit risk typically goes to the factoring bank, so what's the problem?
The snag is that this rebuttal has made almost no impact. It seems Credit Suisse has reinforced a sudden change of sentiment towards the company. The shares had fallen 9 percent on July's half-year numbers even before Brennan's note drove another leg down. The results included a big working capital drag caused in part by slower invoice collections.
MiFID 2 regulation is forcing analysts to justify their worth. The market's respect for the analysis is a reminder of the value of sell-side research when it is deep and original (only a tiny handful of Atos followers don't have buy or hold recommendations on it).
The episode points to a fundamental question. Why is a company of Atos's size granting more-lenient terms to its customers? Bulls will argue that it is targeting bigger and more lucrative contracts and such clients may have more leverage in negotiating payment terms. The less-comfortable explanation would be that Atos is finding it harder to grow without cutting such deals, or relying on acquisitions.
If Atos wants to turn things around it doesn't need to issue densely written nocturnal press releases. A single slide in its next results presentation prosaically entitled "How we can add sales without offering clients tasty payment terms or doing M&A" should do the trick.
This column does not necessarily reflect the opinion of the editorial board or Bloomberg LP and its owners.
Chris Hughes is a Bloomberg Opinion columnist covering deals. He previously worked for Reuters Breakingviews, as well as the Financial Times and the Independent newspaper.