China Mobile Is Offering the Sexiest of Enticements
(Bloomberg Opinion) -- Investors have gone a bit cold on China Mobile Ltd. recently. That's about to change.
Shares in the country's largest telco charted a 19 percent drop from an Aug. 30 high last year until it announced first-half earnings during Hong Kong's midday break on Thursday.
It'll be hard for them to stay so downbeat, despite concerns over the cost of a 5G roll-out and the belief that China's telecommunications growth boom is over. That's because its board is bribing investors with the best tool possible: dividends.
An interim payout of HK$1.826 per share (equal to about 1.54 yuan, or 23 cents, apiece) is a record – save for the one-time special disbursement it made last year of HK$3.20 per share. Prior to this announcement, China Mobile's dividend yield was creeping toward the highest in four years. At the same time, the shares' decline has pushed price-to-earnings to the lowest in about the same period of time.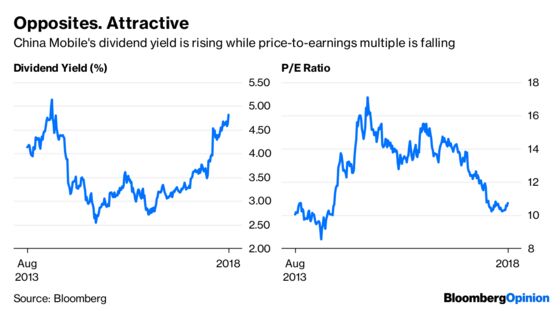 Assuming a similar payment for the second half, we're looking at a dividend yield of over 5 percent on current prices. At the same time, that miserly P/E ratio deserves a second look. The shares were up as much as 2.4 percent during afternoon trading.
For sure, there are challenges ahead as China Mobile spends buckets of cash for the next wave of mobile network technology, and it has limited room to raise prices. But the upsides include the fact that its towers unit has been spun into China Tower Corp. and subsequently listed, with China Mobile itself the largest shareholder. Not to mention those juicy dividends.
With the prospect of increased cash flowing to shareholders, more investors are likely to find that staid state-owned telco sexy again.
This column does not necessarily reflect the opinion of the editorial board or Bloomberg LP and its owners.
Tim Culpan is a Bloomberg Opinion columnist covering technology. He previously covered technology for Bloomberg News.