Britain's No-Deal Brexit Woes Sink Sterling
(Bloomberg Opinion) -- The Bank of England has raised its benchmark rate to the highest level in almost a decade. Figures on Friday are expected to show the pace of expansion in the U.K. economy doubled in the second quarter from the first. And yet the pound is at its weakest in about a year against the dollar and the euro. What gives?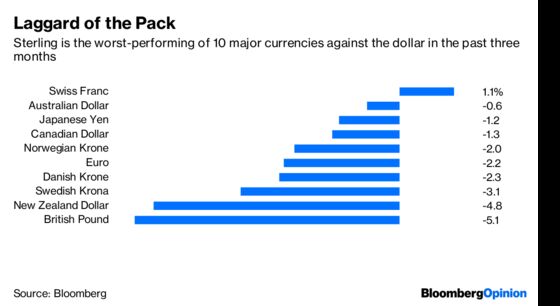 For one thing, investors mistrust the economic outlook. Gross domestic product probably grew by 0.4 percent in the three months ended in June, compared with 0.2 percent in the first quarter. But the annual 1.3 percent expansion predicted by economists is below the 1.9 percent average for this decade.
Moreover, the rosy forecasts the U.K. central bank corralled to justify last week's rate increase are dependent on the U.K. exiting the European Union with a deal that leaves the economy relatively unscathed. But, as Bank of England Governor Mark Carney said in an interview after the monetary policy decision, the risks of a no-deal Brexit are "uncomfortably high" – and arguably rising, as these Google searches noticed by the Quartz news website suggest: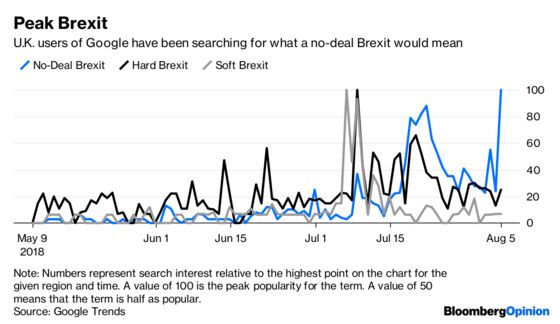 Prime Minister Theresa May plans to gather her cabinet in early September specifically to prepare for a no-deal scenario, my Bloomberg News colleague Tim Ross reported on Wednesday. Talks with the EU "have reached an impasse," May told members of her Conservative Party in a letter published on Wednesday.
Brexiters may fervently believe that no deal is better than a bad deal. But as far as the pound is concerned, it's the worst-case scenario, not least because it causes the maximum uncertainty about the U.K.'s future trading relationship with the bloc.
So how bad could things get for sterling? Its recent decline has driven the pound below a key level watched by traders who use Fibonacci calculations to try to predict market moves.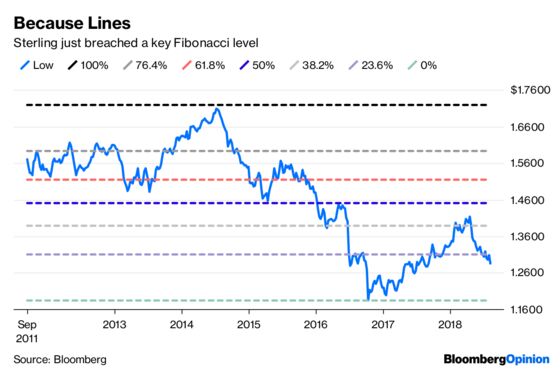 At its current value of a bit less than $1.29, the pound is less than 10 percent away from its post-Brexit referendum low of $1.1841 reached on July 10, 2016. The more likely the U.K. looks to crash out of the EU on March 29 without a deal, the less enthusiasm traders and investors will have for owning the British currency – and the further it will fall.
This column does not necessarily reflect the opinion of the editorial board or Bloomberg LP and its owners.
Mark Gilbert is a Bloomberg Opinion columnist covering asset management. He previously was the London bureau chief for Bloomberg News. He is also the author of "Complicit: How Greed and Collusion Made the Credit Crisis Unstoppable."