Samsung and Apple Are Spending Fortunes at Home. Or Are They?
(Bloomberg Opinion) -- For Samsung Electronics Co., the answer was 180 trillion won ($161 billion). For Apple Inc. it was $350 billion.
The question was: How much are you going to contribute to your home economy? But for the smartphone giants' finance teams, it might just as well have been – what's the biggest number you can rustle up to impress politicians?
The Samsung announcement came a few days after Jay Y. Lee, the vice chairman and de-facto chief, met with Finance Minister Kim Dong-yeon at a chip factory, Bloomberg News reported. It's being described as "lending support" to President Moon Jae-in's efforts to shore up a slowing economy.
For both companies, however, those impressive-sounding numbers are somewhat routine. Samsung had capital expenditures of 43 trillion won last year to keep building its chip, display and phone factories. It shelled out a further 17 trillion won on R&D to develop the technologies for those factories. That's 60 trillion won of spending. And 60 x 3 = 180.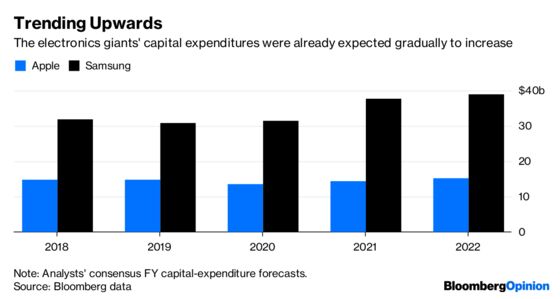 Most of the outlay will be at home. No surprise there, either. While Samsung has expanded overseas, South Korea is still host to most of its factories and research engineers. As for the 25 trillion won the company will spend on future technologies like AI, 5G, auto electronics and biopharma: again, no surprise. These areas are the future of global tech, so it makes sense to put money into them. Analysts had expected Samsung's capex to dip slightly next year, but the company has consistently expanded R&D spending. At the most, it's keeping outlays steady.
Apple's January announcement was framed as a response to President Donald Trump's tax bill, which reduced the levy on companies repatriating offshore cash holdings. A dig into the numbers shows that just $30 billion of the total is earmarked for capital expenditures; the rest goes on a one-time tax payment and purchases of components from suppliers.
Of that $30 billion, one-third will help with data centers that Apple may well have needed anyway. The iPhone maker's global capex is expected to total $72 billion over the next five years. Given that almost three-quarters of its employees are in the U.S., that might suggest that it's spending proportionately less at home than elsewhere – and a lot less than the $350 billion headline number.
These companies have the economic clout of nation states. They also have the shrewdness of politicians in framing their messages for maximum impact.
This column does not necessarily reflect the opinion of the editorial board or Bloomberg LP and its owners.
Tim Culpan is a Bloomberg Opinion columnist covering technology. He previously covered technology for Bloomberg News.
Alex Webb is a Bloomberg Opinion columnist covering Europe's technology, media and communications industries. He previously covered Apple and other technology companies for Bloomberg News in San Francisco.