Bytedance Should Be Careful What It Wishes For
(Bloomberg Opinion) -- Beijing Bytedance Technology Co. is quite the phenomenon.
Largely unheard of outside Greater China, the developer of a suite of content apps has been the talk of the town for a couple of years now. 
That's given its founders enough confidence to start a round of funding that could bring in $3 billion at a valuation of as much as $75 billion, the Wall Street Journal reported Wednesday. Those details may change, the newspaper pointed out.
I hope for Bytedance's sake, and that of its investors, that the valuation falls well short. Such a price tag would put the company near the top of the global unicorn list, overtaking Uber Technologies Inc. and Didi Chuxing, according to CB Insights. It would still fall short of Ant Financial's purported $150 billion valuation.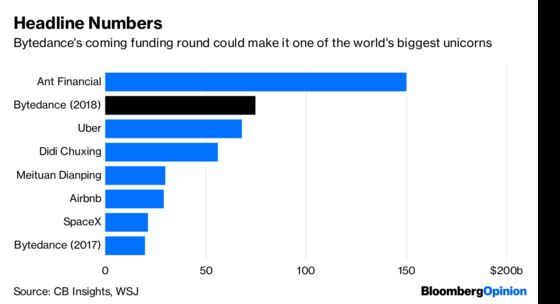 The most recent case of a unicorn failing to live up to expectations is Xiaomi Corp., which finally IPO-ed last month in Hong Kong at a valuation far below what many had hoped for. Early investors made out like bandits, so I won't call Xiaomi's offering a failure. Yet those who came in during later rounds, when valuations were getting quite heady, saw the shares list at a mere 7 percent premium to what they'd paid. That's not great for a VC investment made three years prior, especially given lock-up periods that put them at the mercy of public stock markets before they can cash out.

Bytedance's product line-up includes AI-aggregated news app Toutiao, as well as social video streaming services Musical.ly, and Tik Tok. Bytedance bought Musical.ly last year for around $1 billion and said last week it would merge it with Tik Tok (which is also known as Douyin). It's worth noting that while Bytedance as a company is barely known outside the region, Musical.ly has shot to prominence among American teens who use it to upload lip-syncing music videos.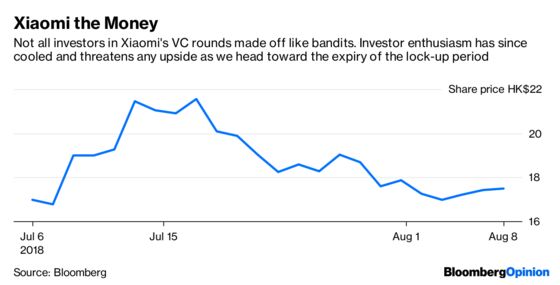 A $75 billion valuation now means Bytedance needs to aim for at least a $100 billion exit. It also means that an IPO is really the only option available. There's not a lot of wriggle room from there, should it still need more money to build out the platform.
To be sure, these types of businesses probably won't suffer the earnings challenges experienced by smartphone makers or ride-sharing platforms. In fact, Bytedance should be able to monetize and turn a profit quite readily. That's why many VCs will be willing to jump aboard.
Yet the company needs to be careful not to bite off more than it can chew. Just because it can achieve a ridiculously high valuation doesn't mean it should.
This column does not necessarily reflect the opinion of the editorial board or Bloomberg LP and its owners.
Tim Culpan is a Bloomberg Opinion columnist covering technology. He previously covered technology for Bloomberg News.