Masayoshi Son Dials Up a Wrong Number
(Bloomberg Opinion) -- Masayoshi Son is a man of grand ambitions. But his dream of raising $30 billion in an initial public offering of his Japanese mobile-phone company may be a stretch.
SoftBank Group Corp. is seeking a valuation of about $90 billion for its domestic wireless business and is speaking to advisers about selling a third of the unit, Giles Turner, Ruth David and Takahiko Hyuga of Bloomberg News reported, citing people familiar with the matter.
A deal of that size would make SoftBank Mobile the biggest IPO in history, surpassing the $25 billion raised by Jack Ma's Alibaba Group Holding Ltd. in 2014. It would also render a U.S. offering inevitable. On its own, the Tokyo market could not absorb a sale of that magnitude. Japan's biggest IPO since the 2000s was the $11.6 billion flotation of Japan Post Holdings Co. last year, and that is now trading below its offer price.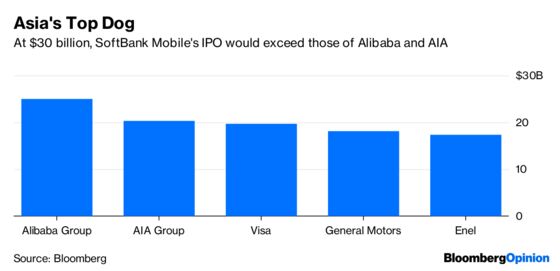 The attraction for potential investors in Masa's Japanese telecoms unit is simple: yield. The company is a cash cow that delivers around half the parent's operating income.
At $90 billion, SoftBank Mobile would be valued at close to NTT Docomo Inc., a much larger rival. There are two more reasons, however, why the mooted valuation is crazy.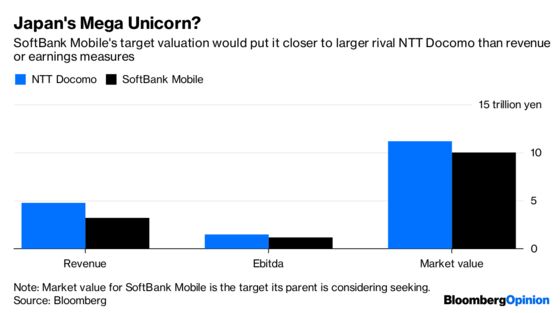 First, paying so much for yield makes sense only if payouts can keep pace with a rising share price, which is what every investor hopes for when she buys into an IPO.
SoftBank will have its work cut out on that front. Japanese wireless services are a tough industry – and not just because of an aging population. Competition is heating up. E-commerce firm Rakuten Inc. is planning to start a wireless operator in Japan with lower network costs than Docomo, SoftBank and KDDI Corp. Three operators are seen as optimal in most markets; a fourth can destroy the industry's profitability, as any India watcher could tell you.
A second reason why investors should pause is corporate governance. While Masa will be as eager as any shareholders to receive dividends from the unit, there are other means for SoftBank to extract cash from a business that it will continue to control. In March, in preparation for the IPO, the wireless company paid a lump sum of 350 billion yen ($3.1 billion) to its parent for the right to use the SoftBank brand trademark. In effect, SoftBank stripped cash from the telco's balance sheet and replaced it with what some might deem useless intangible assets.
If investors need any reminder that SoftBank lacks a strong corporate governance track record, just look at how it threw private bank buyers of its dollar bonds under the bus earlier this year.
Ultimately, it's odd to expect investors to subscribe in such bulk for a yield play. Blockbuster IPOs usually have a growth story to tell – such as Alibaba, which held the promise of capitalizing on China's burgeoning e-commerce appetite.
That's quite a different pitch from a company that operates in a mature and increasingly competitive industry – and with a founder who hasn't been shy about using its cash.
This column does not necessarily reflect the opinion of the editorial board or Bloomberg LP and its owners.
Nisha Gopalan is a Bloomberg Opinion columnist covering deals and banking. She previously worked for the Wall Street Journal and Dow Jones as an editor and a reporter.
Shuli Ren is a Bloomberg Opinion columnist covering Asian markets. She previously wrote on markets for Barron's, following a career as an investment banker, and is a CFA charterholder.