Pandora's Unexplained Warning Isn't Charming
(Bloomberg Opinion) -- And now for Pandora's latest trinket: the profit warning charm.
Just like the jewels adorning its bracelets, these are proving pretty collectible. Investors had just been given one in January, when Chief Executive Officer Anders Colding Friis cautioned on sales and profit and said the chief financial officer would be leaving.
Tuesday's downgrade to expectations is more severe. Pandora A/S said 2018 revenue would increase between 4 percent and 7 percent, down from a previous forecast for a 7-10 percent expansion. It also expects an Ebitda margin of 32 percent, down from previous guidance of 35 percent.
What's more, Pandora gave no explanation for the sudden lurch downwards.
But it isn't hard to guess what the strains are coming from.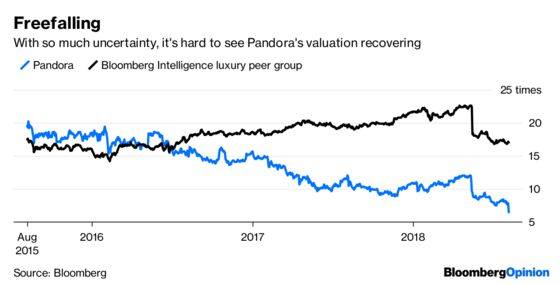 In mid-May, it said that sales growth slowed unexpectedly in China. As Asian consumers rediscover their appetite for upmarket bling, from Prada shoes to Gucci bags, demand for cheaper fripperies has waned. Given that luxury groups are reporting no slowdown in Chinese sales, despite fears of trade tensions hurting consumer confidence, that divergence between top end and affordable luxury is likely to have continued.
Add in difficulties in the U.S. market, and a potential hit to Chinese tourism in Europe from a stronger euro, and that may explain the downturn in revenue.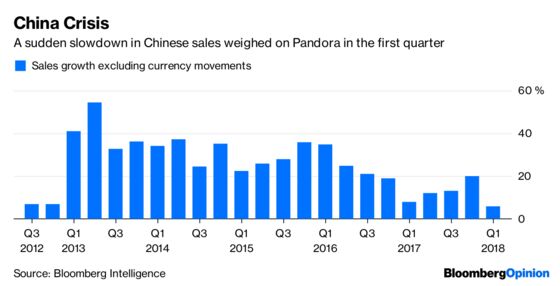 As for the profit margin, slowing sales raise the cost of manufacturing those charms, eating into earnings. Extra marketing costs and promotions to revive business might also be needed.
The company is leaving investors in the dark until Thursday, when it releases second quarter results. In the meantime, many chose simply to sell, driving the stock down almost 21 percent at one point.
This isn't the only question mark on management credibility.
Firstly, Friis is continuing to press ahead with an aggressive store opening program. It plans to open 250 stores this year, compared with its previous goal of 200.
One of the lessons from other corners of European retail, such as U.K. supermarkets, is that when revenue stagnates, store openings should be put on hold. The combination of weak sales and swathes of new outlets coming online is a toxic one.
Secondly, Pandora is revising the financial targets it set just eight months ago. When things go awry so suddenly, it's not clear management is fully in control of the business.
With Tuesday's fall, the shares are down more than 50 percent over the past year. They trade on a forward price earnings ratio of just 6.4 times, compared with the Bloomberg Intelligence luxury peer group's 17.1 times. With such poor visibility on the future direction of sales and profit, there's little chance of that discount narrowing any time soon.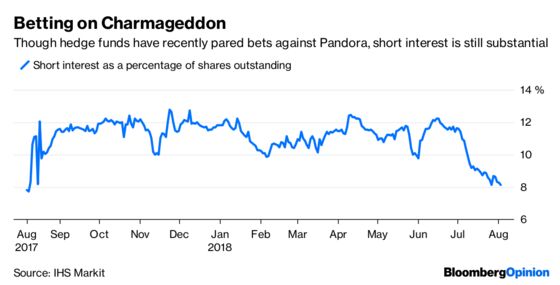 There is one constituency that stands to benefit from Tuesday's warning: the hedge funds that have been betting against the company for the past year. Yet even here, the gains may be limited. Short interest has actually fallen over the past few months.
Still, until a recovery charm makes it out of the Pandora design studio and onto the shop floor, funds shorting the stock look like they'll be in a better place than those with long positions.
This column does not necessarily reflect the opinion of the editorial board or Bloomberg LP and its owners.
Andrea Felsted is a Bloomberg Opinion columnist covering the consumer and retail industries. She previously worked at the Financial Times.