France-Bashing Doesn't Work for Britain Anymore
(Bloomberg Opinion) -- Hearing a British politician bash France is nothing new. London's metaphorical red carpet has been rolled out frequently for wealthy tax exiles and ambitious graduates looking to escape from across the Channel.
But whereas such attacks used to come from a position of strength, the Brexit vote and the election of Emmanuel Macron have altered the balance of power. Take the latest effort from the U.K. Chancellor of the Exchequer Philip Hammond, who has warned London's bankers to prepare for a blizzard of French-led red tape once Brexit settles down.
According to the Financial Times, Hammond told a group of City bigwigs – symbolically, on the day after France's World Cup soccer victory – that they should look outside the EU for growth. This would provide a bulwark against French efforts to use the post-Brexit financial services settlement as a way to seize a regulatory advantage for Paris over London.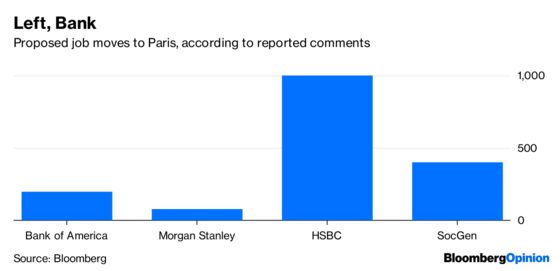 This "politically motivated" action would be gradual and would "test the U.K.'s tolerance," he said. Only by making a success of non-EU trade – no doubt conjuring up dreams of globe-trotting Asian deals – could London hope to push back.
There can be fewer more humiliating admissions for a U.K. government than to concede that France is in the driving seat. Yet this is how the services part of a negotiated Brexit deal is starting to look.
Hammond had hoped that Britain would be free to draw up its own financial regulations and have them simply accepted by the EU – a proposal known as "mutual recognition." Instead, Brussels wants the U.K. and EU to abide by "equivalence," where the two sides recognize each other's standards. The problem for the Brits is that Europe would probably retain the power to block access to markets should London fail to comply with new regulations, making the U.K. a "rule-taker" from Brussels. Hence Hammond's fear that France would use the situation to its own advantage.
But the problem with telling financiers what to do from a weakened position is that they tend not to listen. Investing in Asia or Africa has always been an option for City bankers, but they're more preoccupied with preserving ties to Britain's biggest trading partner: the EU.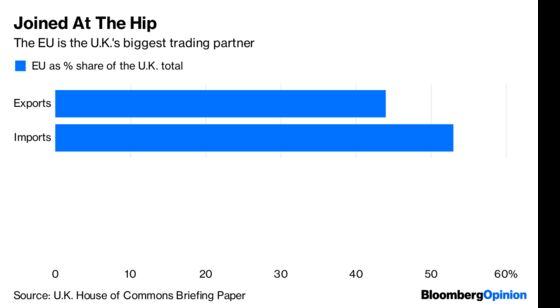 Indeed, the old red carpet routine seems to be working better in the other direction now, given the push factor of Brexit and the pull of the finance-friendly Macron regime. Bank of America Corp. is moving its trading hub to the French capital; HSBC already has a base there. Macron is offering tax breaks and making it easier to do business, even if French reform is a slog. Economy Minister Bruno Le Maire, speaking in English, said last month: "We don't just talk the talk about reforms, we are capable of doing them."
The improvement in Paris's standing is gradual, but it's happening. A study this year from BCG's management consultants showed 79 percent of French people under 30 wanted work experience abroad, versus 94 percent in 2014. French graduates of its elite "grandes ecoles" still earn more on average in the U.K. and U.S. than at home, but the proportion of those taking jobs abroad has fallen slightly. In 2018 it was 10 percent, in 2014 12 percent.
And while Paris always captures our imagination, it's not the only alternative to a post-Brexit London. Those looking for a cheap place to plant an EU flag are spoiled for choice, with Frankfurt and Dublin happy to oblige. Lisbon and Madrid are alternatives.
Hammond, the most Europhile of U.K. ministers, isn't to blame for all of this, of course. That honor goes to prime minister Theresa May for two years of dithering, and her Brexiteer ministers for their fantasies about Brussels letting Britain leave on uniquely favorable terms. If her government had engaged more seriously with the negotiations from the start, maybe there would be a better alternative.
As it is, the City of London faces the economically disastrous prospect of a "no-deal" Brexit or the sub-optimal rule-taking "equivalence" that Hammond is warning about – unless a second referendum rides to the rescue. And he can't even chuck any corporate tax cuts at the banks, given the need to open the spending purse to see off the electoral threat of Jeremy Corbyn's Labour Party.
Most of Britain's bankers would prefer equivalence to no deal, but they're not happy about it. London really is in a bind.
This column does not necessarily reflect the opinion of the editorial board or Bloomberg LP and its owners.
Lionel Laurent is a Bloomberg Opinion columnist covering finance and markets. He previously worked at Reuters and Forbes.