Carl Icahn Knows It's Never Too Late to Derail a Deal
(Bloomberg Opinion) -- Carl Icahn is late to the party on Cigna Inc.'s intended $54 billion purchase of pharmacy-benefit-management giant Express Scripts Holding Co. His Tuesday letter opposing the transaction comes just weeks before an Aug. 24 shareholder vote on whether to approve it. That will make derailing the deal a tough task for the legendary activist, who owns a modest 0.56 percent of Cigna's shares.
But even though many investors have likely made up their minds, Icahn is worth listening to as he claims Cigna is overpaying.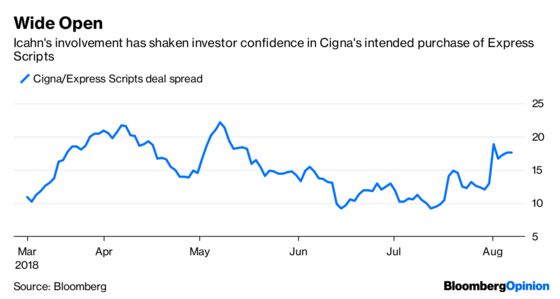 Icahn's argument centers on Amazon.com Inc.'s health-care foray with Berkshire Hathaway Inc. and JPMorgan Chase & Co., the Trump administration's efforts to shake up the pharmacy-benefit-management (PBM) business model as part of its efforts to lower drug prices, and the potential that other insurers will avoid Express Scripts if it's owned by a competitor. 
Icahn clearly has a financial motivation here. He's long Cigna, which would likely see its shares jump if the deal fails. And he's short Express Scripts, which would plunge on questions about its standalone prospects. But he raises some good points.
Amazon isn't really one of them. The e-commerce behemoth's acquisition of pharmacy startup PillPack and hire of Atul Gawande to run its health joint venture certainly indicate interest in the industry, and that's scary for everyone in the sector. But the PillPack deal more immediately threaten retail pharmacies. And Gawande's initial efforts will focus on employees of Amazon and its partners, and could conceivably be more threatening to an insurance provider like Cigna than a middleman in the drug-pricing process like Express Scripts. 
Icahn's other arguments carry more weight. First, there's Trump: PBMs are a central target of his drug-pricing push. These companies make money in part by forcing drugmakers to pay big rebates in order to secure favorable coverage for their medicines, a portion of which they keep. This creates a perverse incentive to increase prices in order to pay bigger rebates. But now, as drugmakers get praised for cosmetic price hike halts, the administration is contemplating a regulatory hobbling of those rebates, a major source of  PBM  leverage and profit. 
Details of the administration's plan are scarce, but Health and Human Services Secretary Alex Azar has denounced the rebate system and called for more transparent fixed contracts. Express Scripts says it passes through 95 percent of its rebates to clients. But the portion it keeps is quite lucrative.   
It could also be harder to use negotiating leverage to push down prices in a more transparent system. That might reduce the benefits of scale, which is the whole point of Express Scripts.
Even if scale remains valuable, the company will have less of it. Express Scripts is losing its biggest client Anthem Inc. at the end of next year. Should the Cigna deal go through, Icahn has a point that it could become harder to sign or retain other insurer clients. In an environment with simpler contracts, they may not need or want to pay a big vendor like Express Scripts.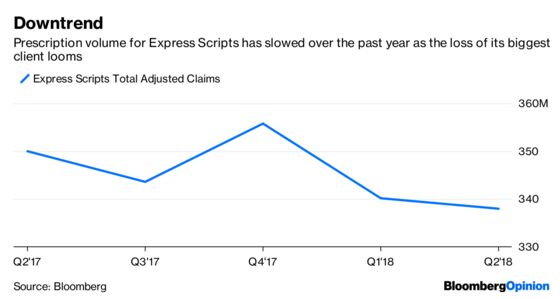 Cigna CEO David Cordani defended the deal on his company's second-quarter earnings call last week, saying that it would help the firm provide better and cheaper drug coverage to its members. But there's more than enough reason to question the deal and the price paid. 
Icahn advocates buybacks as an alternative. The company could also build, partner with, or buy (on more favorable terms) a PBM narrowly focused on a post-rebate business model. It could pick other avenues of diversification like increased investment in Medicare, Medicaid, the individual insurance market, or in health-care providers. 
None of these are sure bets. But they have far less downside than a $54 billion gamble on an industry in potentially unprecedented turmoil. 
This column does not necessarily reflect the opinion of the editorial board or Bloomberg LP and its owners.
Max Nisen is a Bloomberg Opinion columnist covering biotech, pharma and health care. He previously wrote about management and corporate strategy for Quartz and Business Insider.