Bring On the Piano Players for a Steinway Auction
(Bloomberg Opinion) -- There was a predictable auction for Steinway Musical Instruments Inc. when it was bought in 2013 by John Paulson, the U.S. hedge fund billionaire. If the iconic piano maker is set to change hands once again, the presence of a seemingly unassailable Chinese bidder is unlikely to scare others from trying hard to buy it.
Steinway has attracted interest from state-backed conglomerate China Poly Group Corp. and could fetch $1 billion, Bloomberg News reported Tuesday. That's roughly double what Paulson & Co. paid five years ago when it saw off private equity and South Korea's Samick Musical Instruments Co.
Doom-mongers may say audiences for classical music will shrivel and pianos will one day be replaced by electronic keyboards. But the genre retains its popularity in emerging markets: In April, Steinway opened an Asia-Pacific headquarters in Shanghai and probably doesn't need to be Chinese-owned to sell a lot of pianos in that market. But it's hard to believe Poly Group couldn't help it achieve that goal.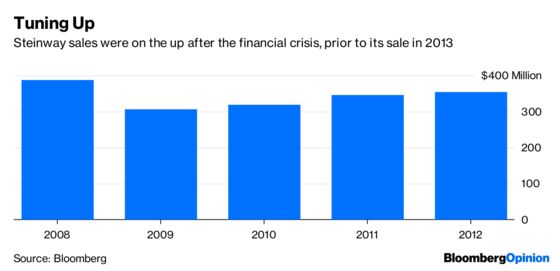 Steinway's appeal to other bidders is understandable. Samick looks an unlikely contender, given its market value is only $171 million. Its Japanese rival Yamaha Corp., capitalized at $9.3 billion, might want to take a look, and a unique asset of this size is going to appeal to private equity again.
It's not clear how the business's financial performance has evolved under Paulson, who is famed for betting against subprime mortgages. It's possible Steinway hasn't had the full operational makeover it would have received under the control of, say, a leveraged buyout firm.
But does any bidder stand a chance against Poly Group? Possibly. China is seen to have become more selective in authorizing outbound M&A in recent years. Deals for foreign trophy assets can't be sure of approval.
Steinway would fit with a mission to bring global culture to China, so a purchase stands a better chance of securing state backing than a deal for, say, a soccer club. But pianos aren't exactly Belt and Road infrastructure, and trade tension with the U.S. can only add to potential doubts about any deal actually being completed.
Maybe an auction will push Steinway's price beyond the level where a leveraged buyout firm could make a decent return. Uncertainty around the sale process to a Chinese buyer could nevertheless be an opportunity for a runner-up bidder to get back in.
This column does not necessarily reflect the opinion of the editorial board or Bloomberg LP and its owners.
Chris Hughes is a Bloomberg Opinion columnist covering deals. He previously worked for Reuters Breakingviews, as well as the Financial Times and the Independent newspaper.