A Fund Giant Sees $21 Billion Walk Out the Door. It Could Be Worse
(Bloomberg Opinion) -- In the year since melding two companies to create an asset management company with sufficient heft to compete globally, Standard Life Aberdeen Plc shares have lost almost a quarter of their value. Imagine how much worse life might have been without that merger.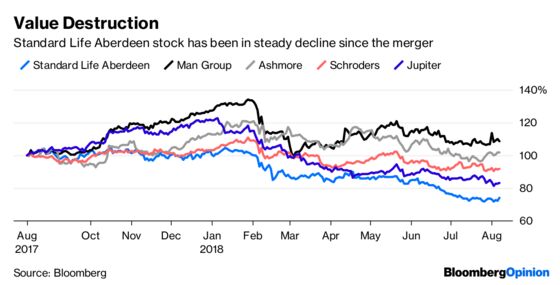 Standard Life suffered net outflows of 16.6 billion pounds ($21.5 billion) in the first half, it said on Tuesday, extending a trend that's left its assets under management and administration little changed in the past year at 626.5 billion pounds ($814 billion). Another 109 billion pounds is scheduled to exit once Lloyds Banking Group Plc's Scottish Widows unit pulls its mandate. In a business where scale is increasingly important, the fund manager's assets are heading in the wrong direction.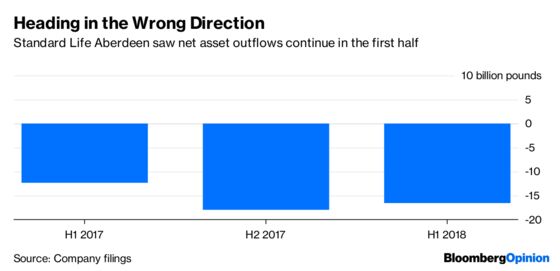 Within those outflows, the firm lost 7.6 billion pounds in equities and 4.4 billion pounds in its multi-asset product offering. Excluding parts of its retail business, Aberdeen Standard Investments – the company's global asset manager – suffered 19.2 billion pounds of withdrawals, worse than the 17.8 billion pounds anticipated by analysts.
A better performance by its portfolio managers might help restore customer faith, but the firm's flagship Global Absolute Return Strategies Fund is down by about 3.5 percent this year. Clients pulled more than 5 billion pounds out of the fund in the first half.
The overall cost/income ratio of 69 percent is a long way from a medium-term goal of 60 percent, with the firm blaming the drop in income. It still reckons it can squeeze 250 million pounds of cost savings from the merger, and predicts a further 100 million pounds after it sells its insurance business.
Janus Henderson Group Plc's decision to abandon the dual-leadership structure it put in place following the merger of Janus and Henderson last year has refocused attention on Standard Life's similar employment of twin CEOs. Martin Gilbert and Keith Skeoch seem to genuinely get along, though, and it helps that they have distinct roles and responsibilities.
Buying a rival would be one way to bulk up assets. Before merging with Standard Life, Aberdeen had dallied with Legg Mason Inc. The U.S. fund manager is now trading at its lowest price in 18 months, with a market capitalization of about $2.8 billion. It had net outflows of $900 million in the quarter ended on June 30, leaving it with assets under management of $745 billion.
While Gilbert would like a bigger firm, it's far from certain that investors would back another substantial transaction while the last one's still being integrated. 
"Thank goodness we're ahead of the curve here," Gilbert said on Tuesday, referring to the need for industry consolidation. For now, analysts are largely keeping the faith despite this year's share price plunge. But unless the firm can stanch those outflows, investors may start to question why they'd want an asset management company in their portfolios at all.
This column does not necessarily reflect the opinion of the editorial board or Bloomberg LP and its owners.
Mark Gilbert is a Bloomberg Opinion columnist covering asset management. He previously was the London bureau chief for Bloomberg News. He is also the author of "Complicit: How Greed and Collusion Made the Credit Crisis Unstoppable."