IWG Needs to Explain Why It's So Hard to Get
(Bloomberg Opinion) -- Three identified bidders and almost three months of talks – ideal conditions, surely, for a fully priced takeover deal. Yet IWG Plc, the serviced-office provider, is back on the shelf after failing to get an auction going, much less agree on terms with any of its suitors. Founding CEO Mark Dixon now has much to prove.
IWG was put in play after a profit warning in October that cut its market value by one-third. In December, there was a takeover approach from a consortium led by U.S. property group Brookfield Asset Management Inc. that fizzled a month later. In May, bid interest returned, with three private equity firms – Starwood Capital Group, TDR Capital LLP and Lone Star Funds, soon to be replaced by Terra Firma Capital Partners Ltd. – taking a look.
Yet IWG said Monday it's ending talks, because it was clear none of the suitors was willing to make an offer at a price the board could countenance. The bidders say they won't go directly to shareholders – and Dixon owns 25 percent, so a hostile move would be futile.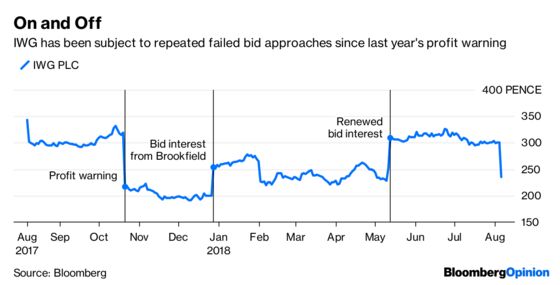 There's a clear divergence between the board's view of what IWG is worth and, seemingly, everyone else's. While management should be best placed to know IWG's value, private equity's unwillingness to meet the board's price expectations is telling. Buyout firms are short of targets right now and money is cheap. They have reasons to stretch, and the resources to do so.
Before last year's profit warning, IWG was worth around 3 billion pounds ($3.9 billion). Investors hoped a deal might be struck around that level. Its market capitalization is now back at 2.1 billion pounds, where it was in May before the latest round of abortive talks (but above where it settled after the October profit warning.)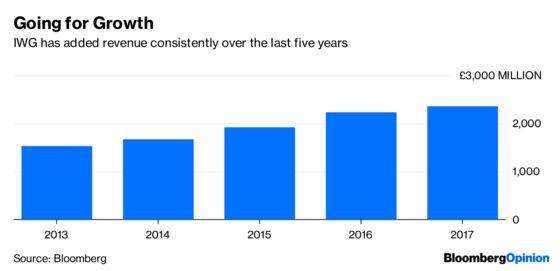 It's not hard to imagine why the talks broke down. IWG has seen the valuation of WeWork Cos., backed by SoftBank Group Corp., grow with each funding round, to reach $20 billion. While IWG is making money, bidders have seen profit warnings and a disappointing set of results on Monday, dragged lower by the costs of investing to take on the likes of WeWork.
The business of serviced offices and so-called flexible work spaces is competitive. WeWork has strong backing, and existing property firms are developing their own offerings. IWG's spending on refurbishments is a long way from done. The 1 billion pounds added to its value by bid interest will have bolstered management's price expectations while at the same time undermining the future returns for any new owner.
The stock market and multiple potential buyers have taken their view. The onus is now on Dixon to set out why the company is worth so much more than investors and bidders are willing to pay.
This column does not necessarily reflect the opinion of the editorial board or Bloomberg LP and its owners.
Chris Hughes is a Bloomberg Opinion columnist covering deals. He previously worked for Reuters Breakingviews, as well as the Financial Times and the Independent newspaper.