The 'Superman' Formula Includes Selling, Victor
(Bloomberg Opinion) -- Victor Li showed he's a chip off the old block by extending a global buying spree started by his now-retired father, legendary Hong Kong businessman Li Ka-shing. Does he also know when to sell?
Buoyant first-half results at flagship CK Hutchison Holdings Ltd. bear testament to the success of a decade-long string of acquisitions that have helped the Hong Kong-based group diversify from its home market, adding businesses from water and power companies in the U.K. to gas distribution in Australia.
Yet they arrive as the company's stock has been in the doghouse, slumping more than 15 percent this year, double the decline in the city's benchmark Hang Seng Index. That's despite all 12 analysts tracked by Bloomberg having a "buy" rating on the shares.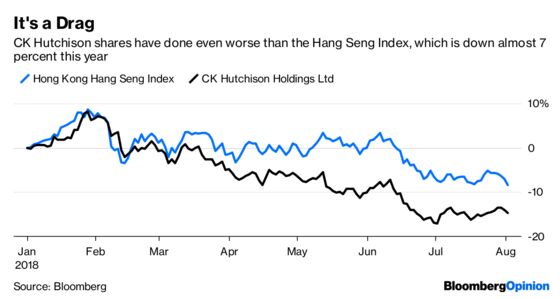 On Thursday, CK Hutchison reported a 13 percent increase in net income to HK$18 billion ($2.3 billion) for the six months ended in June, on revenue that climbed 16 percent to HK$224.5 billion. The conglomerate raised its interim dividend by 11.5 percent from a year earlier, the biggest jump since a $24 billion restructuring of the Li empire in 2015.
The higher dividend should go some way to mollifying investors who had become disenchanted by the company's failure to boost payouts significantly, a factor that's weighed on the stock. While its global shopping expedition has added stable cash-flow generating businesses that have insulated the group against the risk of a downturn in Hong Kong or China, they have also driven up debt and restricted funds available for shareholder distributions.
With Brexit looming in the U.K., where CK Hutchison is one of the biggest foreign investors, Victor should now consider deleveraging, building up the company's cash chest, and doing more to reward minority shareholders.
So far, he's been going the other way. Since replacing his father as chairman in May, Victor has been at the helm of three deals, led by a A$13 billion ($9.8 billion) bid for Australian gas pipeline operator APA Group that will be CK Hutchison's biggest overseas acquisition if approved by regulators. The company is also awaiting approvals for a 2.45 billion euro ($2.9 billion) buyout of its partner in Italian wireless joint venture Wind Tre SpA, and for the acquisition of a 4.99 percent stake in Hong Kong-based shipping firm Orient Overseas International Ltd.
Those three transactions, when closed, will lift CK Hutchison's 2018 net debt-to-equity levels to 49 percent from the current 27 percent, according to CLSA Ltd.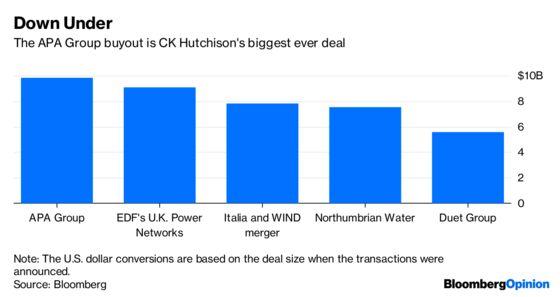 Debt-financed acquisitions of cash-generating businesses are fine as long as the leverage remains manageable, a lesson that 
HNA Group Co.
 has learned to its cost. The Chinese conglomerate, which is reversing a global acquisition splurge, has
held talks
 with potential buyers for a stake in its Avolon Holdings Ltd. aircraft-leasing business, Cathy Chan of Bloomberg News reported Thursday. Among the suitors? CK Asset Holdings Ltd., another arm of the Li empire. 
CK Asset, which also reported higher profit and raised its dividend by almost 12 percent on Thursday, said it was currently exploring "several potential acquisitions," suggesting Victor — who also chairs that company — hasn't lost the buying bug yet.
Li Ka-shing built his reputation as Hong Kong's "superman" investor by knowing when to sell as well as when to buy. Victor to date has only replicated one half of his father's winning formula. Relentlessly accumulating assets has undone many an ambitious entrepreneur. To prove himself a worthy successor, Victor needs to show he also knows when to prune.
With protectionist risks growing for the global economy, now might be a good time to start.
This column does not necessarily reflect the opinion of the editorial board or Bloomberg LP and its owners.
Nisha Gopalan is a Bloomberg Opinion columnist covering deals and banking. She previously worked for the Wall Street Journal and Dow Jones as an editor and a reporter.