A Spectacular Blowup In the British Housing Market
(Bloomberg Opinion) -- Estate agents aren't popular at the best of times, but Countrywide Plc, one of Britain's biggest residential agents, really takes the biscuit. The massively discounted rights issue it announced Thursday will increase the share count by almost six times.
To nobody's surprise, the stock plunged almost two-thirds, bringing the decline so far this year to about 85 percent. The share sale is fully underwritten and will raise about 129 million pounds ($169 million) net of fees — a bit more than the market value the previous day. The company was worth 1.3 billion pounds back in 2013.
Countrywide has been suffering from falling housing transactions, rising online competition, and some self-inflicted mistakes that cost it market share and prompted key employees to leave. Its original sin, though, was taking on too much debt.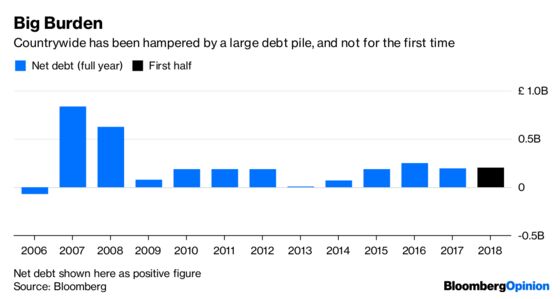 The company was first loaded with liabilities in 2007 by private equity group Apollo Management via a 1 billion-pound buyout. It soon ran into trouble and was recapitalized by credit specialist Oaktree Capital. Oaktree became the largest shareholder and brought Countrywide back to the stock market in 2013. Since then, net debt has climbed steadily higher. 
Now, Countrywide is asking shareholders for permission to start over with a more modest balance sheet. After booking some massive goodwill and intangible assets writedowns, it has just 84 million pounds of net assets left.
Not that investors really have a choice in the matter. If they don't accept the recapitalization at a shareholder meeting this month, Countrywide said banks could demand repayment of credit lines, perhaps forcing the business into insolvency.
That's probably not hyperbole. The 211 million pounds of net debt — about five times Ebitda — is wholly unsuitable for a cyclical business with a high level of fixed costs. The business has bled more than 20 million pounds of cash over the past six months. Rival Foxtons Plc is struggling too, but at least it doesn't have any debt.
Does it get better from here? Countrywide won't need to worry about breaching banking covenants for the time being. Raising capital should cut net debt by about 60 percent. Yet the finances will look worse again from next year when new accounting rules force companies to add operating lease liabilities to their balance sheets. Countrywide has about 110 million pounds of those.
The U.K. housing market is also a tough place right now. Brits aren't moving because of affordability problems and tax changes, while estate agents are scrapping for every sale and rental — putting pressure on fees. As with everything else, Brexit doesn't help. 
Investors participating in today's rights issue at 10p won't have as much to lose as those who bought when the stock was close to 700p back in 2014. But even the most brash Countrywide sales agent might blanch at calling this company a fixer-upper. 
There's a broader lesson too. When estate agents sell a property, they're entirely untroubled if a buyer take on too much debt to do so. Countrywide's near collapse shows the sorrows that lie ahead when their employers do the same.
This column does not necessarily reflect the opinion of the editorial board or Bloomberg LP and its owners.
Chris Bryant is a Bloomberg Opinion columnist covering industrial companies. He previously worked for the Financial Times.