This Is What Happens When Central Bankers Can't Think for Themselves
(Bloomberg Opinion) -- First, the good news: Traders don't anticipate that Thursday's Bank of England interest-rate increase heralds the start of a series of hikes. Now, the bad: If Brexit sees Britain leaving the European Union without a deal, the U.K. central bank may have to swiftly reverse course, scaring the horses more than if it had left well enough alone.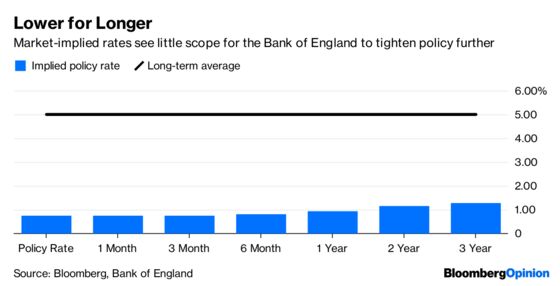 The Monetary Policy Committee seems to be doing its best to whistle past the Brexit graveyard; if it concedes that the outcome will be anything other than fine, then it will be accused of participating in Project Fear and consumers and businesses will get even more rattled.
You have to embark upon a willing suspension of disbelief to see the 9-0 vote in favor of higher borrowing costs as the result of anything other than groupthink, especially given the swathe of businesses and economists who judge Thursday's increase to be a policy error.
"The mistake is to always wait until you have perfect certainty, because we don't know when that higher rate of certainty is going to transpire," Bank of England Governor Mark Carney said at the press conference following the decision to raise bank rate by a quarter-point to 0.75 percent. "Policy needs to walk, not run, to stand still."
Carney argued that a central bank can't take "time off" while it waits for the situation to be resolved. "There's a wide range of Brexit outcomes," Carney said. "But in many of them, interest rates will be at least as high as today."
That may be. But I'd argue there are a lot more scenarios in which borrowing costs need to be lower, to offset the negative economic impacts of reduced trade that a no-deal or a bad deal or a misjudged deal will surely usher in.
I've said before that I have some sympathy for the fear of missing out that's tugging anxiously at the collective psyche of the world's central bankers. They look jealously at the Federal Reserve's target rate, which has quadrupled to the giddy height of 2 percent in the past two years. They worry about the lack of ammunition in their own toolboxes if they need to counter an economic downturn, especially as the prospect of a global trade war looms.
But Brexit poses a unique challenge to the U.K. economy, threatening to inflict both financial and political turmoil on an economy that's already struggling to keep up with its peers.
As things stand, though, there are very few — maybe even zero? — potential outcomes that would improve Britain's growth prospects and demand tighter monetary policy. Come March, the Bank of England may well turn out to have undermined its credibility.
This column does not necessarily reflect the opinion of the editorial board or Bloomberg LP and its owners.
Mark Gilbert is a Bloomberg Opinion columnist covering asset management. He previously was the London bureau chief for Bloomberg News. He is also the author of "Complicit: How Greed and Collusion Made the Credit Crisis Unstoppable."