Tesla's Drama Isn't Over Yet
The company's quarterly results, released Wednesday evening, almost feel like a commercial break. Earnings came in short of expectations. This is not a number that, in isolation, means very much – witness the jump in the stock in after-hours trading.
Yet the fact that Tesla lost more than $4 per share for the third quarter in a row – despite reporting higher gross margins on its core autos business and an 85 percent increase in the number of vehicles delivered – should give some pause. Despite rapid growth in sales, Tesla is still losing thousands of dollars on each vehicle at the pre-tax line, based on my estimates.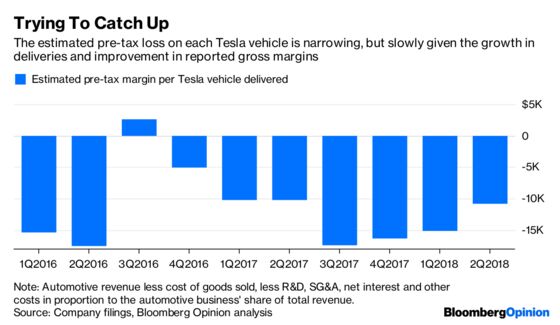 On Wednesday evening's call, Musk reiterated that Tesla will turn profitable and cash-flow positive (though the latter appears to include cash from financing) in the current quarter as production of the Model 3 almost doubles versus the prior one.
Tesla's track record on guidance is poor, and that has rarely seemed to matter much; but this commitment is different. Flipping those bars from negative to positive is crucial – explaining why Tesla recently slashed its workforce.
This all revolves around cash, as ever. Tesla burned $740 million in the second quarter, which was actually better than expected (the consensus forecast was $901 million). Once again, working capital took much of the strain. A $427 million increase in accounts payable offset more than half of the increase in inventory, itself a result of all the vehicles made but undelivered amid Tesla's manufacturing burst at the end of the quarter.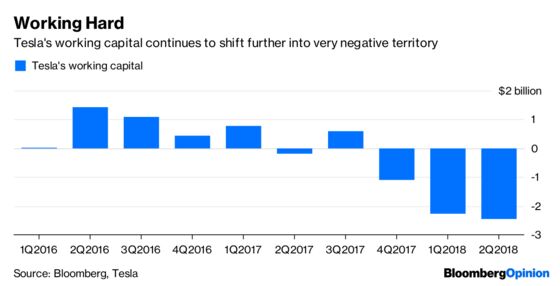 So Tesla ended June with $2.24 billion in the bank, down by $400 million or so from March. Making up the difference versus the cash burn was another slug of debt. Net debt increased by more than $900 million, and it is now almost double where it stood a year before.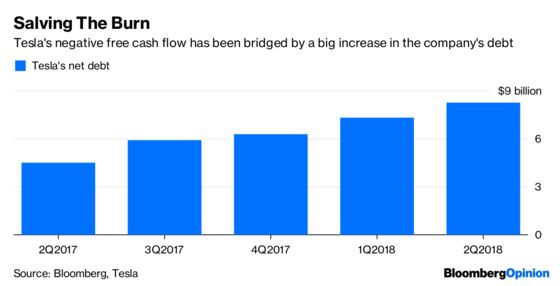 Rising debt, negative margins and ever-more negative working capital isn't a sustainable model without further infusions of cash from outside. Given Tesla is adamant it won't tap the equity market, it has pulled another lever while it awaits the promised turnaround in profitability: slashing capital expenditure.
Tesla began the year guiding that capex would be bigger this year than 2017's $3.4 billion. By the end of March, that had dropped to "slightly below" $3 billion. Now, the figure is "slightly below" $2.5 billion – a drop of about $1 billion in the space of half a year.
Don't get me wrong: Lower capex budgets are often welcome. More free cash, after all. In Tesla's case, adjusting existing consensus estimates of free cash flow for this new guidance would imply Tesla ending the year with about $2.2 billion in the bank (all else equal) versus just $1.7 billion implied under the old guidance.
But there is something dissonant about all this. Tesla is talking about getting to 10,000 Model 3s a week next year, as well as a new multi-billion-dollar Gigafactory in China and, of course, the Model Y, the Semi and all the rest of it down the road. That all costs money. Yet Tesla has slashed its capex budget by almost 30 percent. Tesla says this can be done by further optimizing its existing production lines and not building new ones, allowing it to leverage the increase in Model 3 production without burning the dollars as they come in.
To be clear, there is a good chance Tesla will report positive results for the current quarter, given the large number of vehicles in transit at the end of June and the focus on high-grading the reservations list by selling more-expensive versions of the Model 3.
But consider: Tesla's $51 billion market cap rests overwhelmingly on ambitious long-term growth projections. Yet its story this year has been dominated by so much that seems like a short-term fix or goal: the one-week production rates, that tent, the deepening working-capital deficit, and now that slashed capex budget.
Musk apologized on Wednesday's call for cutting off analysts on the last one; a welcome gesture that hopefully signals less distractions from here. But the central drama – weaning Tesla off outside money – has yet to be resolved. 
This column does not necessarily reflect the opinion of the editorial board or Bloomberg LP and its owners.
Liam Denning is a Bloomberg Opinion columnist covering energy, mining and commodities. He previously was editor of the Wall Street Journal's Heard on the Street column and wrote for the Financial Times' Lex column. He was also an investment banker.