Hedge Fund's Humans Are Kicking Some Algo Behind
(Bloomberg Opinion) -- At the world's biggest publicly traded hedge fund, the human sales team is beating the market-trading computers hands down.
Assets under management at Man Group AG climbed to $113.7 billion in the first half of the year. That's testament to the persuasive powers of its sales force. Sales climbed to almost $20 billion, up 14 percent compared with the year-earlier period.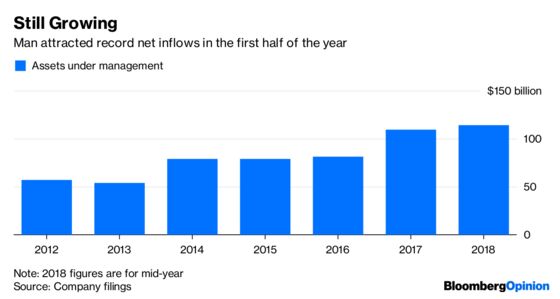 Almost every category that Man offers its customers, including absolute return, systematic and discretionary, attracted more money from customers. Net inflows rose to a record $8.3 billion. More than half of the money Man manages comes from clients that have invested in four or more of its products. Its sales staff deserve to be rewarded for their efforts.
Its traders, on the other hand, lost money on almost every category in what Man described as a "more difficult environment for alpha generation." For example, the AHL Diversified strategy, which uses systematic trend-following algorithms to trade futures contracts across all asset classes, lost 5.7 percent in the six months.
In total, the firm's investments lost $1.7 billion, compared with gains of $3.8 billion in the year-earlier period. More than $1 billion of those first-half losses came from wrong-way bets on Japanese and emerging market securities.
Investors and analysts are keeping the faith. Of the 16 analysts that follow the firm, none recommends selling its shares. The shares popped 5 percent higher in early Wednesday trading.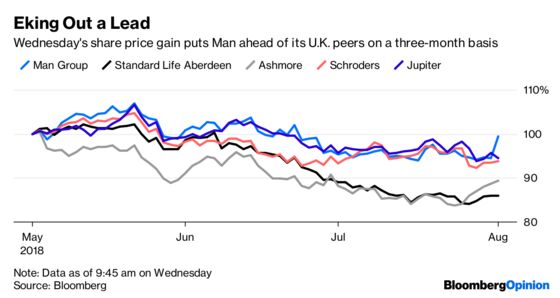 Flows will be hit in the third quarter by a $2.2 billion redemption from a single customer, which Man says is a "very low-margin" mandate. The bigger risk, though, is that investors run out of patience with the hedge fund's money-losing traders. Unless returns improve, Man will struggle to attract assets — no matter how hard those humans work the phones.
This column does not necessarily reflect the opinion of the editorial board or Bloomberg LP and its owners.
Mark Gilbert is a Bloomberg Opinion columnist covering asset management. He previously was the London bureau chief for Bloomberg News. He is also the author of "Complicit: How Greed and Collusion Made the Credit Crisis Unstoppable."
View
Opinions
From Business And Policy Experts On BloombergQuint