Vodafone Was Always an Activist Target Waiting to Happen
(Bloomberg Opinion) -- A weak share price, a massive debt-fueled acquisition, and an impending switch to an unproven CEO: Vodafone Plc has the characteristics of a large, slow-moving target for shareholder activism. Little wonder investors took seriously Monday's story in Dealreporter that the British telecom group had attracted the interest of ubiquitous corporate agitator Elliott Management Corp.
Whatever Vodafone and outgoing Chief Executive Officer Vittorio Colao have achieved lately, it hasn't been a success for investors.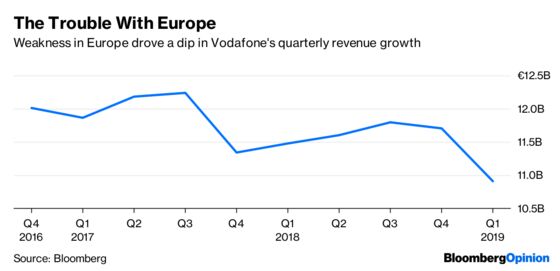 The stock is among the worst performers in the FTSE-100 over the last five years. True, this is not an easy sector. Shares in peer BT Group Plc have done worse. In the Euro Stoxx 600, Telefonica SA has done just as poorly. Despite this, Vodafone is still hardly cheap on a forward price-earnings ratio valuation. The only support for the stock is its chunky 7 percent dividend yield.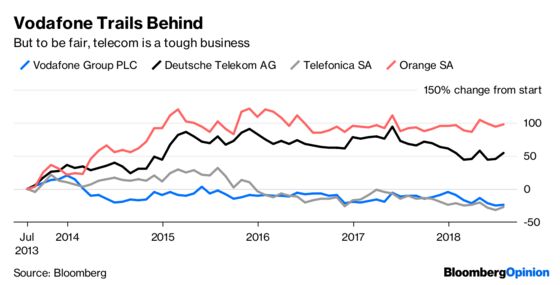 Vodafone has a plan. In May it agreed to an 18.4 billion-euro ($21.6 billion) deal for a bunch of European assets owned by Liberty Global Plc. Colao is off, to be replaced by CFO Nick Read from October.
But these moves have only worsened Vodafone's share price performance this year.
Could killing the Liberty transaction be the magic fix? The deal will take five years to earn returns exceeding the acquired assets' cost of capital. Borrowings will rise, and it's a big management challenge for Read. But the wait for the payback is worth it, given the strategic benefits, chiefly the creation of a powerful number two player in Germany. Read's existing experience in the company offers some comfort.
Higher leverage can only exacerbate fears that Vodafone's balance sheet is already overstretched. However, the deal financing has been cleverly constructed. Vodafone plans to maintain a solid investment-grade credit rating by effectively renting equity and net borrowings will stay within 3 times Ebitda. The acquisition merits the strain.
The reality is that the Liberty deal is hard for an activist to torpedo. It's not subject to a shareholder vote. While the 250 million-euro break-fee "payable in certain circumstances" is small, it's not clear if these scenarios include Vodafone changing its mind, rather than regulators saying no. Unilaterally walking away would have serious consequences. Read, as a co-architect of the transaction, would have to leave; Vodafone would struggle to gain trust in future M&A negotiations. The present strategic opportunity would disappear.
There are many other levers to pull on to improve things. Accelerating cost-cutting is one. Pursuing asset sales would signal action and would assuage market concerns about leverage. The economics of selling some of its towers are a "no-brainer" in view of the prices private equity is paying for such assets, according to research by Berenberg.
No CEO welcomes the disclosure that Elliott has taken a stake, whether through shares or indirectly through derivatives. But if Elliott has landed, Read should see this as an opportunity. He needs to come out from Colao's shadow. The mere threat of an activist gives him the cover to be something other than the continuity candidate.
This column does not necessarily reflect the opinion of the editorial board or Bloomberg LP and its owners.
Chris Hughes is a Bloomberg Opinion columnist covering deals. He previously worked for Reuters Breakingviews, as well as the Financial Times and the Independent newspaper.